Arizona Cardinals receivers need to hold up their end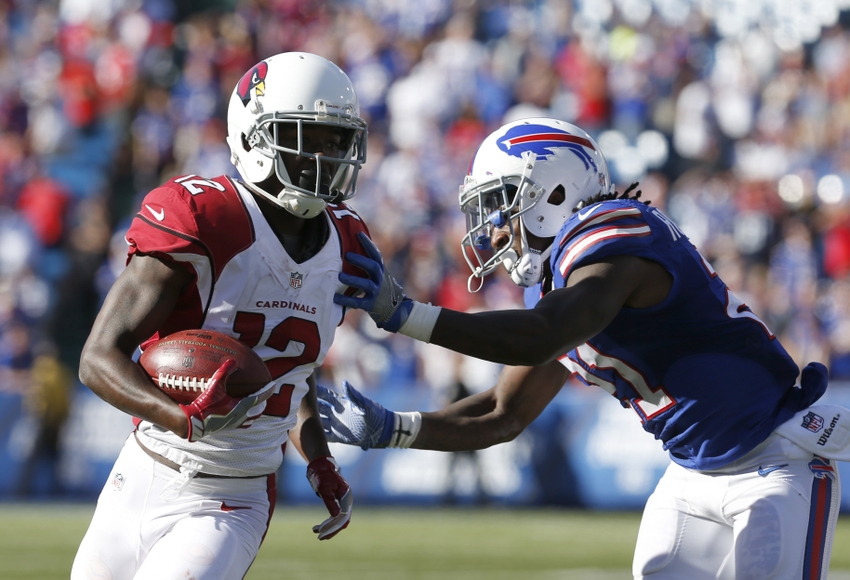 The Arizona Cardinals have struggled as a team including the team's receivers
Much has been made about the struggles of quarterback Carson Palmer over the last couple of days.  He's not getting all the blame, however as the leader of the offense, he sure has been getting a large chunk of it.
Palmer had a bad day.  No, he hasn't been the same since December.  Some of the struggles he had in the playoffs were about him.  There are others though.
How about the Cardinals receivers?  It seems like outside of Larry Fitzgerald, they've disappeared. Through three games he is by far the leader in receptions with 20.  The next closest?  Running back David Johnson with 10.
The closest receiver to Fitz is Michael Floyd with nine receptions.  He dropped a couple of passes he quite frankly should have caught on Sunday in the loss to the Buffalo Bills.
One of those drops by Floyd had him going to the ground on his back.  The ball was catchable. When he hit the ground though, his head hit the turf and was checked for a concussion.
He was able to return to the game but it now seems like he shouldn't have returned.  He is now in the concussion protocol and his status for Sunday's home game against the Los Angeles Rams is uncertain.
Other receiver numbers include John Brown with eight receptions, Jaron Brown with six.  Only Floyd and Jaron Brown have receiver touchdowns other than Fitz.  John Brown has not found the end zone yet this season.
Palmer was intercepted four times on Sunday against the Bills.  All four of them came while trying to attempt a comeback from 30-16 down and seven minutes remaining in the game.
Palmer could be blamed in part or all of a couple of those picks.  However it appears on at least a couple of those picks that receivers ran incorrect routes.  That isn't isolated to just the Bills game either.  It appeared that happened a couple of times in the loss to the New England Patriots as well.
So what needs to change?  Everything.  Receivers, tight ends, running backs, they all need to be on the same page as Palmer.  As it stands right now though, it could be just Fitz, John Brown, and Jaron Brown at wideout on Sunday.  If Floyd can't go, maybe J.J. Nelson can get going?  He's only got one reception so far.  He did miss the game against Tampa Bay due to injury.
The next two games are division games, one at home and one on the road.  Both are within four days of each other.  The Cardinals do not have the luxury to take time to improve on the things that are "correctable" as coach Bruce Arians put it.
If they are truly correctable, correct them now.  The season isn't getting any younger.  There is still time to right the ship but for now, everyone is struggling.
When other teams know only one receiver can be relied upon like Fitz, he's going to draw attention.  That will take the ball out of his hands.
The only way Fitz is going to be able to find himself 100 receptions and others improve their performances is to focus on the task at hand.  There is no time to wait another three or four weeks to feel it out.  That should have been done in preseason.
No one is perfect.  Mistakes are going to happen.  That's not what I'm talking about here.  Catch a ball or two.  Run a route correctly.
Turnovers are going to still happen no matter how hard you work between Sunday's to fix the problem.  Consistency is the key.
However the only consistency the Cardinals have right now is inconsistency.  Palmer can't do it on his own and when he tries, bad things happen.  Let's not get Buffaloed again.
More from Raising Zona
This article originally appeared on