Arizona Cardinals: Larry Fitzgerald moves up the list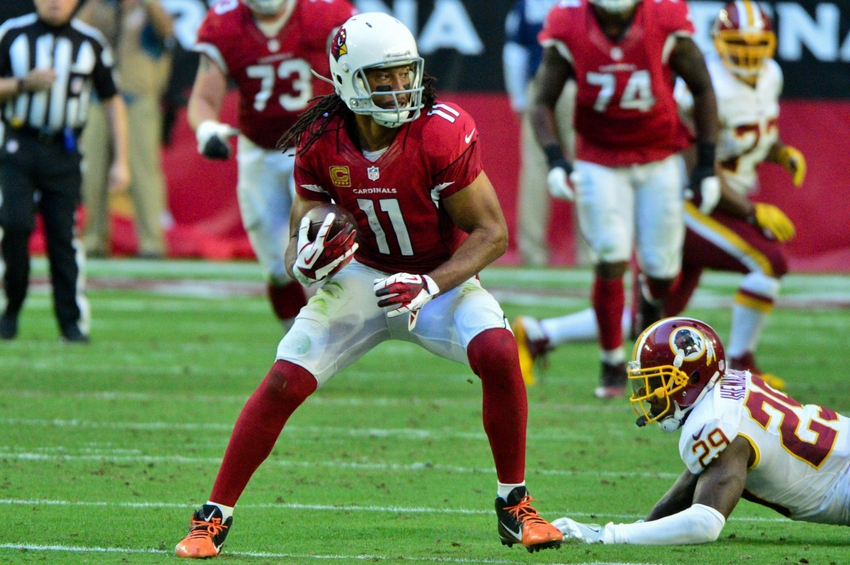 Arizona Cardinals receiver Larry Fitzgerald continued his march towards the Pro Football Hall of Fame on Sunday
Whether Arizona Cardinals receiver Larry Fitzgerald decides to return in 2017 or not at this point, he has one thing cemented.  He will be a first-ballot hall of famer.
On Sunday he moved to third on the all-time receptions list, passing Cris Carter and Marvin Harrison.  He passed Andre Johnson to now sit 10th in all-rime receiving yards.
Fitz lead the Cardinals with 10 receptions on Sunday for 78 yards.  He didn't have any touchdowns but that didn't matter.
Maybe his most impressive catch of the day wasn't his record-breaker but his reception to get a first down on a tough third and three.  He stretched the ball out to gain the first down.  He knew exactly where he was on the field.
On the field and off the field since 2004, Fitz has remained a consistent true professional.  There is no player, receiver or otherwise, that works as hard day in and day out like Fitz does.
This season the Cardinals have relied on Fitz more with injuries and struggles of receivers John Brown, Jaron Brown, and Michael Floyd.  Fitz has played through the couple of injuries he has had to deal with this season.
Fitzgerald has had to spend a lot of the 2016 season dealing with rumors that he might retire after the 2016 season.  Some fans have speculated this is it because of the team performance.
I say otherwise.  Fitz has been working so hard to will his team to a Super Bowl victory.  It was the main reason he decided before the 2015 season to take a pay cut and return to Arizona instead of retiring or taking a higher payday somewhere else.
Even with the pay cut last year, Fitz is still getting paid and earning every cent.  Some felt he got overpaid when the Cardinals re-did his contract.  He cleared any talk of that quickly with his play last season.  He had a career-high 112 receptions in 2015.
After Sunday's victory over the Washington Redskins, Fitz now has 88 receptions on the season with still four games remaining.  He is averaging 7.33 receptions per game.  If he continues that over the remainder of the season, he will finish with 117 receptions for the season.
If the Cardinals fail to make the postseason, look for Fitz to make one more run at it in 2017.  He is just 33 right now, will turn 34 right before next season. He is proving every week that age is just a number.  He is still the number one receiver in Arizona.
More from Raising Zona
This article originally appeared on