Arizona Cardinals Head Coach Bruce Arians Hospitalized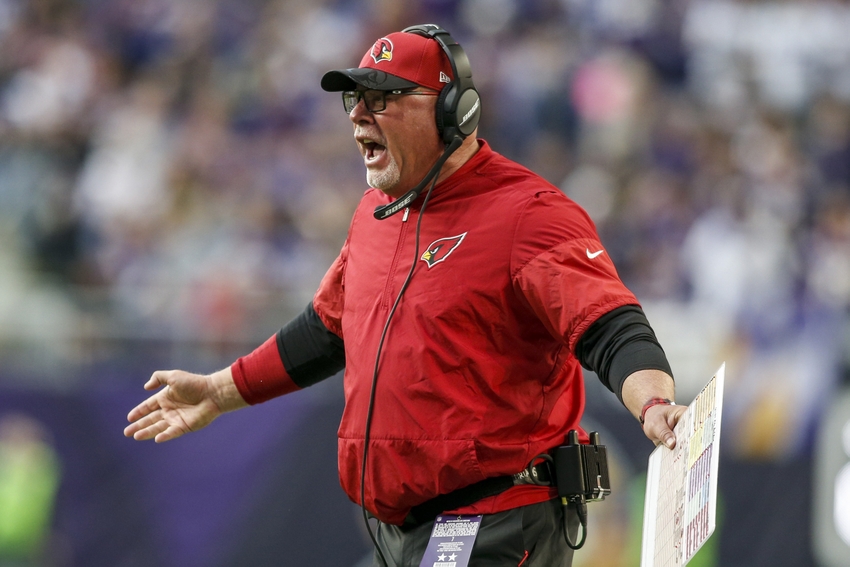 Bruce Arians, head coach of the Arizona Cardinals, is undergoing tests after experiencing chest pains and checking into the hospital.
On Sunday in Week 11, the Arizona Cardinals had a chance to come back and win against the Minnesota Vikings. But their efforts were ultimately fruitless thanks to continued poor performance from the offensive line. The always candid Cardinals head coach, Bruce Arians, was less than pleased once again. However, he has much bigger, far scarier concerns facing him on Monday than anything football related.
Arians reportedly has been hospitalized after experiencing chest pains, per ESPN's Adam Schefter. The Cardinals head coach has been undergoing tests on Monday. Also from Schefter's report, the early test results on Arians have come back "favorable."
This is certainly not the type of news that Cardinals fans or anyone wants to see. Chest pain can obviously mean a variety of things. However, the worse end of the spectrum is extremely harrowing. Thankfully, that doesn't look to be the case for the Arizona head coach as of right now.
It's also worth noting that this is the second time in the 2016 NFL calendar that Arians has been checked into the hospital. As Schefter also noted, the head coach was taken to the hospital prior to a preseason game with possible kidney stones:
Bruce Arians was rushed to a San Diego hospital in August, before a Cardinals preseason game vs. Chargers, thinking he had a kidney stone.

— Adam Schefter (@AdamSchefter) November 21, 2016
As he's been coaching all season, that was obviously nothing majorly concerning. Moreover, it's not nearly as frightening as something like having chest pains.
While Arians is still undergoing tests while hospitalized, more information is sure to come available, though. As of right now, however, it appears as though the Cardinals head coach is alright despite having a scare. For reasons bigger than football, let's hope that remains the case as more test results come back.
This article originally appeared on