Arizona Cardinals: Does Carson Palmer have enough left in the tank?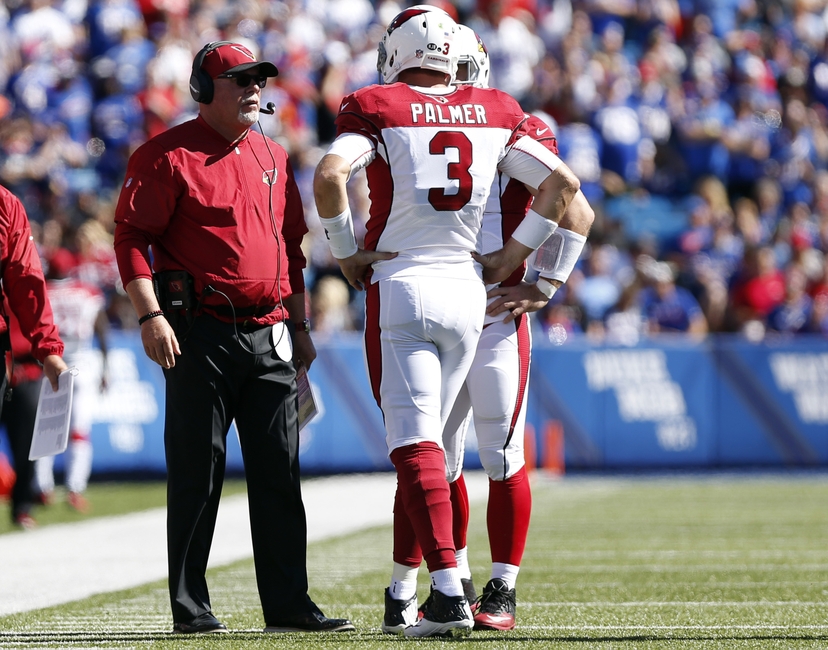 Arizona Cardinals quarterback Carson Palmer has had a brilliant career resurgence since arriving in Arizona in 2013, but does he have anything left in the tank?
To call the work Carson Palmer has done with the Arizona Cardinals anything but extraordinary in the last few years would be to do him a disservice. The quarterback has been lights-out year after year despite being discarded by the Cincinnati Bengals and Oakland Raiders before landing with the Cardinals.
At age 36, however, there's only a limited amount of time left for Palmer to cement his legacy. 2016's performances thus far aren't helping that legacy.
Three weeks into the 2016 NFL season and it's tough to think of Palmer as the quarterback with the 29th ranked completion percentage (57.3 percent), 18th in yards per attempt (7.4), and 23rd in quarterback rating (80.5). His meager five touchdowns to four interceptions only shows how painful the road has become for Palmer.
The season is far from over, but the beginning of the year isn't off to a great start. The two losses the team has suffered are already near his season average as a starter since arriving in Arizona. He had zero losses (6-0) in 2014 and was 13-3 in 2015. The losses clearly aren't all his fault, but he also isn't the same dominant force he was last season or the year before.
With the competitive NFC West beginning to shape up in Week 4 and the vague playoff picture getting slightly clearer, the Cardinals need to rebound and they need Palmer to rebound to lead them. He simply needs to get back to form.
That, of course, is easier said than done.
As Paola Bolvin asks at AZ Central, "Will the real Carson Palmer please step up?" She succinctly puts his recent skid in perspective:
Is Palmer the quarterback who posted the best season of his 13-year career in 2015, who led the Cardinals to a 13-3 record and took them to the brink of a Super Bowl?

Or is he the one who has a 73.36 quarterback rating, 11 interceptions and 2-4 record in his past six games, and has seemed out of sync with his receivers?
To say that his career is done would be an overstatement, but the latest skid is definitely an indictment against his ability to deliver in this season (at least to this point). He was the leader of one of the most dynamic teams in the NFL last season and seemed unstoppable when he dropped back to pass. Getting back to that point should be the primary focus for Palmer and the Cardinals going forward.
Really, even being among the better half of quarterbacks (baby steps) would be an improvement. The Cards can win with slightly better QB play. They're a good enough team on the whole to be special even if the quarterback is not.
Still, if they want to keep that championship window open, they'll need Palmer to be more like the 2015 version of himself than what he has shown thus far. He's not old enough to hang up the cleats, there's got to be something more.
Hopefully he can dig deep and find those last reserves.
This article originally appeared on