Arizona Cardinals: 8 reasons not to panic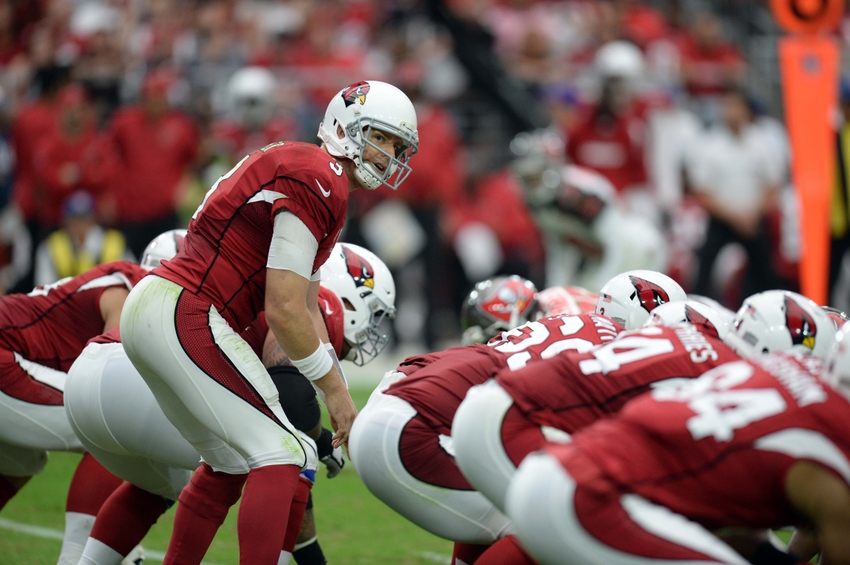 The Arizona Cardinals are 1-2 but there is plenty of season left to turn things around
It is isn't the start to the 2016 season that most Cardinals fans would have envisioned so far.  At 1-2 the Cardinals have one close loss that should have been a win and one blowout loss that should have been a blowout the other way.
That is the NFL though and that is why you play the games.  If we went off of should have or could have's, the Cardinals would have a richer franchise history than they do at the moment.
The expectations weren't too high.  The expectations in fact remain the same, get to a Super Bowl and win the Super Bowl.  It's a tall order but one that this talented roster can accomplish.
Not every Cardinals fan is in a panic.  Not every fan is ready to jump off a ledge.  Some are but they don't have a real understanding of what the Cardinals are about.
There are many reasons why there should be no panic yet.  I don't like using the term it's still early. In the NFL, it's never early with just 16 games.  That being said, they have plenty of reasons to believe they can still right the ship and accomplish their goals.
All division games left to play
They may be off to a slow start but none of the games yet have been against the NFC West.  They have their full slate of divisional games remaining.
The Cardinals will start their NFC West slate on Sunday, hosting the current NFC West leading Los Angeles Rams.  They will have a chance to avenge one of their two division losses from a year ago.
They don't get much rest at all after the Sunday's game.  They will travel on a short week to face the San Francisco 49ers on Thursday Night Football.  With a game against the New York Jets in between, they will face the Seattle Seahawks on Sunday Night Football on October 23rd.
The Cardinals will know pretty fast if they have a team able to not only win in the division but be able to compete for the division title and a playoff appearance.  Forget the records, when division foes face each other, you are put to a greater test.
Bruce Arians
A number of fans aren't very pleased with the Cardinals head coach right now.  They think either he is delusional or blowing steam up their behinds with comments made this week after losing to the Buffalo Bills in Buffalo last Sunday.
People tend to lose grasp of reality though.  Arians is the glue that keeps this team together.  If not for Arians, this team wouldn't be where they are now.
He doesn't beat around the bush.  He is like a father figure.  He will be upset as can be after a loss and will be honest as can be.  Remember, he promised he would look at the long snapper position when they got back to Arizona.  Now Kameron Canaday is out of a job.
He also will be the first one to fist bump you or give a player a hug.  He has a close relationship with a number of players.  He is especially close with the leaders of this team such as Tyrann Mathieu.
You may not always love his play calling or don't understand the moves he makes but they all happen for a reason.  Fans need to continue to trust he knows what he is doing.
Carson Palmer
Yes, Palmer has not looked like the MVP candidate Palmer from last season.  He went the first 11 quarters of the season without an interception.
That all changed in the fourth quarter of the loss to the Bills when he threw four interceptions.  A couple of them it appeared receivers ran wrong routes.  He was also trying to make things happen in a short amount of time attempting a comeback.
It is amazing as quickly as some fans fell in love with him, they are jumping off the bandwagon. The track record is there no doubt.  Let's not forget the quarterback he's been though from week four of the 2013 season until week 16 of the 2015 season.
He's not the same Palmer we knew in Oakland.  Yes, we get it, he's only won one playoff game.  I'd rather have Palmer back behind center right now in lieu of a Drew Stanton, Matt Barkley, or anyone else.
Palmer isn't perfect, far from it.  He's going to make mistakes.  We won't pretend he is Tom Brady or anything.  He's Carson Palmer.  Take the bad with the good.  Cardinals are lucky to have him.
David Johnson
Just a few games into his sophomore season, Johnson appears to be on the right track to big things in his career.  He still makes mistakes but he is a difference maker.
Arians wasn't happy with him after the victory over Tampa Bay a couple of weeks ago.  He said Johnson made too many mental mistakes.  He rushed for just 45 yards in the win.
That's easy to do when your NFL career has spanned all of 19 regular season games.  He's young. He's a workhorse though who will put together a great game week in and week out.
Johnson's versatility is what will help carry the Cardinals.  You never know where he will be.  The Cardinals are counting on their opponents confusion.
Johnson has the ability to put up triple digits in yards rushing and receiving in the same game.  The Cardinals want to get him the ball.  He will continue to get his shots as long as his head is consistently in the game.
Keeping it loose
The Cardinals have said all the right things.  They aren't a tight group.  They just need to maintain focus and have great practice weeks that translate into great efforts and wins on Sunday's.
Look at the fun the team has with their quarterback competition of throwing a football into a bucket each week.  Loser must dress however the others want him to on road trips.  Last year's elf uniform that Patrick Peterson wore was epic.
Carson Palmer supposedly was dressed as the Stay Puft Marshmellow Man a couple of weeks ago during pregame warmups.  He denied it.
You have to be able to put the losses behind you as quickly as you forget the wins and move on to the next opponent.  The NFL is a week to week proposition.
Games are tough on the body and on the mind.  You have to be both physically and mentally strong.  Keeping things loose in the locker room helps break that tension, if there is any to begin with.
No dominant team
There are a number of teams that appear to already have inside track to being the contenders in the NFC this season.  However no one team appears dominant, even at 3-0.
The Philadelphia Eagles are 3-0.  They have a rookie quarterback who has seemed very poised so far in Carson Wentz.  He's had the benefit of playing the Cleveland Browns and the Chicago Bears so far.  It was a nice victory over the Pittsburgh Steelers however.
All that said, the Eagles aren't going 16-0.  They will lose some along the way.
The other 3-0 team is the Minnesota Vikings.  They have a great defense but have Sam Bradford at quarterback and no running game without Adrian Peterson. They won't stay undefeated for long.
Six other teams are 2-1 including the Rams and Seahawks.  The Cardinals have no reason to believe they can't still get themselves back into a position to make a run at the Super Bowl.
Patrick Peterson
Peterson has played very well so far this season.  He made what was arguably the best defensive play of the season last week in a one-handed interception running out of bounds against the Bills.
He won't get every call but he plays with authority.  The Cardinals rely on him as a leader on defense.  We saw a lot of that last season too.
After a victory last season, Arians gave the team Monday off in what he calls Victory Monday.  The defense on that Sunday however had played so terribly, he told the defense no Monday off and to be at team headquarters to start the business of making things right on that side of the ball.
That is the type of leadership the Cardinals need for the younger guys.  Last week Arians pointed out that there were a lot of young followers who weren't following very well.  A leader needs to have followers.  Everyone needs to be on the same page.  Peterson is someone that can handle that chore.
Unfinished business
There is no worse feeling than seeing months and months of hard work gone in 60 minutes like the Cardinals went down against the Carolina Panthers in the NFC Championship Game last January.
Arians and general manager Steve Keim were already working on a plan to get themselves better prepared for the situation in 2016.  The Cardinals aren't here to just show up this season.
The appearance so far does look like the Cardinals expect to just show up on Sunday's and be given then game.  It doesn't work that way and the players know it.  They just need to show it.
The Cardinals goal is to win the Super Bowl.  Not just get to the big game but win it.  The Cardinals can get there again.  They need a much higher focus on Sunday's.  There is no light switch they can turn on to make it better.  Putting more points on the board than your opponent makes it better. That starts on Sunday.
This article originally appeared on