Arizona Cardinals: 5 bold predictions vs Seattle Seahawks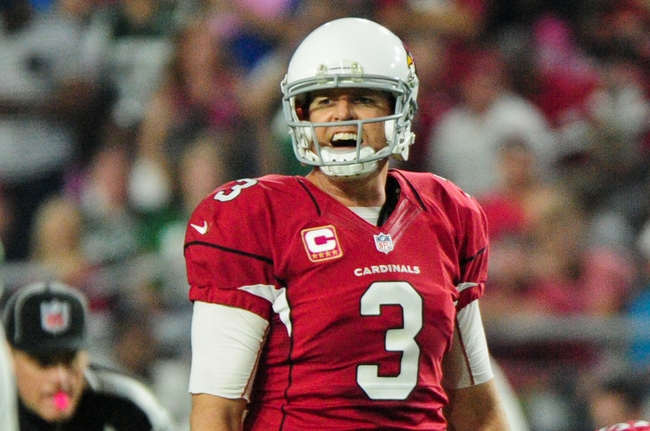 The Arizona Cardinals (3-3) are preparing to host the Seattle Seahawks (4-1) on Sunday Night Football at University of Glendale 5:30 p.m. Sunday evening.  It will be the first of two meetings this season.
This game could make or break the Cardinals chances at winning the NFC West.  A win and they stand a half-game behind the Seahawks with one victory over them.  A loss puts them two and a half games back with a victory over the Cardinals in their back pocket, which essentially puts the Cardinals three and a half back with just nine games remaining.
The Cardinals have lost three in a row to the Seahawks at home.  They are a little banged up but will have most of their skill players available, less receiver John Brown.
The Seahawks have been finding ways to win.  They are coming off a very good home victory over the Atlanta Falcons last week.  Here are five bold predictions for Sunday night's game.
David Johnson will not rush for 100 yards
The Seattle defense is a little banged up but they are likely to hold Cardinals running back David Johnson to under 100 yards on the ground.  The Cardinals will need to win the battle up front with their offensive line if Johnson is to have any shot at 100-yards.
Now that doesn't mean that Johnson won't continue to get his touches.  Johnson will get his 25-30 touches, especially if the Cardinals are without John Brown.  Johnson could be looking at a decent receiving game.
He should get over 100-yards from scrimmage despite the rushing yards being under 100.  That is what makes Johnson who is he and why he is so valuable to the Cardinals.  Without his versatility, the Cardinals could be squirming a little more without Brown Sunday night.
It isn't impossible for Johnson to get 100-yards on the ground, it is just we all need to remember this is not the San Francisco 49ers the Cardinals are facing.  Seattle could be very tough to run on.
Carson Palmer will throw an interception and people will go nuts
It's inevitable.  Cardinals quarterback Carson Palmer will make a mistake or two against the Seahawks.  Even in victory, Palmer has had his moments of struggle against the NFC West division leaders.
What will likely happen as well is Cardinals fans starting to go crazy over it on social media.  I don't completely blame them.  All of us are nervous what the near future brings to the Cardinals.  They are in an almost must-win situation if they have aspirations to win the division.
Let's remember also that Palmer can make mistakes and still overcome them and win.  He's done it before, even against the Seahawks.
Fans will need to keep their heads on straight.  Palmer is the starter and unless he gets hurt or the Cardinals are getting blown out, Palmer is the guy, period.
So when Palmer throws his first pick on Sunday night, just remember the Cardinals can win without him being perfect or even above average.  Yes, we all would feel much better with an above average or even average game.
Calais Campbell will sack Russell Wilson twice
He's due.  Cardinals defensive end Calais Campbell has two sacks on the season coming into Sunday night's game against the Seahawks.
On Sunday night, expect him to take Seahawks quarterback Russell Wilson down at least twice. Campbell has made a living of chasing Wilson around but often coming close without bringing him down.
A couple of years ago in a matchup in Seattle, Campbell 'almost' sacked him seven times.  Wilson though was able to escape several of those times.  Campbell did get credit for three sacks that day.  Since that week 12 game in 2014, he has not sacked Wilson.
Campbell has been coming close.  Although a close sack isn't a real NFL statistic, Campbell has to be near the top of NFL pass rushers in that category.  He creates great pressure but often comes up empty.  This season has been no exception.
Wilson is tough to bring down, so its not always all on Campbell but the Cardinals need him to step it up a notch on Sunday night.  Something tells me it will be a special night for CC.
Seahawks TE Jimmy Graham will score two touchdowns
Watch out, the Russell Wilson to Jimmy Graham connection has started to heat up.  The Seahawks are starting to see the Graham they thought they were getting when they traded for the former Saints tight end before the 2015 season.
Graham has fought through injury and being in a new system with a new team.  He has 22 receptions for 355 yards and one touchdown so far this season.  He is averaging better than 16-yards per reception.
Of course the struggles the Cardinals have had covering tight ends has been well documented over the years.  This could be a breakout game for the Wilson-Graham connection.
The Cardinals will need to contain Graham and keep him in front of the defense, not let him get behind it.  Also they will need to do an extraordinary job in focusing on tackling him.  He is a tough guy to bring down and the Cardinals have had difficulty tackling at times this season.
The Cardinals will come away with a 26-23 victory
Cardinals fans may be looking for more offense from Palmer and company but this may not be the game we see that breakout performance.  As long as the Cardinals win, that's all that matters.
Both teams could struggle to find the end zone consistently.  The difference on Sunday night will be field goals.  The Cardinals will hit four of them and Seattle three.
Nothing would make any of us feel happier than to see Palmer instead throw four or five touchdowns.  That could still happen but based on recent play of both teams the 26-23 score should end up being closer to the truth.
This doesn't mean we won't see offense but both teams could struggle to find the end zone. Both teams struggled offensively against the Los Angeles Rams and it cost them.  Now they get to face each other for the first time.
These predictions are just that.  The Cardinals still win but it is entirely possible we could see a shootout as well like the 39-32 game we saw in Seattle last November.
More from Raising Zona
This article originally appeared on