Arizona Cardinals: 5 Best plays of first half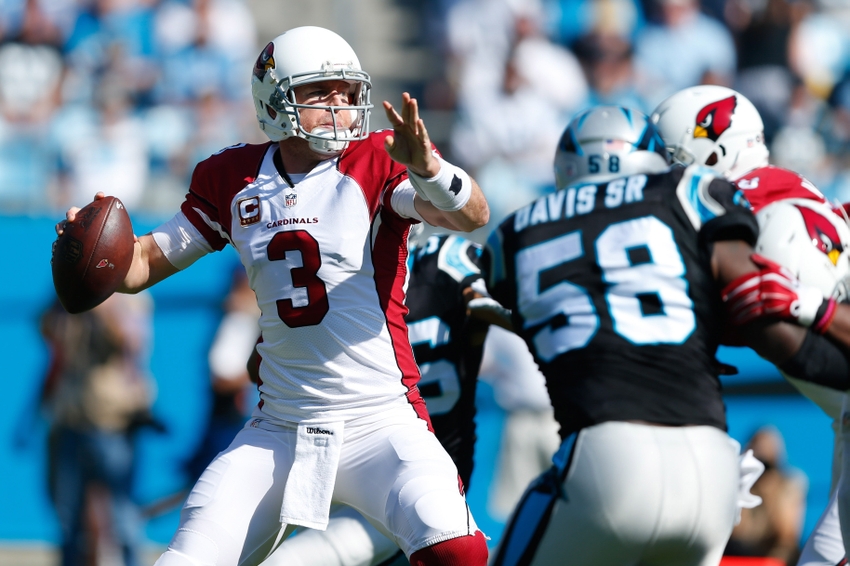 The Arizona Cardinals are 3-4-1 heading into their bye week but still have had some great plays
It hasn't been the best of seasons so for for the Arizona Cardinals.  However there is a lot of football left to be played.  Half the season to be exact.
The Cardinals are enjoying this Sunday on the bye and it is much needed.  So time to reflect back on the first half of a season that many expected to turn out much differently.
A couple of plays here and there and the Cardinals easily could be 6-2.  They could just as easily be 2-6 though, so that's a positive.
The Cardinals haven't had a ton of plays to be proud of so far this season.  However there are a handful of them that we will remember and look back on when talking about the 2016 season.
These are the five best plays the Cardinals have been involved in over their first eight games. Remember, this is all subjective, please tell us yours if it is missing from this short list.
5. Marcus Cooper interception return for touchdown
The switch from rookie Brandon Williams to Marcus Cooper at cornerback started paying off in week two against the Tampa Bay Buccaneers.  Cooper picked off two Jameis Winston passes.
One of those passes was tipped and landed in the hands of Cooper who took the ball back for a touchdown.  The Cardinals ended up defeating the Bucs 40-7.
So far Cooper's interception return for touchdown is the only one through the first half of the season.  The Cardinals have nine interceptions as a team with Cooper owning three of those picks.
Cooper, who was acquired from the Kansas City Chiefs just prior to the start of the 2016 season, has been another good find by Keim.  Williams will be very good one day but starting him was a move out of need rather than want.  The Cardinals definitely want more of what Cooper has given them over the first eight games.
4. Larry Fitzgerald's 100th touchdown
There have been a lot of great plays in receiver Larry Fitzgerald's career.  We all know he is a virtual lock for the Pro Football Hall of Fame someday after he retires.
For now though, Fitz continues to play at a very high level.  Nothing more proves that than his catch in week one of the 2016 season that provided his 100th receiving touchdown of his career.
Think how impressive that is given the quarterbacks Fitz has had to play with over the years since his rookie season in 2004.  Sure he's had Carson Palmer and Kurt Warner but he's had plenty more to deal with during his career.
Fitz has five touchdowns so far this season, none bigger than the 100th but he also has 56 receptions on the season.  That is on pace to best the 109 he had in 2015.
3. Carson Palmer touchdown pass to John Brown
It wasn't the prettiest of games, no doubt.  However the fact that Carson Palmer had one of his best games as a Cardinal quarterback says a lot about the progress the skill players on offense. One of those skill players, receiver John Brown, had a fantastic catch from Palmer against the Carolina Panthers in week nine.
Now we just need to get the defense going at the same time and some help from the offensive line. For now though, Palmer should take solace in the fact he was able to move the ball and get three passing touchdowns.
The touchdown pass to Brown was zipped in there.  It was a tight fit but it couldn't have been thrown any better.  A little softer, it might not make it to Brown.  Any harder and the ball may have not been caught.  Hopefully many more of these to come.
2. Patrick Peterson one-handed interception
This may not only end up being one of the best defensive plays of the year for the Cardinals, this is definitely a top five in the NFL so far in 2016.  Patrick Peterson's one-handed interception against the Buffalo Bills still has some shaking their heads.
Facing the receiver and not the quarterback, making the catch over his shoulder, with one hand, all the while staying in bounds.  Most impressive.
Peterson has made numerous great plays since his arrival in Arizona in 2011 but this one takes the cake.  The Cardinals may have been blown out and on a day where the defense certainly did not shine as a whole, Peterson provided some positive news on the defensive side of things before this game got out of control.
It was unfortunate the Cardinals couldn't turn more plays like this against the Bills.  They were needed.
1. David Johnson 58-yard touchdown run
The Cardinals have had difficulty scoring in the first quarter all season.  That has been well chronicled.  Cardinals running back David Johnson changed all of that in a hurry on Monday Night Football on October 17th against the New York Jets.
Johnson made a couple of nice cuts, got some very good blocking and made a couple of Jets defensive players miss tackles en route to not only is still the only first quarter scoring the Cardinals have done this season but also the longest run from scrimmage this season as well.
Once Johnson was gone and in the end zone to make it 7-0 early, it was all over by then.  It was more than enough to beat the Jets 28-3.
More from Raising Zona
This article originally appeared on