Arizona Cardinals: 2017 QB prospects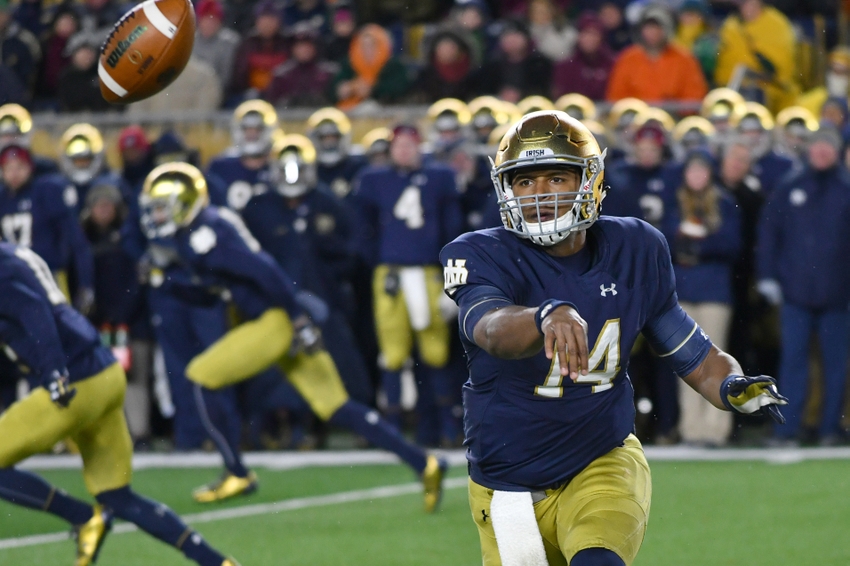 The Arizona Cardinals may want to consider taking their next quarterback of the future in the 2017 NFL Draft
The Arizona Cardinals know Carson Palmer's time with them is not going to last forever.  Some have suggested the Cardinals should rid of him next season.
However Palmer is under contract for the 2017 season and unless he retires, he isn't going anywhere next season.  That doesn't mean the Cardinals should ignore their future quarterback situation for yet another season.
On the contrary, the Cardinals need to plan now.  There is likely going to be a lot of roster turnover in 2017.  The team could be in a transition year.  That transition should include the quarterback.
There are number of strong but not great quarterback prospects expected to be available for the 2017 NFL Draft.  None of the top five quarterback prospects ranked by cbssports.com are seniors.
The Cardinals should draft a quarterback that can throw the deep ball but can also sit for a season to learn under Palmer.  The Cardinals don't need a 2017-ready quarterback unless Palmer hangs it up.  A 2018-ready quarterback would be advisable however.
Here are five quarterbacks the Cardinals should consider targeting in next year's draft.  By no means is this the final word.  A lot can happen between now and then.
Deshone Kizer, Notre Dame
Height: 6-4 Weight: 230
The Notre Dame redshirt sophomore burst onto the scene in 2015 after an injury to Malik Zaire. Kizer lead the Irish to a New Year's Day bowl.  His 2016 season hasn't been as rosy but there are reasons behind that.
Kizer still appears to be the best available quarterback in the upcoming draft.  He fits the Cardinals because of his height and style of play.  With the vertical passing game, Kizer is a down the field passer the Cardinals like.
Right now it is tough to say if Kizer will be available by the time the Cardinals make their pick, which right now appears to be mid-first round.  The next six weeks will have a lot to say about that though.
Kizer right now is projected as a first or second round pick.  I can't see any scenario where Kizer drops to the second round and could be gone by the time the Cardinals are on the board.
Mitch Trubisky, North Carolina
Height: 6-3 Weight: 220
Trubisky is likely gone by the time the Cardinals are on the board, so they would need to trade up to get him.  However he is another good sized quarterback that will fit many NFL teams.
He has completed nearly 70 percent of his passes (69.7) this season at North Carolina.  More impressively is his touchdown to interception ratio.
Trubisky has thrown 25 touchdowns to just four interceptions this season.  That is a sign of a good quarterback.  He can read defenses well.
He had a five-touchdown game against Pittsburgh this season while throwing 35-46.  With the weapons he would have in Arizona, it makes him a good fit.
He will go near the top of the draft however.  Don't be surprised if Trubisky is a member of the Cleveland Browns in 2017.
Luke Falk, Washington State
Height: 6-4 Weight: 205
Maybe even better in some eyes, Washington State's Luke Falk.  At 6'4 and a strong arm, another good fit for a pass-happy NFL offense.
The big question will be will Falk come out early to join the draft or will he stay at Washington State for his senior season?  He has not declared one way or another yet.
When he can be declared though is NFL-ready.  He has completed 71.4 percent of his passes in 2016.  He has 36 touchdowns and just seven interceptions to go along with that.
His college coach Mike Leach, told MMQB earlier this season the system Falk is in allows him to distribute the football to all of his weapons on the field.  Sound familiar?
He may be in an Air-Raid system but that style would work in Arizona even with a balanced attack. As long as the Cardinals have David Johnson and a much better running game now than in the past, this offense will still lean pass more often.
Mason Rudolph, Oklahoma State
Height: 6-5 Weight: 235
The tallest quarterback of this group, Rudolph has had himself a nice season at Oklahoma State. He currently has 25 touchdowns against just four interceptions.
Rudolph has completed 64.2 percent of his passes through November 19th. He has one four-touchdown game and one five-touchdown game this season.
It appeared early on Rudolph would need a senior season to fine tune himself for the NFL.  Now it looks like there's a good chance the junior could come out depending on how projections for him play out.
There is no real consensus on where he would fall.  Some think he's a top-10 pick while others aren't even sure he's a first-rounder yet.  He's thrown for 3,591-yards so far in 2016 with still some game play left.  That should have a lot of NFL scouts salivating.
Brad Kaaya, Miami
Height: 6-4 Weight: 209
The good news on Kaaya is that he will make a good NFL quarterback someday.  The bad news?  It may not be in 2017.
Recent reports have the University of Miami quarterback coming back for his senior season next year.  It may be a good choice.  However if he does come out, someone will take a chance on him earlier than later in the draft.
He has 19 touchdowns and seven interceptions so far in 2016 with a 61.1 percent pass completion rate.  His best attribute based on scouting reports is his ability to stick in the pocket. He doesn't get rattled when pressured.
His current projection is anywhere from the second to the fourth rounds of the NFL Draft. The Cardinals could take a chance on him later in the draft instead of wasting a higher pick on him. It's all moot for now though if he ultimately chooses to stay in Miami next year.
More from Raising Zona
This article originally appeared on