Arizona Cardinals: 10 best individual performances
Scott Allen/FanSided via Raising Zona

Fansided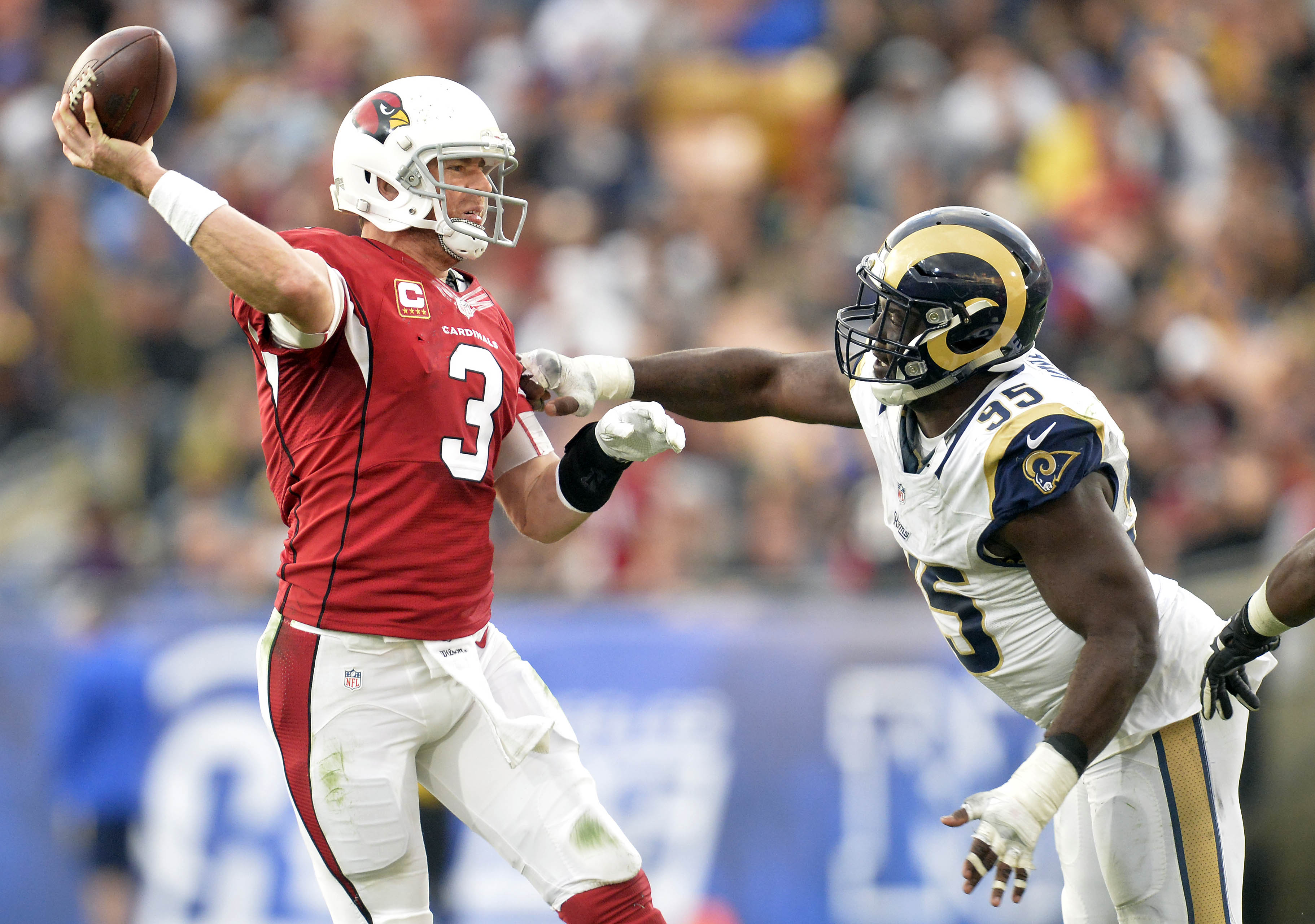 The Arizona Cardinals finished 7-8-1 in 2016 but still had some very good individual performances
The 2016 season for the Arizona Cardinals wasn't what it was all cracked up to be. They finished 7-8-1 and out of the playoffs, one year removed from the NFC Championship Game and a 13-3 regular season finish.
That doesn't mean there were not some performances worth mentioning. Quite the contrary, the Cardinals still have a number of individual performances that should be considered memorable and worth talking about.
There were quite a number of performances that are noteworthy from both the offense and the defensive side of the ball. Believe it or not, there are even some special teams plays worth mentioning as well, despite their struggles in 2016.
The Cardinals finished second in defense and ninth in offense. There is something to be said about that. Numbers don't always tell the whole story.
In 2016 much of the offensive and defensive numbers didn't matter when it came down to several games the Cardinals either tied or lost in the final moments of a game. Much of that has already been discussed.
Now it is time to reveal the 10 best individual performances by a Cardinals player this past season. Here's a hint, you might see certain players pop up in here more than once.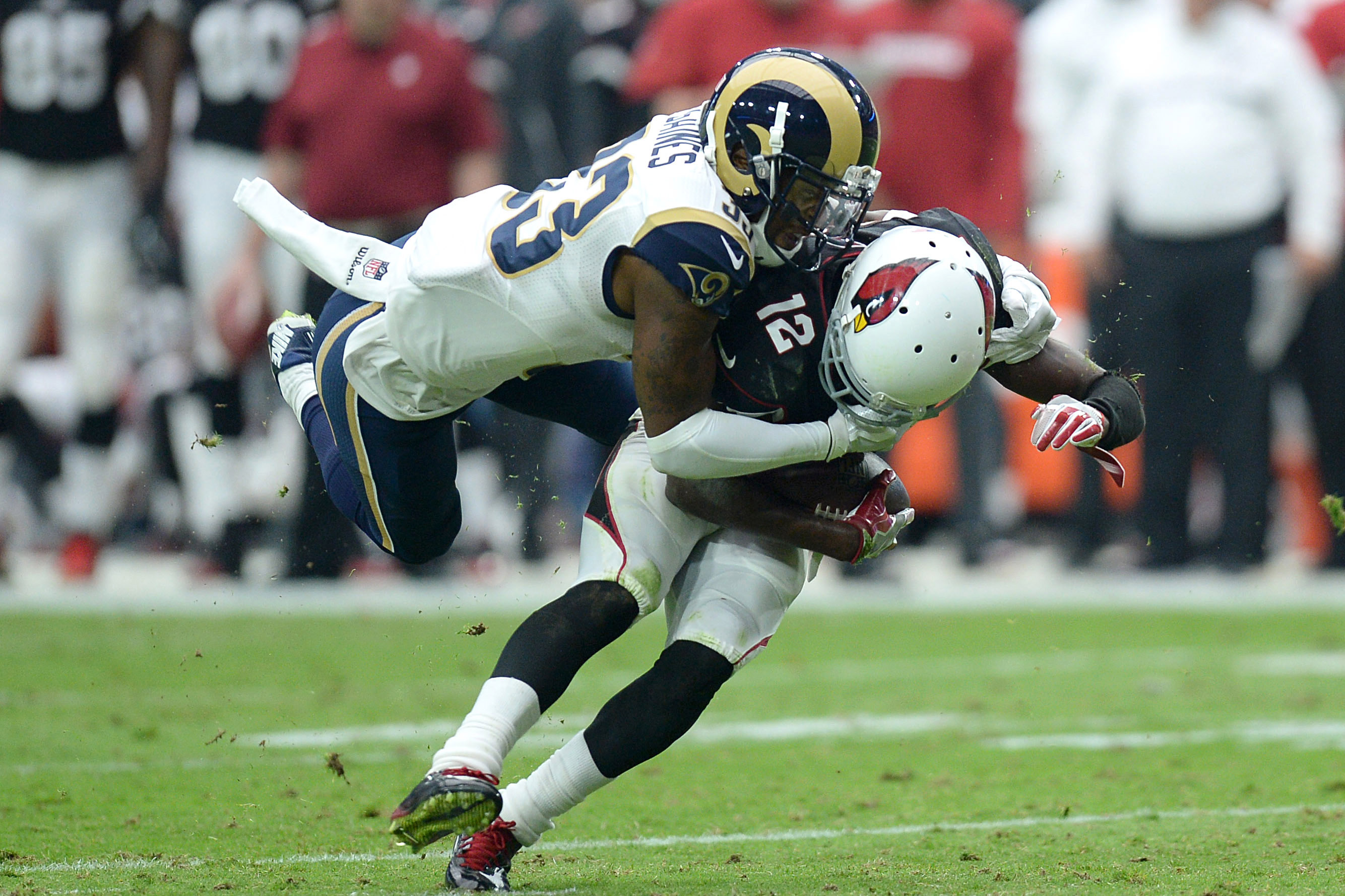 10. John Brown, week 4 vs. Los Angeles Rams
John Brown was missing in action quite a bit in 2016. Much of that was out of his control however.
During the 2016 season, Brown was diagnosed with Sickle Cell Trait. The Cardinals originally though he could be experiencing something with his hamstring.
Brown was in and out of the lineup and was not the same player he was in his first two seasons in the NFL. It is easy to say that Brown had a down year.
However in week four against the Los Angeles Rams, Brown had his best day of the season, hands down. It was a day in which Brown was targeted 16 times.
He found himself getting free more than the other receivers. He ended up with 10 receptions for 144-yards. He didn't find himself in the end zone. On this day that would have been helpful as the Cardinals dropped a 17-13 contest that saw Carson Palmer leave with a concussion.
With the loss of Palmer and receiver Michael Floyd still struggling, the Cardinals found Brown to rely on for this Sunday afternoon in Glendale.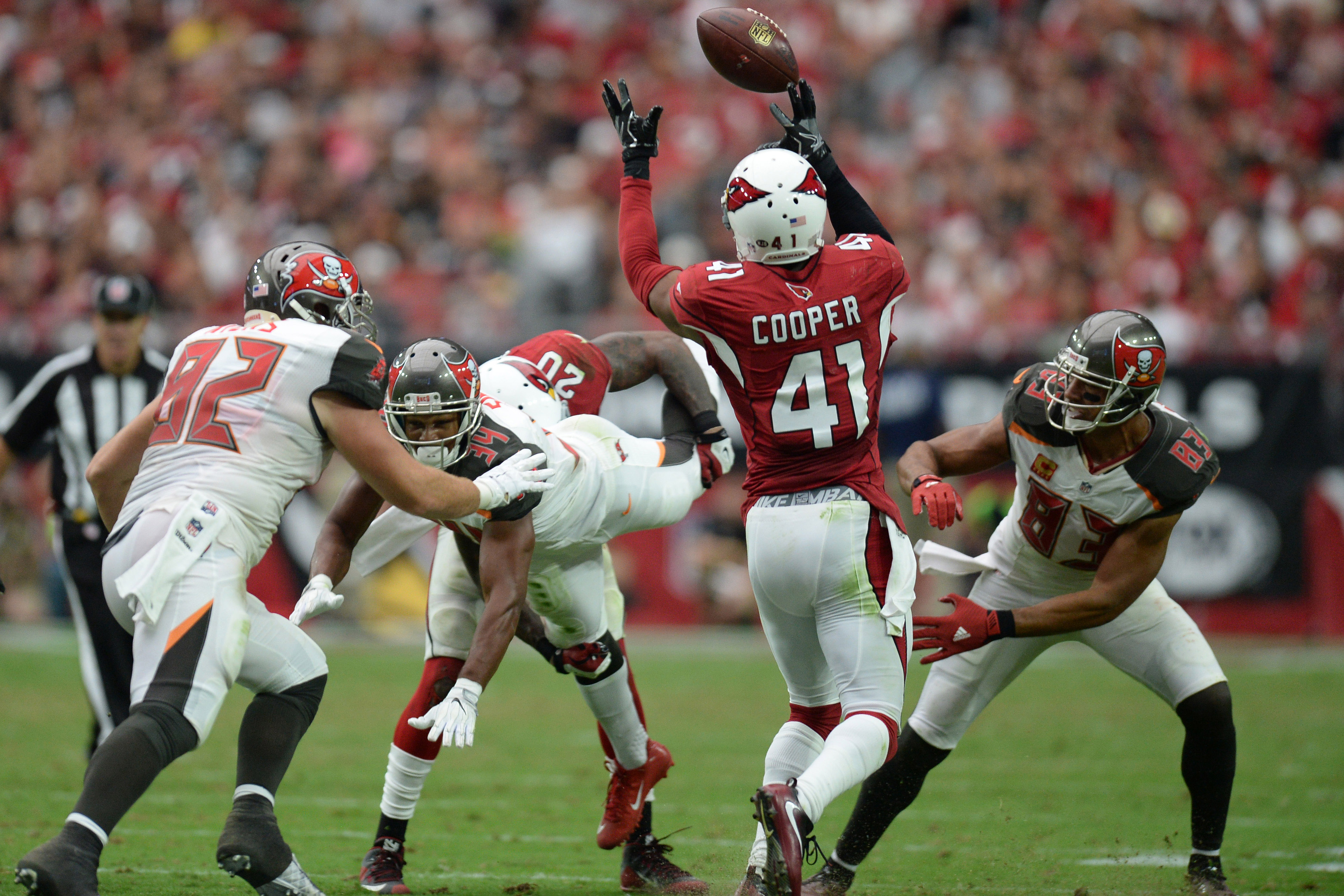 9. Marcus Cooper, week 2 vs. Tampa Bay Buccaneers
After this game, many speculated the Cardinals may have found their guy. They found the cornerback to start opposite of Patrick Peterson.
Rookie Brandon Williams didn't play well in week one. Insert Marcus Cooper in week two and it was like night and day.
Cooper ended up having two interceptions of Bucs quarterback Jameis Winston. One of the interceptions was returned 60-yards for a touchdown. The other was returned 23-yards.
Sure, the ball bounced in the right spot for Cooper to pick it off but the fact was he was there. He was part of the dominant defense that afternoon that held the Bucs to just seven points.
Cooper also had five tackles on the afternoon. Unfortunately he only had two more interceptions the remainder of the season. He was slowed by a couple of injuries down the stretch.
He never missed a full game but never seemed to play with the consistency he showed in the Tampa Bay game. Now he will likely need to compete for the starting job in 2017.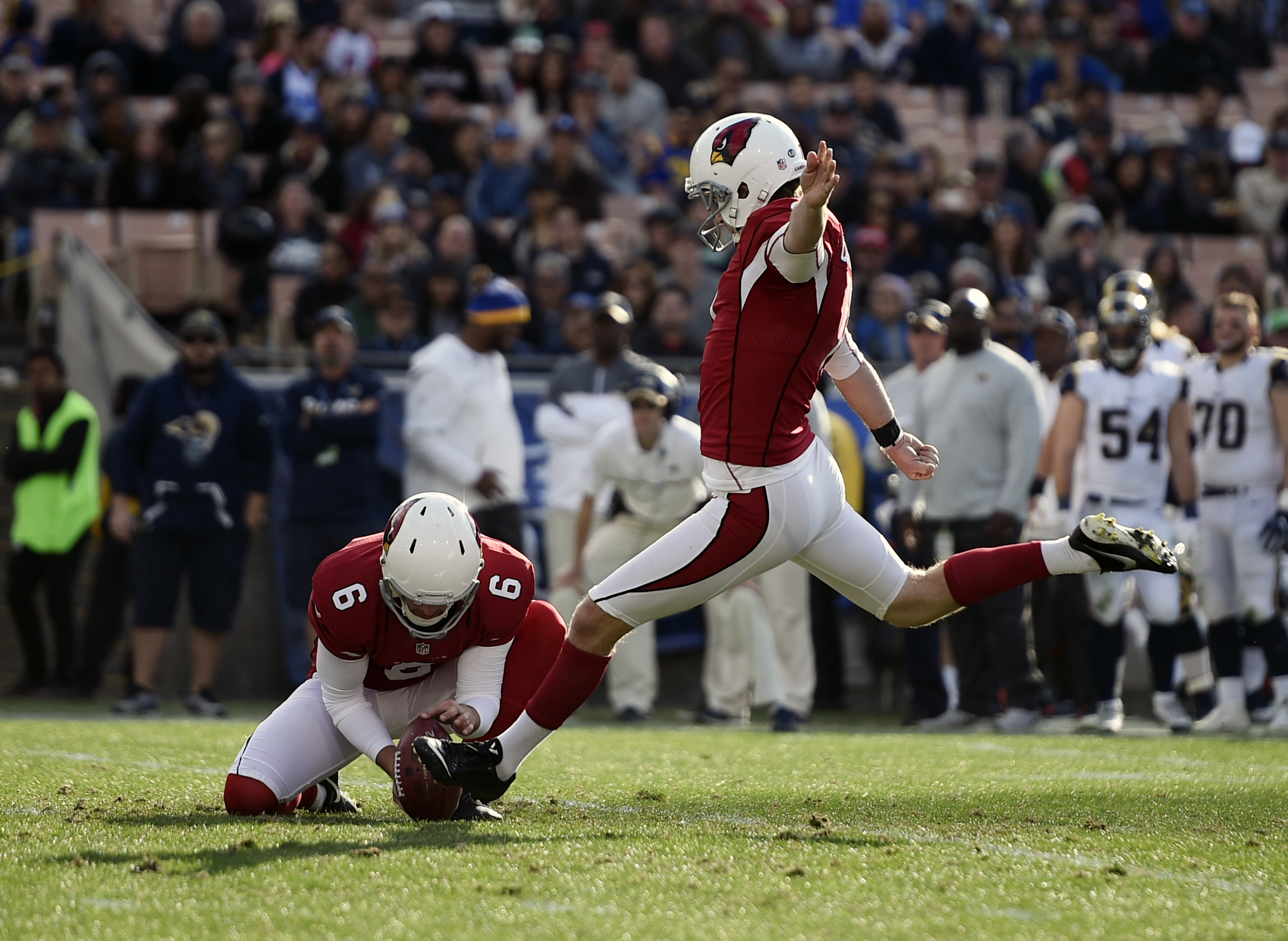 8. Chandler Catanzaro, week 17 at Los Angeles Rams
I know some of you are saying to yourselves "are you kidding me", but no this is serious. In a world of struggle for Cardinals kicker Chandler Catanzaro in 2016, he finally found a good week.
Of course it took 17 weeks to find that good week. Several bad weeks had left the Cardinals out of the playoffs and nothing to play for but pride on this day.
However it is worth noting Catanzaro never held his head down despite all the criticism, even if said criticism was warranted. Cat-Man had a good day in Los Angeles on New Year's Day.
With a performance that was likely sparked by a game-winning field goal the week before at the Seattle Seahawks, Catanzaro went 5-5 on extra points and 3-3 on field goal attempts. Everything he put up was money.
Maybe because the pressure was off this day? Maybe it was the opponent? Either way, it was still a game that counted in the standings and one that maybe brought some confidence back to Catanzaro, who likely faces at the very least some competition once training camp gets started.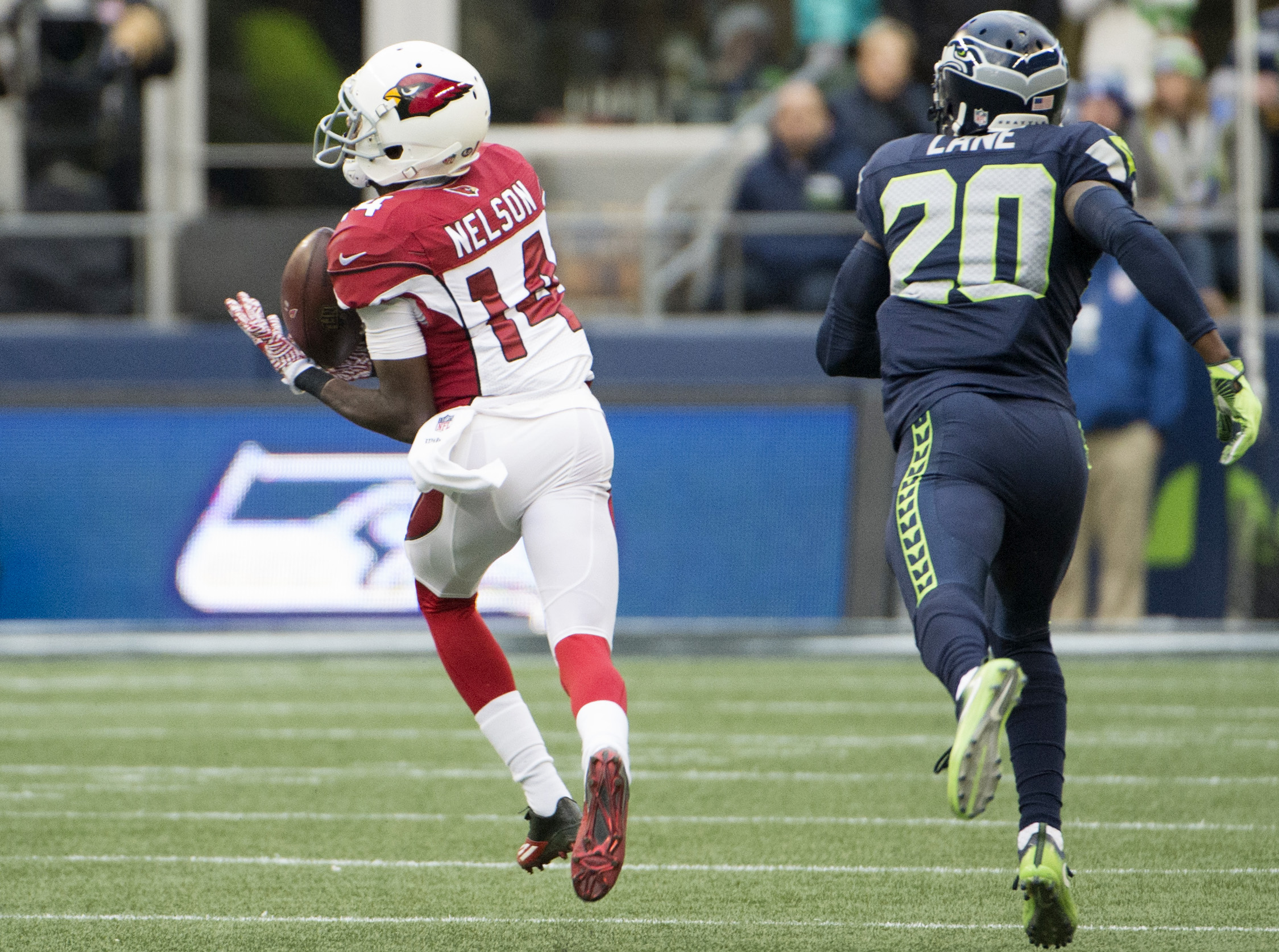 7. J.J. Nelson, week 16 at Seattle Seahawks
For most of the season, Nelson struggled much like former Cardinals receiver Michael Floyd. Nelson was making mistakes, dropping passes that should have been caught.
Since he was drafted in 2015 we've known the speed Nelson possesses. He just hadn't had a chance to show it much in 2016.
We got a glimpse of it on a Wildcat-play against the Miami Dolphins in week 14. However a big reception against the Seattle Seahawks in week 16 made a day for him in a 34-31 victory over the Seahawks.
Nelson beat the Seahawks secondary for a 80-yard reception from quarterback Carson Palmer. It was the deep play the Cardinals had been lacking all season up that point.
On the day, Nelson ended up with three receptions for 132-yards and the touchdown. The touchdown by the way was the longest at CenturyLink Field since it had opened. The stadium opened for business in 2002.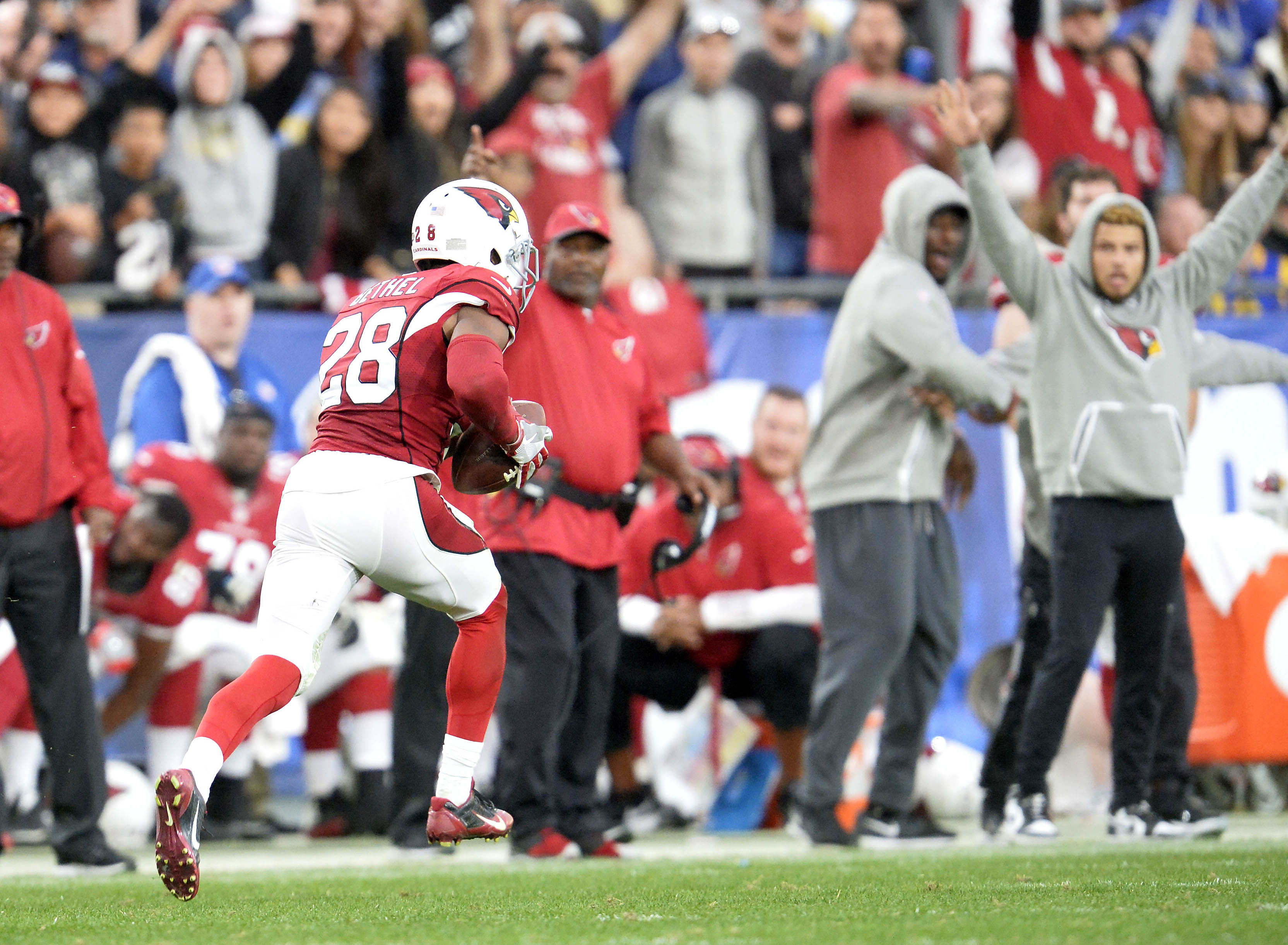 6. Justin Bethel, week 17 at Los Angeles Rams
Cardinals head coach Bruce Arians called him a "failure-in-progress" in early December after a reporter asked if he could describe him as a work-in-progress. Week 17 though was a ncie week for him.
Even if just a break from his failure-in-progress and even if it was just the Rams, it was still a week Bethel and his fans expected to see from him all season. Injuries and poor play had bogged down Bethel all season.
Bethel though had an interception that was returned for 66-yards for a touchdown. He also recovered a fumble and had six tackles.
The performance may have not been enough to keep him in consideration for a starting job 2017 and it may not even be enough to keep him on the roster as a backup and special teams specialist.
For one afternoon however, we were given a slight glimpse of what could have been over the past couple of seasons. This was likely just a break in his progress.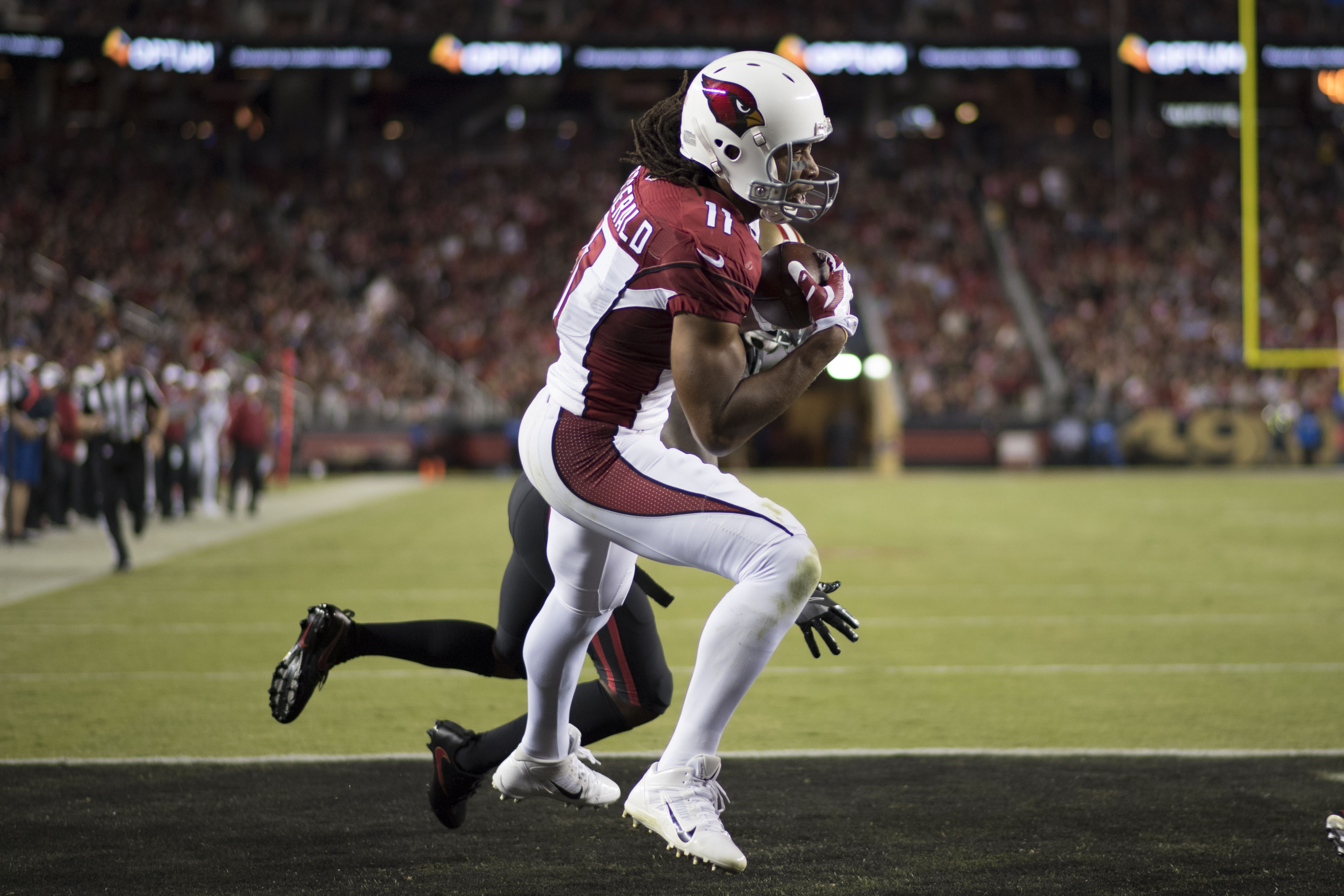 5. Larry Fitzgerald, week 5 at San Francisco 49ers
The game was played on a short week. The Cardinals were coming off a loss at home to the Los Angeles Rams. They were also without starting quarterback Carson Palmer.
The Cardinals had to go with backup quarterback Drew Stanton. Stanton didn't play very well, at least early on. Cardinals receiver Larry Fitzgerald saved the day.
Late in the first half, Fitz scored on a wide open touchdown to give the Cardinals the lead. Then in the second-half made a touchdown catch to hep put the division-rival San Francisco 49ers away.
Fitz ended up with sex receptions for 81-yards and two touchdowns. If not for Fitz, who seemed to be the only receiver Stanton was comfortable with, this game may have been a lot closer.
Once again, Fitz proved just how valuable he is. It is just one more reason why we want to see him come back for at least one more season.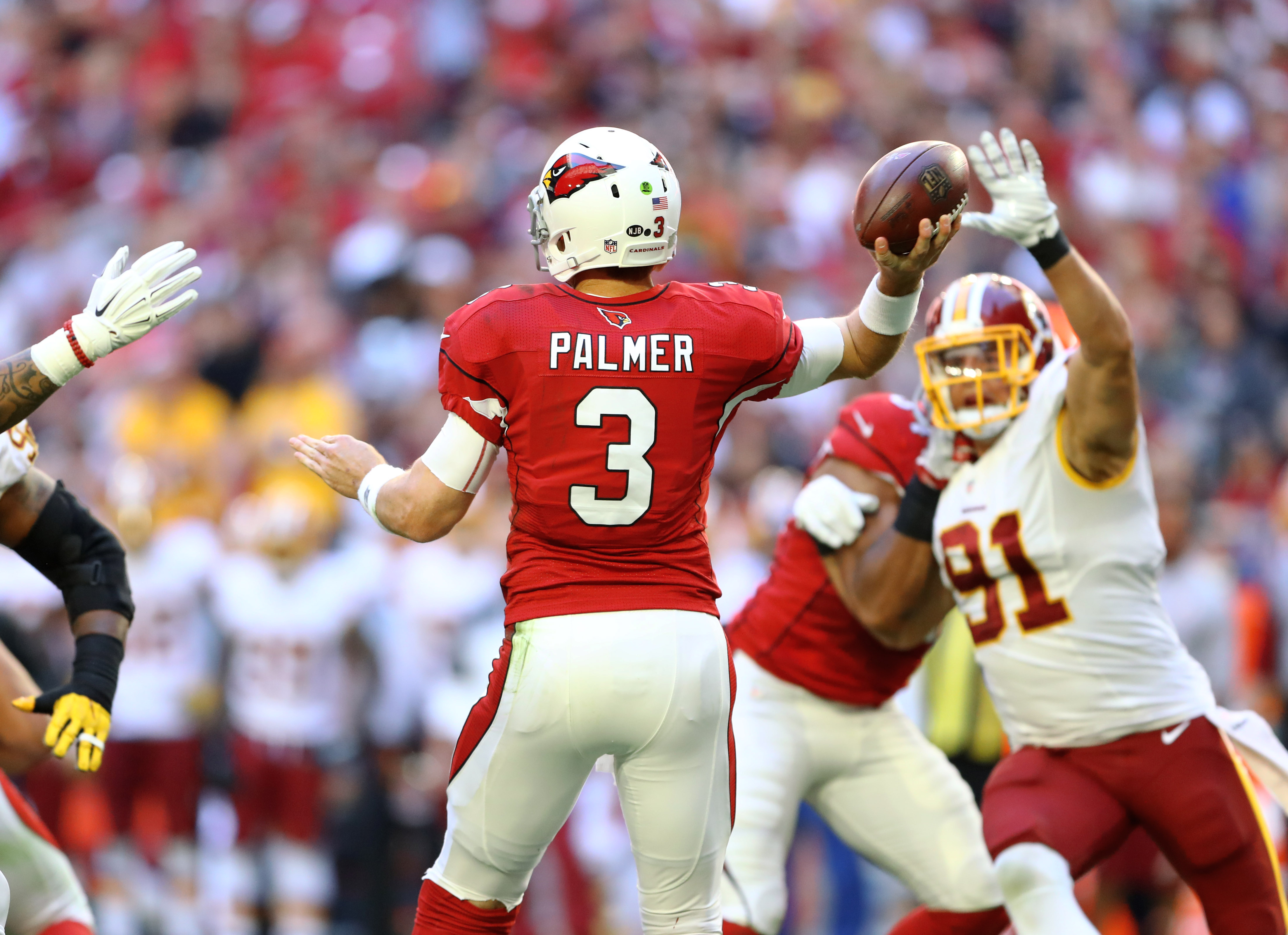 4. Carson Palmer, week 13 vs. Washington Redskins
The Cardinals were on the verge of playoff elimination and it was just week 14. Palmer had played just fine for most of the season despite being under siege from defensive lines week after week.
Palmer reminded us in week 14 why the Cardinals continue to need him. He played maybe his best game of the season up to this point.
The Cardinals were in the game the entire afternoon against the Redskins but it was what he accomplished in the fourth quarter that made the day.
Palmer threw a 42-yard touchdown pass to receiver J.J. Nelson with 4:05 remaining in the game to put the Cardinals up for good. The victory at the time put the Cardinals one game behind the Redskins in the wild-card race.
The touchdown pass was perfect. It was about as perfect a deep pass Palmer had connected on all season to that point. For the day Palmer went 30-46 for 300-yards and three touchdowns.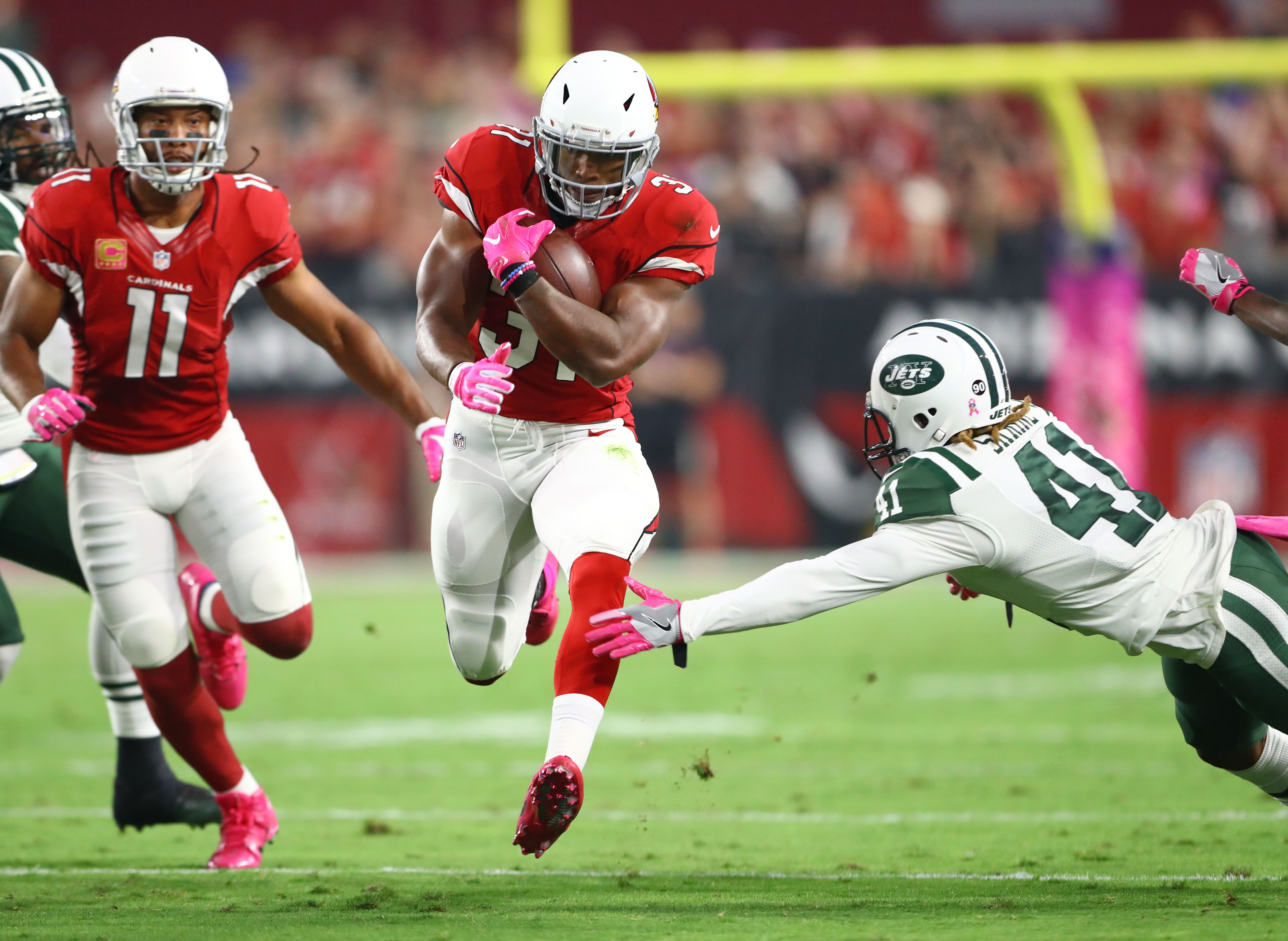 3. David Johnson, week 6 vs New York Jets
The Cardinals had trouble scoring in the first quarter for the first month plus in the 2016 season. Cardinals running back David Johnson put that to rest in a hurry against the New York Jets.
The Cardinals got the ball to start the game and on the first offensive play, he scurried down the left sideline dodging Jets defenders left and right, virtually untouched, for 58-yards and a touchdown.
The touchdown was the first time the Cardinals had scored a single point in the first quarter in 2016. It took all of 12 seconds in this contest.
For the game, on Monday Night Football, Johnson rushed the ball 22 times for 111-yards and three touchdowns. He also caught three passes for 27-yards on the evening.
The game featured another first for the Cardinals. Johnson became the first player in Cardinals history with multiple career games with 100 rushing yards and 3 rushing touchdowns.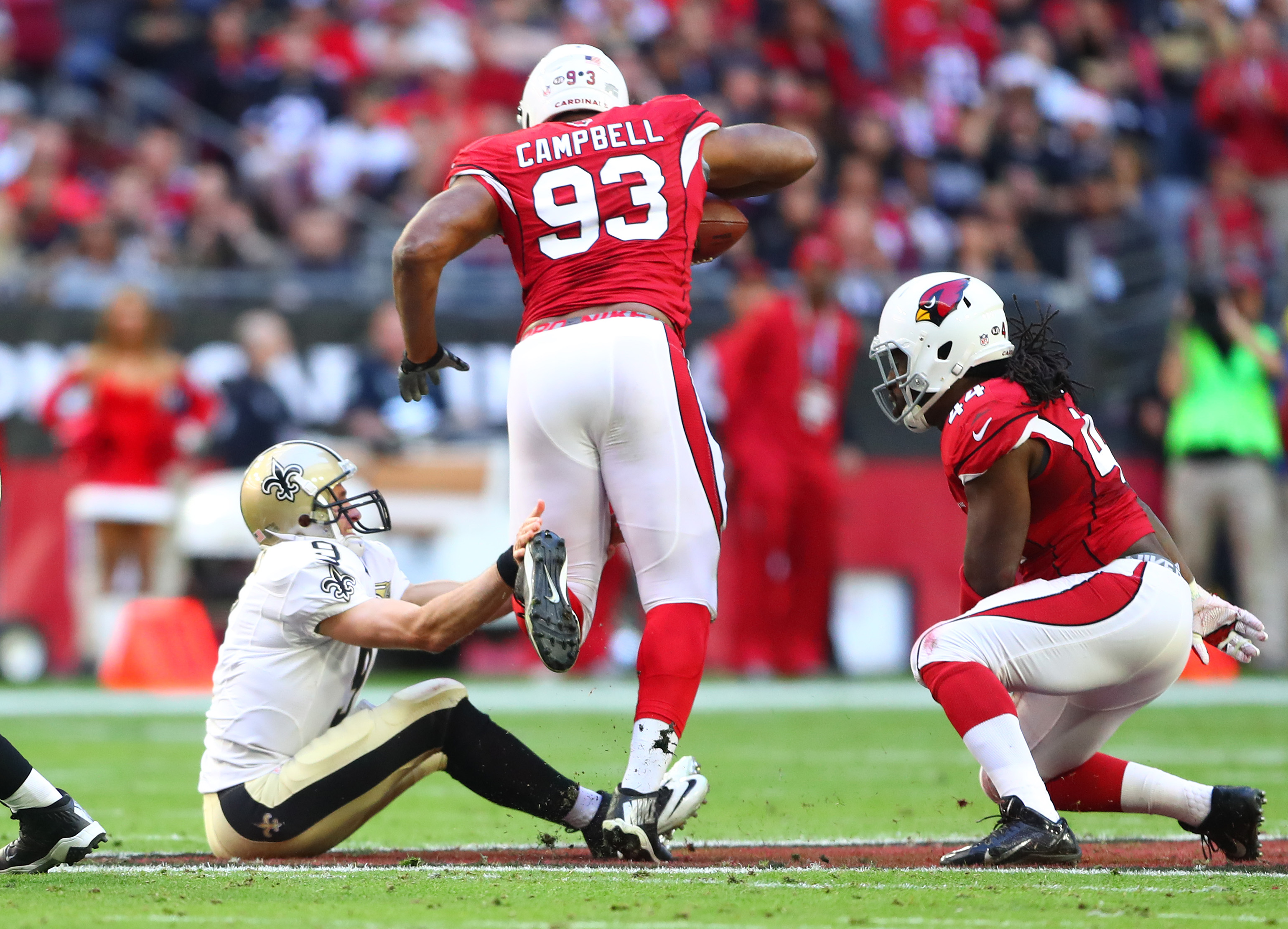 2. Calais Campbell, week 15 vs. New Orleans Saints
Speculation is that Cardinals defensive tackle Calais Campbell will not return to the Cardinals next season after spending his entire career here. He will be a free agent this offseason.
If he is leaving, he went out in style. He played great over the last month of the season but maybe no better performance came than it did against the New Orleans Saints.
Campbell picked up a Drew Brees fumble and took the ball 53-yards for a touchdown. Surprisingly it was his first-career touchdown. What a great time to get it.
For the day Campbell had two sacks with his fumble return and four tackles overall. It was possibly the last game as a Cardinals defensive tackle in front of the home fans. It was a day none of us will soon forget.
Campbell had five sacks and two forced fumbles including the fumble recovery against the Redskins over the last month of the season. He is a man ready to get paid his last big professional contract.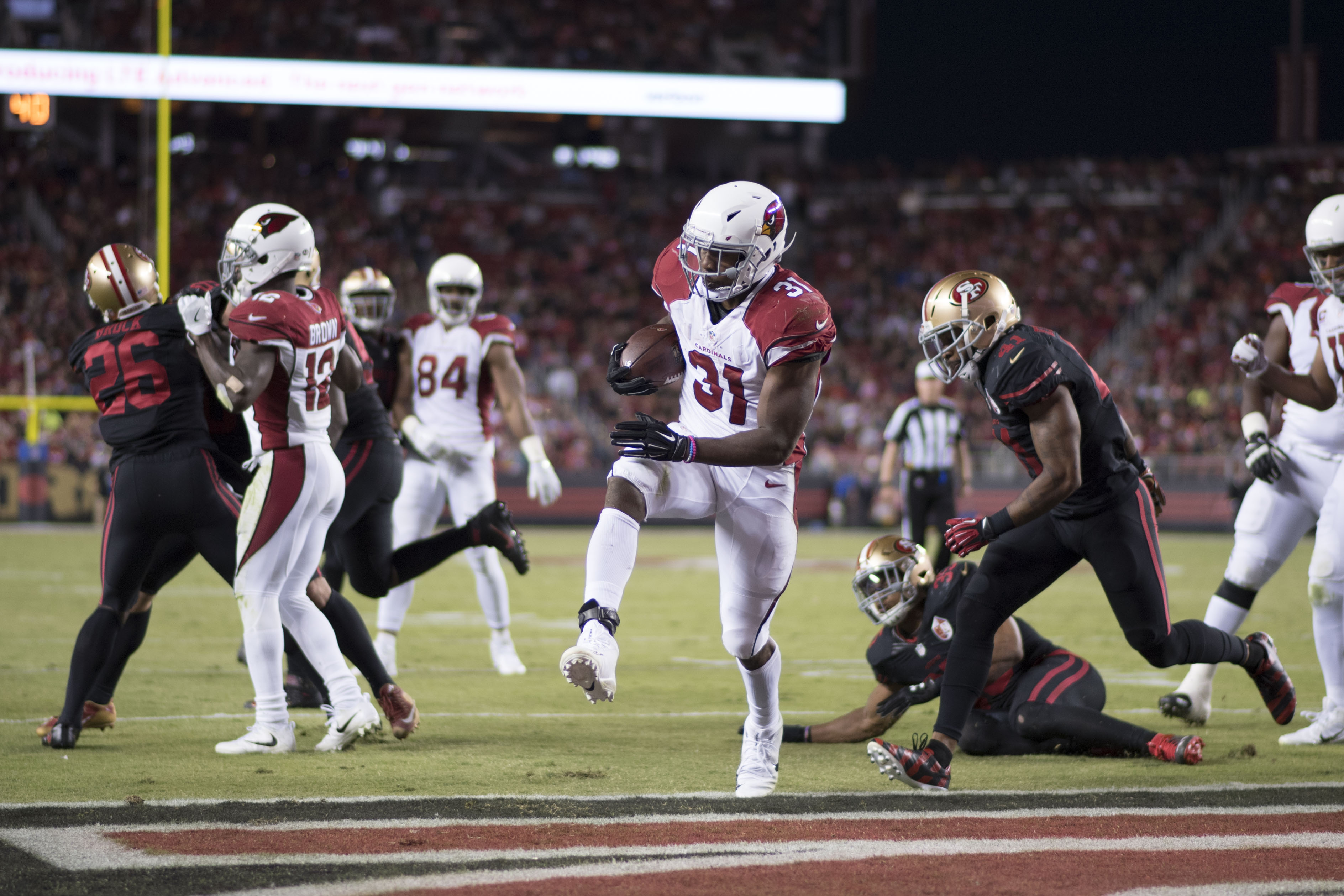 1. David Johnson, week 5 at San Francisco 49ers
Previously mentioned was Cardinals receiver Larry Fitzgerald saving the day. He did save the passing game in a big way.
The workhorse though this night in San Francisco without Carson Palmer at quarterback, was running back David Johnson. The Cardinals gave him the ball and kept feeding him.
For the night, Johnson carried the ball 27 times for 157-yards and two touchdowns. He also had three receptions for 28-yards.
The Cardinals made it clear they were going to use Johnson and often. Despite the 49ers having known that, the Cardinals still were able to expose their run defense. For the night he averaged 5.8-yards-per-carry. Not too shabby.
Johnson was able to put the Cardinals offense on his back and help secure the victory when their leader in Palmer was down and out. There was a lot of fear the Cardinals would lose with backup Drew Stanton in so the game plan in using Johnson as a workhorse paid off.
More from Raising Zona
This article originally appeared on