Are the Philadelphia Eagles Starting to Slump?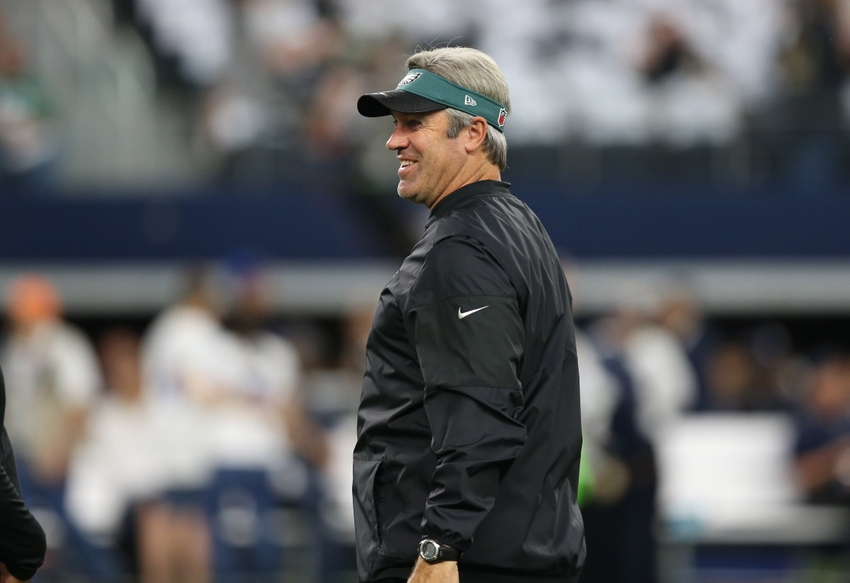 The Philadelphia Eagles started the season with a 3-0 undefeated record, but all it took was one loss to undo that work.
The Philadelphia Eagles shouldn't be in the middle of the NFC East. They have the talent and the drive to succeed, yet things went down hill against the Detroit Lions. It was a tipping point, whether the team wants to admit it or not. Could it be that the head coach is trying to fix things that aren't broken? Are we witnessing players that are performing at a below average level when they need to be at their best? Examining those qualities might help determine if this mini-slump is going to be the future of Eagles football.
Lets take a look at that future more closely.
The quarterback always gets the grief
In the beginning, rookie quarterback Carson Wentz seemed invincible. The rookie went 3-0 and was applauded. Once the rookie suffered his first loss, it seemed like all hell broke loose. Wentz was chided and ridiculed that his first three games were just a fluke. People used terms like "chance wins". Granted, games against the Cleveland Browns and the Chicago Bears is like playing the league's JV squad. Against the Pittsburgh Steelers, Wentz shined. The game was a pummeling for the Steelers, who lost 34-3. Wentz went 23 on 31 attempts for 301 yards and added two touchdowns. There were no interceptions to that point, and it seemed that all was grand in the "City of Brotherly Love".
Then along came Detroit.
Upcoming

Schedule

11/6

at

New York Giants
11/13

Atlanta Falcons
11/20
at

Seattle Seahawks
11/28

Green Bay Packers
12/4
at

Cincinnati Bengals
First of all, the Lions shouldn't have won this game. The Eagles needed to redeem themselves after an embarrassing Thanksgiving Day loss in 2015. Wentz performed like a champ. He went 25 for 33 on his passing attempts for 238 yards, two touchdowns. He also threw his first interception of the season in that game.
The loss was disheartening for the team. A strong performance would ultimately result in the team coming up short in a one point loss. Who would shoulder the blame of this loss? Of course it had to be the rookie quarterback. His first loss was bound to happen, but then came his second loss at the hands of the Washington Redskins. That was a worrying sign. The loss wasn't totally because of Wentz's performance, but many pointed to the fact he had no touchdowns and a measly 179 yards passing.
Coaching and playing quarterback in a tough town
Has Wentz hit a wall? It wouldn't necessarily be a bad thing. Rookie seasons are a time to learn and grow in the NFL. Still, that growth can't come as a sacrifice for the team. Wentz hasn't thrown the ball deep down field as of late. According to the Philadelphia Inquirer, he didn't even try to do so against Dallas. He's not pulling the trigger, and that shows some hesitation. Hopefully, Wentz isn't doubting himself. Social media certainly doesn't think he should.
In the future, he'll need to be able to perform, and he'll need to know his hesitation to push the limits in the passing game won't help him. He'll notice that the Philadelphia fan base isn't exactly forgiving when it comes to losses. There were boos when he returned from Dallas at the airport. A fickle fan base can be hard thing for a rookie to deal with. As a result, he'll need to tune out the noise and buckle down to help his team emerge from the mist.
Philadelphia Eagles Need To Bring Their 'Big D' To Dallas
The Head Coach
Former head coaches Andy Reid and Dick Vermil knows this well. Playing in Philadelphia as an athlete is a challenge. Being the head coach is almost 100% more difficult. New head coach Doug Pederson is finding out what it means to have losses under his belt. The majority of th blame is being heaped upon his head. Pederson knows that he has talent to work with on his squad. Many of the guys here have produced for this team many times over.
As a result, the same guys should be expected to perform at that level consistently. Big names were traded away prior to his reign. He's dealing with a new quarterback. His receiving core isn't quite where it should be at this time of year. Pederson runs a West Coast hybrid offense. It's been boiled down to its basics for Wentz to get familiar. That means his receivers aren't playing as well as they should. Nelson Agholor is being criticized for his dropped passes and Josh Huff, when he isn't committing off-field crimes, hasn't been contributing.
Final thoughts
Pederson's rushing attack is mediocre at best. The team is 17th in the league in rushing and ranks 20th in yards per carry. Those stats are abysmal for a first year head coach. Having your squad put up around 3.6 yards per carry isn't going to do it. The only bright point has been on defense. It's been solid week after week proving that hiring Jim Schwartz as defensive coordinator was a smart move. Pederson now needs to light a fire under his players. He's been in their shoes, and that has helped to build a rapport with them. He's well aware of the hardships they face.
Can they survive the Giants?
Pederson seems to think that the Eagles will survive against the Giants and come out stronger.
They'll still face a challenge and the head coach knows that is.
Doug Pederson agrees that Eli Manning's experience is "a big advantage" in the NFC East with 2 rookies and Kirk Cousins at QB in division

— Jordan Raanan (@JordanRaanan) November 2, 2016
This team is in a slump, but it might not be as terrible as it sounds. It's time to regroup, and recharging will help push the team for the rest of the season. Having a bye so early may not have been a help.
Whether you subscribe to that or not, the Eagles face the Giants, another NFC East rival, this week. With Dallas leading the division, it's crucial to pull this game out. They need to get angry in the locker room and push one another. The receivers need to work and make sure that Wentz can find Zach Ertz. His tight end is, arguably, one of the best players he has.
If Pederson wants his team to be more aggressive, he needs to coach aggressively. He's made some questionable calls. Passive play-calling coupled with a quarterback who isn't comfortable is proving to be a thorn in the Eagles' side. Fixing this issue might just be the cure for the slump they're in.
More from Inside the Iggles
This article originally appeared on