Are The New York Giants Worried About The Play Of Eli Manning?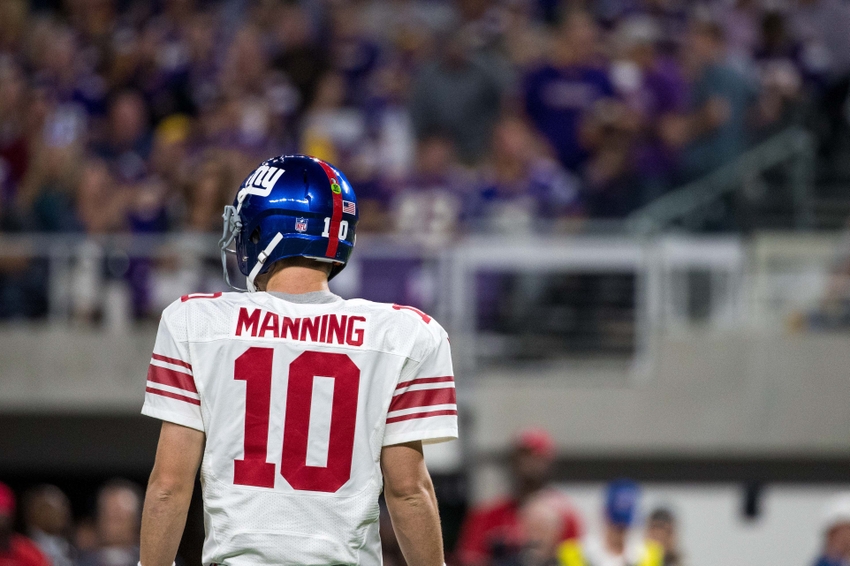 New York Giants quarterback Eli Manning has hit a statistical slump in the team's three-game skid. Are the Giants players worried about their franchise QB?
After two strong games and two wins for the New York Giants and Eli Manning, the two-time Super Bowl MVP has regressed. Three losses followed, but is it time to hit the panic button? Wide receiver Victor Cruz says "no."
"No one is panicking," Cruz said. "No one is feeling a way about his performance. Obviously he knows within himself what he has to fix and change and I'm sure the offensive coaching staff is doing its job in terms of putting him in position where he's comfortable in making reads and things like that. We'll see how it goes, but no one is hitting the panic button on Eli Manning."
In those first two wins, Manning was completing a stellar, league-leading 73.9 percent of his passes. Eli threw just two touchdowns in the next three Giants losses and tacked on three interceptions. He also fumbled thrice – an age-old problem for Manning.
Odell Beckham Jr. went through a rough stretch in those three losses. Against the Minnesota Vikings, OBJ had a career-worst 23 yards receiving. His success is dependent on, among other factors, Eli Manning. But OBJ isn't singling out Eli.
"I think when things go wrong everyone needs something to point it at and it's easy to point the finger here and there," Beckham said. "But internally between all of us, we all need to play better. We all need to do things to make it easier on him, make it easier on ourselves and everybody needs to step it up."
Can Manning Turn It Around?
The Giants offense as a whole hasn't been hitting on all cylinders and it doesn't just fall on Eli Manning. The offensive tackles have been struggling all season, particularly against the Green Bay Packers. The run game currently ranks 28th in the NFL, whether that's due to injury or offensive line play remains to be seen.
For what it's worth, even after a rough three-game stretch, Manning's completion percentage still sits at a career-high 63.6 percent. Manning is, of course, still optimistic.
"I thought that in the first couple games that we did some good things, had some explosive plays, could have scored more points and done better in the red zone areas… the last two weeks hasn't been as good as we want it to, but we are still doing some good things. We hit a couple big plays in the passing game, had a couple more opportunities that we just missed, so we just have to get on the same page, keep working and hit some of the plays that are out there."
Ben McAdoo needs to do something different to jump start this offense. The Giants have been in "11" personnel for the majority of the snaps this season (3 WR, 1TE, 1RB). A little offensive diversification to throw off a defense seems necessary.
Manning is a proven entity and has a good track record in McAdoo's offense. It's not time to hit the "panic button" but how long will those receivers be happy if Eli's numbers continue to crater?
This article originally appeared on