Antonio Brown vs. Odell Beckham Jr. – Who's Better?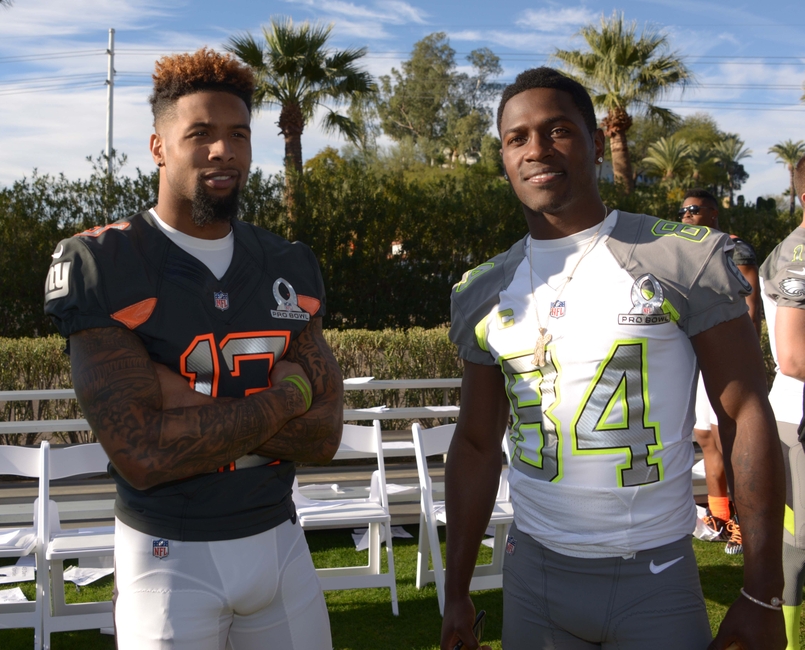 In this week's December battle between the Pittsburgh Steelers and New York Giants, fans will get the pleasure of watching two of football's best receivers. Some have argued that Antonio Brown and Odell Beckham Jr. are the most valuable non-quarterbacks. While the greatness of Brown and Beckham is unassailable, it begs the natural question: Who is better?
The Case for Antonio Brown
Brown entered the league as an unheralded sixth-rounder out of Central Michigan. However, it did not take him long to make a name for himself, earning Pro Bowl honors in his sophomore season. Brown has also been one of the most consistent receivers in the league over the past few seasons. Last year, he had a record streak of 35 consecutive games with five catches for fifty yards snapped. He has also led the league in receptions the past two years and is on his way to a hat trick.
What is perhaps most impressive is that Brown has racked up these stats without a strong complementary receiver to occasionally take a defense's attention away from him. In addition to his spectacular receiving numbers, Brown also contributes on special teams as a punt returner. He averages 10.7 yards per return, and his most notable play also occurred on a punt return. The Case for Odell Beckham Jr.
Beckham's jump to the NFL could not have been more different than Brown's, as a first-round draft pick in the league's largest media market. After missing the first four games of his rookie year, Beckham burst on the scene and has not looked back. In his first 38 career games, he has caught 252 passes for 3,670 yards and 33 touchdowns. Brown's numbers do not even come close to Beckham's during that time frame (151 receptions, 2,062 yards, and seven touchdowns).
Beckham's success stems from his superb route-running, and one can only wonder what numbers produces as he matures as a receiver. Is Calvin Johnson's single-season yards record out of the realm of possibility? How about Randy Moss's touchdown mark? Beckham has already been compared to these all-time greats.
Verdict
It is extremely difficult to pick against either receiver, but the eye test favors Beckham. As Danny Kelly of The Ringer points out, no other receiver has the potential to turn a 30-yard drag route into a touchdown, as he did against the Browns last week. Beckham's explosiveness is unrivaled, and his marvelous one-handed grabs only support his candidacy as the best receiver. Regardless if you prefer Brown or Beckham, certainly, both players are focused on getting a win on Sunday.
This article originally appeared on