Antonio Brown Skies For Huge Touchdown Catch (Video)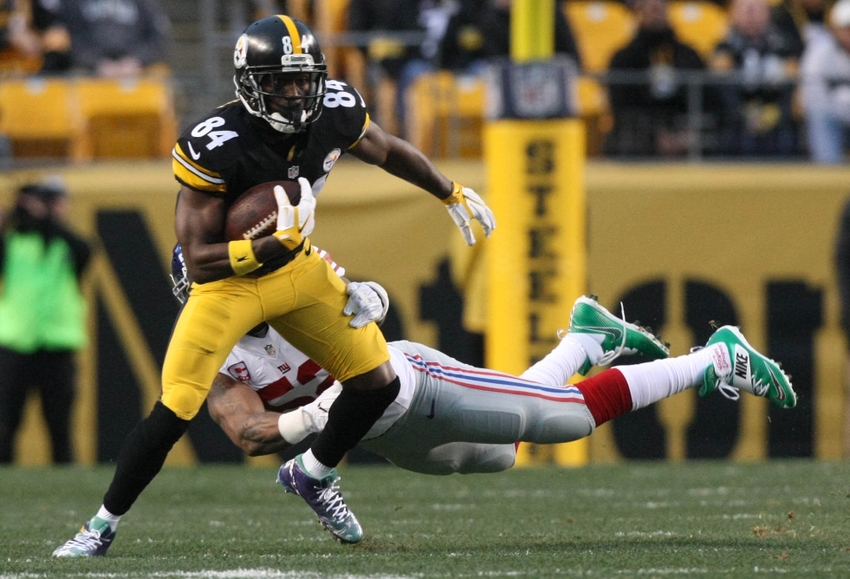 Antonio Brown proved yet again why he's the best receiver in the NFL, rising up to haul in a massive touchdown catch for the Pittsburgh Steelers.
With the Pittsburgh Steelers and New York Giants facing off in Week 13, there were plenty of narratives to follow. However, one of the more entertaining of the bunch was Antonio Brown and Odell Beckham Jr., two friends and two of the best receivers in the NFL, squaring off. In the first half, though, the Steelers star wideout made it advantage Black and Yellow.
After a few blunders on the part of the Giants offense, including a holding call in the end zone for a safety and a bad Eli Manning pick, the Steelers were up 5-0 and driving. Once they got in close, Ben Roethlisberger knew exactly where to go with the ball if he wanted a score.
Big Ben fired a patented floater on the run high up and into the back of the end zone. Brown was blanketed relatively well in coverage. But sometimes you are just the better player and better athlete and AB84 was clearly that here. He rose up over his coverage and plucked the pass out of the air for the remarkable touchdown grab:
Big Ben & @AntonioBrown doing what they do…

WHAT A PLAY.
TOUCHDOWN @STEELERS! #HereWeGo #NYGvsPIT https://t.co/Uwgp81Meb2

— NFL (@NFL) December 4, 2016
When you see plays like this, you sometimes forget that Brown is only 5-10. But that really only makes his feats that much more impressive.
Brown hadn't been his normally explosive self early in the season, struggling with inconsistency along with the rest of the offense. However, he found paydirt three times last week and many wondered if the floodgates were about to open. After a touchdown grab like this one, the answer appears to be a definitive yes.
This article originally appeared on