Antonio Brown Scores Another Monster Touchdown (Video)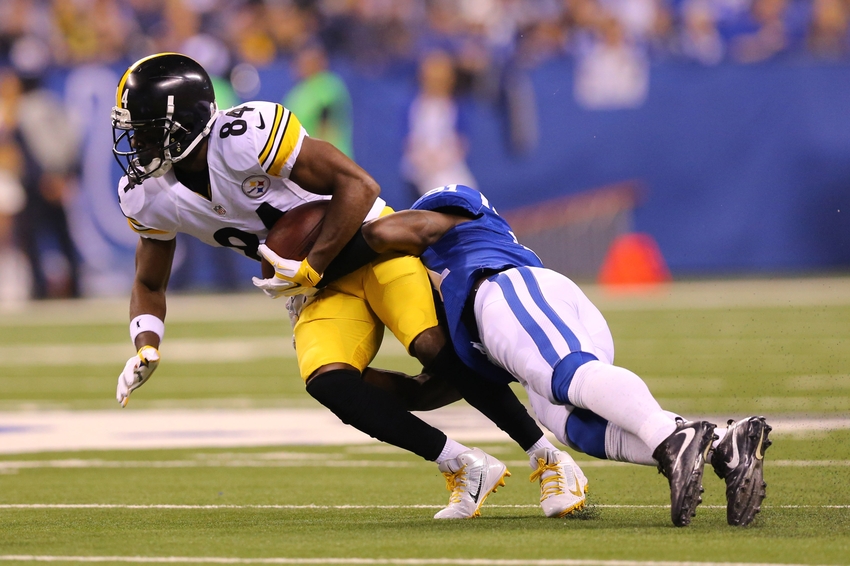 When Pittsburgh Steelers wide receiver Antonio Brown gets cooking, defenses know they're in for a long day.
In his past two games against the Indianapolis Colts, Pittsburgh Steelers future Hall of Fame quarterback Ben Roethlisberger threw 10 touchdowns. He had two early scores to Antonio Brown to get the Steelers out to a big 21-7 lead, taking full advantage of a severely injured Vontae Davis.
Brown caught a 25-yard pass in Davis's coverage for his first touchdown, and his second touchdown was an even longer 33-yard bomb.
Roethlisberger had all day to throw and the matchup Davis had on Brown here was just unfair. Brown made a beautiful fake and then he just straight-up blew by Davis after hitting that next gear. Davis just wasn't healthy enough to recover and he had no chance of making a play on the ball Roethlisberger threw.
Furthermore, Davis seemed to aggravate something on that play and his return to the field is questionable. If the Colts are smart, they won't risk the health of their best defensive player, especially in a game that was a lost cause from the start.
Brown's touchdown capped off a 75-yard drive and gave him three receptions for 60 yards on four targets. The former sixth-round pick now has nine touchdown receptions on the season, inching him closer to his third-straight season with at least 10 touchdown catches.
Meanwhile, the touchdown put Roethlisberger up to 135 yards on 8-of-12 passing, meaning that the Steelers legend averaged 11.3 yards per attempt with a 144.1 QB Rating.
This article originally appeared on