Antonio Brown's Cleats Honor Jose Fernandez, Kimbo Slice (Photo)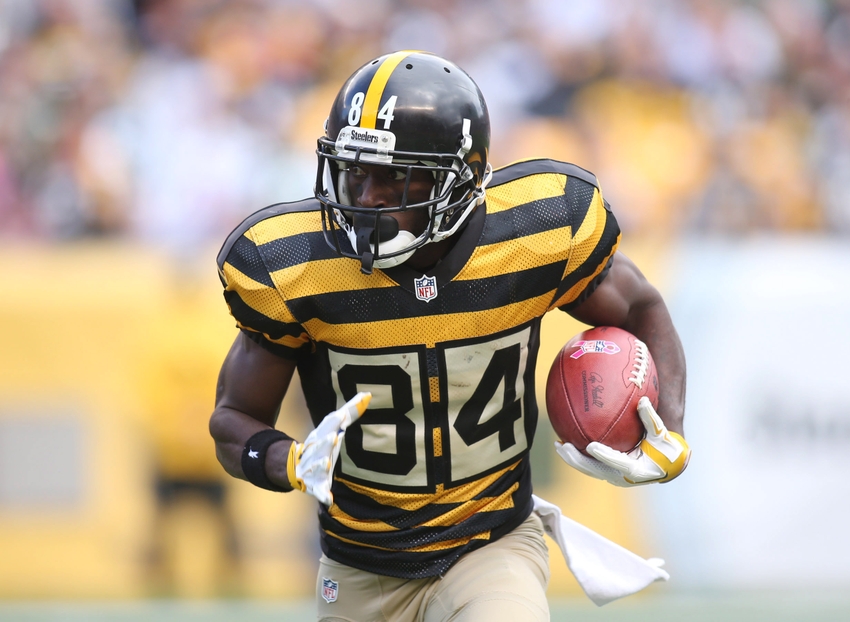 Antonio Brown is paying tribute to both Jose Fernandez and Kimbo Slice in pre-game with his cleats for their matchup against the Miami Dolphins
Pittsburgh Steelers wide receiver Antonio Brown was forced to remove his cleats honoring Muhammad Ali last week, but he can still honor legends by wearing kicks in pre-game warm-ups. Ahead of their Week 6 matchup agains the Miami Dolphins, the Miami native chose to honor two of the city's fallen heroes.
The NFL has made it difficult for Brown—and others—to express himself. Last week after scoring a touchdown, Brown did not celebrate. But when he isn't worried about being fined by the out-of-touch NFL, he will do whatever he can to be himself or honor others.
A native of the Miami area, Brown showed his pulse is still with the city, honoring Jose Fernandez and Kimbo Slice with his cleats:
Brown plays in Pittsburgh and went to Central Michigan, but the 28-year-old was born and raised in Miami. That's why it is no surprise that his latest custom cleats will honor Fernandez, the former Miami Marlins ace who tragically passed away on Sept. 25, and the former MMA fighter in Slice, who was based out of Miami and attended the University of Miami.
I doubt the NFL will let Brown wear these cleats during the game, because the league threatened to eject him last week if he didn't remove his Muhammad Ali shoes.
This week, Brown's Steelers will face the Miami Dolphins at 1 p.m. ET, and we should see the NFL's best wide receiver rocking these cleats before the game gets under way.
Fernandez and Kimbo Slice are two of the biggest legends from Miami, and their deaths in 2016 hit both the area and the sports world as a whole hard. I hope the league will let Brown wear these shoes during today's game, because this is such an awesome way to help us remember both men.
Plus, the design and color scheme of these shoes are fantastic—and they fit playing in Miami well. I'm sure the fans at Hard Rock Stadium will love noticing these shoes popping out from a distance.
More from NFL Spin Zone
This article originally appeared on