Andrew Luck or Bust for the 2016 Indianapolis Colts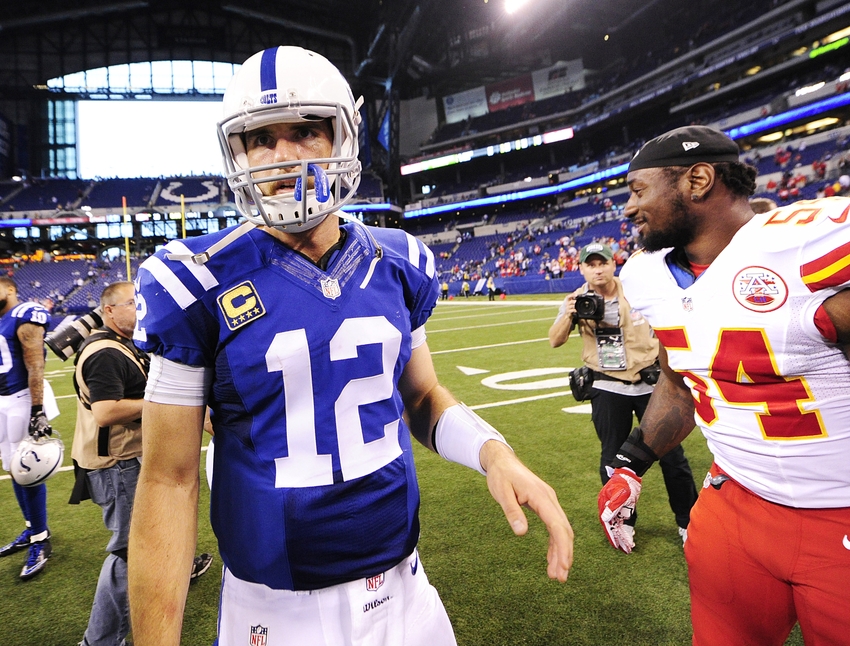 The Indianapolis Colts sit at 3-5 halfway through the season and are laughably reliant on the brilliance of Andrew Luck in 2016.
The Indianapolis Colts are bad. Their brand of football has led to fan apathy and made games a struggle to watch. Every game this season has a been a highlight reel of the team's fatal flaws that have persisted ever since Chuck Pagano was hired as head coach.
The lone bright point this season has been Andrew Luck. When he's brilliant, the Colts generally win (exception being the season opener), good and they have a chance, bad and they'll lose.
Luck was bad last Sunday and bad against the Broncos. The Colts two most lopsided losses this season. When Luck plays at a high level, he leads fourth quarter comebacks as he's done in all three of the Colts' wins.
For those who are complaining about Luck not improving, playing poorly and being a turnover machine, this has been the best season of his career.
He's completing 63.7 percent of his passes, a career high and a number that gets better considering the Colts are tied for first in dropped passes.
Luck is throwing interceptions on just 1.6 percent of his attempts, which ties a career low. He's also on pace for the second most passes in a season for his career. His yards per attempt sit a 7.6, just a tick behind his career high but that has him tied at eighth among quarterbacks.
Simply put, this has been a great season for Luck who happens to be on a garbage team. If the Colts didn't have him on the roster, they'd easily be 0-8.
So just how much help is Luck getting?
He's first in the league in sacks taken at a staggering 31 and, not surprisingly, also first in yards lost to sacks. Luck's offensive line ranks 30th in pass protection despite an improvement in run blocking.
More from Horseshoe Heroes
Let's talk about that line for a moment, because the low point for them was clearly against the Chiefs where they gave up six sacks and 12 quarterbacks hits. They completely gave up when there was still an outside chance for the Colts to at least tie the game (unlikely down 16, but still a shot). In a hurry up offense the linemen flat out forgot how to block, lost one-on-one matchups and a few players didn't look like they had any business on a football field.
And, oh by the way, the Chiefs entered that game with just eight sacks, tied for the lowest in the NFL. The Colts line nearly let them double that total. It was an embarrassing effort that didn't just extend to pass protection, but also killed two of the biggest plays of the day. Two holding penalities negated a pass of 40 yards to T.Y. Hilton and a 45-yard touchdown late in the game to Donte Moncrief.
It isn't just that the line commits penalities, it is that they do them at the most inopportune times.
It certainly doesn't help that the play calling has featured an awful lot of five and seven step drops, which are simply untenable with a line that can't block. Couple that with long passing routes with receivers struggling to get open (or players being misused) and it makes what Rob Chudzinski is doing even more confusing.
One minor bright point offensively has been Frank Gore. He finally broke the silly "no hundred yard rushers" streak dating back to 2012 and has been averaging 4.2 yards per carry. Unfortunately, the Colts can't maintain consistency here and Gore can't shoulder the workload alone at 33 years of age.
Defensively, the Colts are beyond awful. But what is worse is Pagano's blind faith in a unit that needs to be on the field as little as possible. He trusts his defense implicitly and hasn't learned that they will give up a lead at the slightest provocation (as seen in Week 1).
A prime example was Pagano's decision to punt on 4th-and-9 from their own 26 down 13 with just over seven minutes to play. Pagano is assuming his team will get two more possessions there, but that was unlikely. Best case scenario in either situation was the Colts defending a field goal which is exactly what happened after the punt.
The defense couldn't stop a backup QB and it was just more evidence that Pagano doesn't know how to manage a game properly. Having faith in your team is great, but not when they have let you down so many times (and especially not when your best players are injured).
If the Colts want to make a playoff push a few things need to happen. At best, they need to post a 6-2 record over their final eight games with a schedule that features the Steelers and road games against the Packers and Vikings. 8-8 might win the AFC South but likely won't earn a team the Wild Card spot.
For those wins to happen, Luck has to play at an MVP level. Remember when Peyton Manning willed the 2008 Colts into the postseason by dominated the final nine games of the year? Luck basically has to do that with a slimmer margin for error (and with a worse roster).
Third, Pagano has to get more aggressive on offense and stop trusting his defense. Which is basically a pipe dream.
The Colts are at Green Bay to face the Packers this Sunday afternoon. While the Packers don't seem to be as daunting as they were in the preseason, the Colts defense still has to face Aaron Rodgers which can only end one horribly painful way.
This article originally appeared on