Andrew Luck is so happy to show off his new flip phone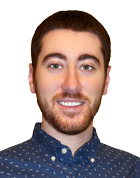 Andrew Luck signed a massive contract extension with the Indianapolis Colts this offseason, making him the highest-paid player in NFL history. His new deal is worth $140 million over six years, which is an unfathomable amount of money that very few of us will ever see in our lifetimes.
Yet, your cell phone is more technologically advanced and expensive than Luck's despite the fact that he's incredibly rich.
Luck is a noted flip-phone owner, and has been for some time. He calls it a "comfort thing," and it reminds him that he doesn't have to be connected all the time. On Thursday, he was so excited to share on Facebook that he got a new phone, and naturally, it still flips.
After some basic investigation, this appears to be Luck's new phone, which goes for $60 on AT&T's website. And wow is this thing spectacular.
It features an "easy-to-read" 2.8-inch screen with a 2-megapixel (!!) camera. In other words, it's the very first cell phone you ever had 10 years ago.
Luck has made it clear he doesn't need flashy things to make him happy — though he does want a ping-pong robot — but maybe it's time to dish out a couple-hundred bucks and get a smartphone like the rest of the world.