Andrew Luck is officially 'Questionable' for Sunday's game against Chargers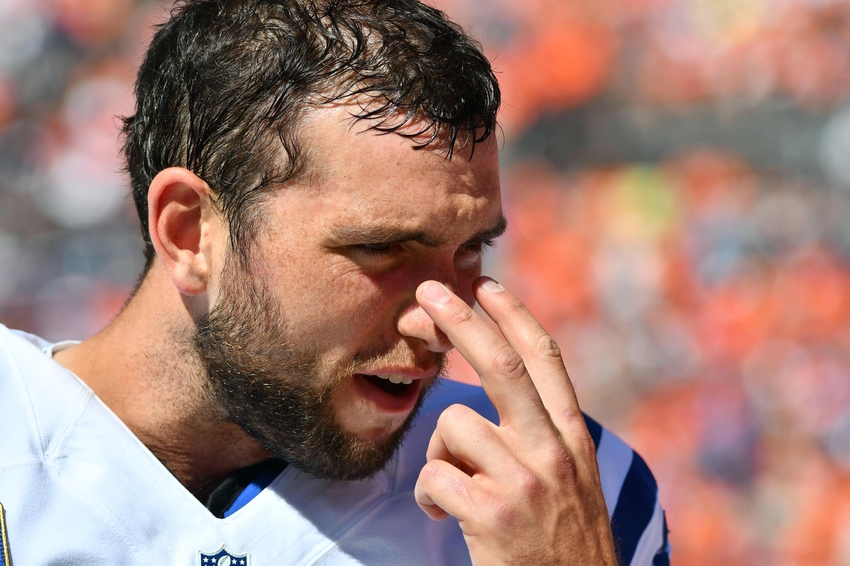 Indianapolis Colts quarterback Andrew Luck is officially 'questionable' for Sunday's game against the San Diego Chargers.
It's somewhat surprising considering that head coach Chuck Pagano insisted on Friday that the signal-caller was simply dealing with a sore shoulder lingering from last weekend's physical game versus the Denver Broncos, but would assuredly play this Sunday:
It's worth noting that Luck was a full participant in practice on Friday though, so it seems like a foregone conclusion that he'll play on Sunday–barring something clearly unforeseen.
The Colts have been giving Luck more "routine maintenance" days off to start this season by regularly resting him during practices throughout the week, as he did not practice Wednesday and was limited on Thursday.
However, it raises the question of whether this is simply a "sore" Luck from a physical game–as there's no "probable" designation anymore on NFL injury reports, or there's something else that could present more of a long-term issue for the Colts.
All22.com's Will Carroll speculated earlier that Luck may have suffered a asymptomatic labrum fraying in Week 3 of last season–costing him the Colts next two games, which while isn't a short-term issue for the team, could be further aggravated if Luck over-exerts his shoulder or suffers an awkward hit:
"To keep Luck's shoulder as healthy as possible, the Colts have taken to limiting both his contact and his throwing work in practice," writes Carroll. 

"Luck can have a shoulder issue and not be limited at all in games. The Colts are taking a conservative approach, and that's one that's likely been agreed upon by the medical and coaching staff, as well as Luck's agent."

"The worry for Luck and the Colts is not in the short term. Luck's frayed labrum is not likely to get worse unless he overtaxes it, which should be helped by the "pitch count" that the Colts have instituted with him during practices, or unless he takes another big hit. That's the bigger concern, especially given the injuries and preseason play of the Colts offensive line."

"In the longer term, this is concerning, but can be easily monitored. Again, Luck is having no symptoms; no weakness, no pain, no range of motion issues."

"A frayed labrum does not take away strength. A frayed labrum does not take away velocity. A frayed labrum does not take away touch. A frayed labrum does not take away accuracy."

"A frayed labrum is simply a reality, something that the Colts and Luck will have to deal with over the course of not just this year, but the rest of his career."
While the Colts coaching staff hasn't exactly given a clear indication of what Luck's "routine maintenance" days exactly are, it's at least an interesting theory by Carroll, and one that shouldn't necessarily be discounted at this time.
However, it's hard to say what exactly is occurring either way right now, as there's been no clear evidence of a long-term injury–and I'm not sure we'll ever receive some, even if there is.
Whatever the case may be, Luck's right throwing shoulder is well-worth monitoring as the season progresses though.
Not only is #12 the Colts franchise quarterback, but he's also now the highest paid player in NFL history–meaning that we all want to know if that golden right throwing shoulder is indeed fully healthy.
If his Week 1 performance against the Detroit Lions was any clear indication–when he threw for 4 touchdowns, it may not exactly matter unless it's actually aggravated further.
More from Horseshoe Heroes
This article originally appeared on