Andrew Hawkins leaves in the quiet creases of NFL stardom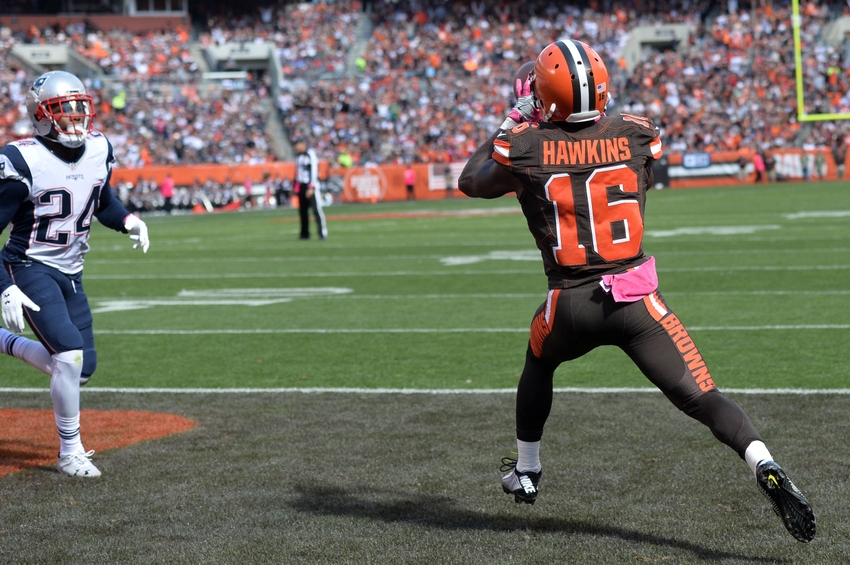 Andrew Hawkins is the captain of the Cleveland Browns. Don't even bother making whatever Browns joke you're thinking. He's heard them all before.
The Browns haven't won a game this season, the Browns have gone through multiple quarterbacks (again) this season, but the Browns have Hawkins.
Hawkins is listed on NFL.com as a wide receiver in his sixth season out of Toledo, which is accurate. But it's not even close to the heart of Hawkins. For instance, during this past off season, he studied at Columbia for a master's degree in sports management.
About planning for life after football, Hawkins told Sports Illustrated's MMQB, "You can never be too early, but you can always be too late." He wants to be a general manager of an NFL team. He wants to be the real captain in a suit and an invisible C on his chest.
Invisible is a good word, actually, considering that's how this whole NFL thing started for him. He went undrafted as a 5-foot-7, 180-pound slot receiver and eventually unsigned after a fruitless workout with Cleveland in 2008, and then interned that season in personnel with the Detroit Lions. He had accepted that he was never going to play football in the NFL.
So Hawkins played in the Canadian Football League with the Montreal Alouettes for the 2009 and 2010 seasons (where he didn't get to revel in Montreal's Grey Cup Championship due to a broken ankle). In January 2011, he signed with the St. Louis Rams but he was released by August. He landed in Cincinnati, where he played for three seasons before signing with Cleveland leading up to the 2014 season for four years and $13.6 million.
But prior to signing with Montreal, Hawkins competed in former Dallas Cowboys Hall of Fame wide receiver Michael Irvin's reality show 4th and Long for a slot on the Cowboys' roster. Hawkins finished second. Runner-up. Of course.
Unlike many NFL players who enjoy the benefits of a large platform given to them from the NFL, Hawkins has built his own platform from scratch. An example of this came on his first day of classes at Columbia, again reported by The MMQB. He introduced himself as a professional football player, and his classmates all assumed that he was retired, that maybe they had an excuse for not knowing who he was.
Nope.
But hey, Andrew Hawkins does have a Wikipedia page so he must be important. Right? Whatever.
Hawkins' Twitter picture is of him sitting alongside Kobe Bryant and Lisa Leslie. Most everybody recognizes Bryant and Leslie's faces. Most everybody might not recognize Hawkins by face, but that's OK. That's not the point.
He has been circulating around social media lately, though, as a result of a particularly passively awesome touchdown celebration in a 33-13 loss to New England on Oct. 9. Hawkins caught an 11-yard touchdown pass, promptly placed the football onto the ground and walked away like a robot. He publicly admitted that this was a fun dig at the NFL for its strict, no-fun rules.
This displayed not only intelligence but his free spirit. He wasn't even supposed to be in this league at all. Now that he's here, at 30 years old with who knows how many seasons left, he's going to do this his way. Evidenced again by his wearing a t-shirt before a Browns game protesting the then-recent police shootings in the Cleveland area in Dec. 2014. After the game he explained to Cleveland.com, "If I was to run away from what I felt in my soul was the right thing to do, that would make me a coward and I couldn't live with that."
The NFL can go ahead and fine him. Maybe then people will pay attention to him and get curious about his character. His playing career could end at any time, and if that's the case, he will start finding any way possible to make his next dream come true just as he did with his NFL dream.
Nobody will deny Andrew Hawkins. You will hear him, in one way or another. And you will feel him and the ripples from the work he has dedicated himself to do for the rest of his life away from football.
More from FanSided
This article originally appeared on