Analyzing the roster heading into the 2017 Draft
It is never too early to start thinking about the draft for the Cleveland Browns. That time has arrived after their 0-1 start to the 2016 NFL season.
There have been constant questions and skepticism surrounding the Cleveland Browns organization since the team moved back in 1999. It is difficult to find another team in professional sports even comparable in terms of unsuccessful seasons over a span of 17 seasons. For perspective, here is a list of facts about the Browns since their first season returning to Cleveland.
Only two winning seasons (2002, 2007).
Eight seasons with four or less wins.
Nine head coaches including Hue Jackson.
21 first-round draft picks — six of those within the first and third picks.
26 starting quarterbacks.
My sincerest apologies for raising these points, although, as Browns fans do every season, there is always a draft to concentrate on. The Browns currently have two first-round selections including the Philadelphia Eagles (5-5, last in NFC East). Cleveland is currently slated for the No. 1 overall pick with five games remaining on their schedule. It is not a certainty yet as there are several teams in the NFL with only a handful of wins.
Teams challenging the Browns for the first pick are the San Francisco 49ers (1-9), Jacksonville Jaguars (2-8), Chicago Bears (2-8), New York Jets (3-7), Carolina Panthers (4-6), and Cincinnati Bengals (3-6-1). However, the way the Browns have performed in 2016 it is difficult to predict anyone else having the No. 1 pick come April of 2017.
The Browns have two first rounders as well as two second rounders including the Tennessee Titans' pick. With four of the first 60 picks in the 2017 NFL Draft, it's essential to hit on these selections in a rebuilding phase. Documenting the areas of emphasis is also critical in determining what positions to fill via the draft. That being said, let's dive into how the Browns will approach the draft.
The Cleveland Browns selected 14 players in the 2016 NFL Draft. Through 11 games this season, there are several rookies that have certainly made their mark with the Browns.
No. 15 overall pick Corey Coleman has been hurt this season but has displayed excellent attributes while flashing his playmaking potential. There is no doubt Coleman and Terrelle Pryor will be the receiving duo heading into the 2017 season, so the receiver position likely will not be addressed early on in the draft.
Emmanuel Ogbah, (No. 32 pick), has played well in his rookie season also. Playing both linebacker and defensive end periodically, Ogbah has been quite impressive so far in 2016. Although he has played well at both positions he has shown exceptional skills at defensive end with his dashing speed.
The former Oklahoma Sooner was considered one of the best pass rushers in the draft and has not disappointed. Ogbah has registered 3.5 sacks and 19 tackles in his rookie season. He had his best game of the season against in-state rival Cincinnati Bengals with 2.0 sacks and 5.5 tackles.
Other rookies proving to be worthy of building with are Carl Nassib (No. 65), Joe Schobert (No. 99), and Derrick Kindred (No. 129). Of course, quarterback Cody Kessler has fared well in his eight starts but doesn't necessarily offer the "franchise quarterback" feel the organization salivates over.
The Browns also selected two offensive lineman in Shon Coleman (No. 76) and Spencer Drango (No. 168). Coleman's knee injury has limited him to only four starts. Drango, on the other hand, has played in all 11 games. Both players have seemed overwhelmed when playing — as many players do in their first season in the NFL. It will take time for these two to develop and an offseason will certainly help them.
Lastly, the handful of backup wide receivers taken have not offered much this season. Ricardo Louis (No. 114) has 16 receptions for 183 yards but his knack for dropping balls in college seemingly transferred with him into the NFL. Jordan Payton (No. 154) and Rashard Higgins (No. 172) have combined for a total of five receptions this season so evaluating them on such a small sample size is not accurate.
Drafting is pointless without a plan and the Cleveland Browns will determine which players they will continue to build with going into the 2017 NFL Draft.
It's evident the Cleveland Browns must immediately assess the defense heading into 2017 NFL Draft. However, dictating which position is more urgent is difficult nonetheless when a team is ranked No. 31 in the NFL. Although, having the first overall pick allows a team to select the best overall talent despite fit and the Browns might be in that boat.
Myles Garrett, Texas A&M defensive end, is the presumable No. 1 pick currently. Garrett would upgrade the Browns defensive front giving them a strong defensive line. Danny Shelton is the No. 1 ranked nose tackle per PFF in their midseason All-Pro Team. Rookie Emmanuel Ogbah has established himself as a building block at defensive end moving forward, and adding another with the top pick would solidify the Browns defensive front.
The defensive backfield has been abysmal 11 games into the 2016 season as well. Joe Haden has missed several games due to injury once again and the Browns have struggled to find a permanent replacement for T.J. Ward since they allowed him to walk in free agency years ago. The safety position has been cloudy in Cleveland, starting a handful of different players so far this season.
Defensive backs Jamar Taylor and Tramon Williams continue to give up penalties and big plays, giving Cleveland all the reasons to select a cornerback early on in the draft. Haden, a two-time Pro Bowler, hasn't had the luxury of having another elite corner opposite of him and it would certainly alleviate pressure off of him.
For the backfield, one can only imagine analytics will play a significant role when determining value picks for the respective positions. Essentially, if there is an elite player or a drastic drop-off in talent, the Browns will pounce.
Lastly, the linebacker position seems to be the one area where the Browns can relax in the draft — only compared to the rest of the positions. The acquisition of Jamie Collins has been a success so far, although will only be considered worth it if the team can come to terms with him on a contract extension.
Christian Kirksey is racking up tackles at a feverish pace, making him a solid piece of this defense. That's an inside and outside linebacker, hopefully, locked up going into 2017 and it looks like DeMario Davis and Joe Schobert are capable of starting if need be.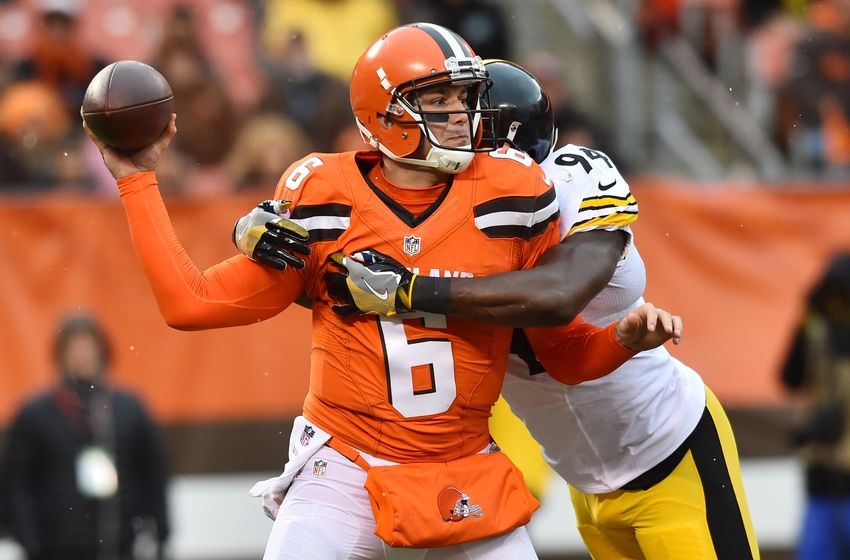 The offense added some new pieces in 2016, but the 0-11 start has shown that this team needs several reinforcements in 2017.
Cody Kessler very well could be shut down for the season after suffering his second concussion of 2016. The rookie quarterback has put up average numbers in surprising fashion despite the poor talent surrounding him, and the Browns might consider keeping him as starter for another season.
This is not to say the team will avoid a quarterback early in the 2017 NFL Draft but unless a prospect is screaming at them – the Browns are likely to begin building the defense and cement their offensive line.
That brings us to the dysfunctional offensive line, however it is not as bad as many believe. Joe Thomas remains an elite left tackle and John Greco is a quality right guard. That leaves Austin Pasztor, Cam Erving and Spencer Drango starting beside them, and it hasn't quite worked out.
It's clear the line needs reshaping and the Browns will undoubtedly attack this position in the draft. Although, expect Erving to continue to see a role simply due to his physical attributes and skill set that can translate to his high ceiling if worked at.
Drango and Shon Coleman, both rookies, will each have a shot to earn a starting role in 2017 but it's clear that the both of them (Erving too) struggled to figure out the talent-level in the NFL coming out of college. The transfer is difficult for everyone, but offensive linemen face great scrutiny even though it's arguably the toughest position to play.
In conclusion, Cleveland Browns fans completely understand that this roster is among the worst in the NFL in recent memory. Talent upgrades could be used for almost every position making the draft not only increasingly laborious but critical as well. Hue Jackson, Sashi Brown and Co. will analyze the roster at the conclusion of the 2016 season and immediately move into draft mode.
The 2017 NFL Draft is perhaps the most important in franchise history considering the continuous failing efforts and the amount of high-round picks the team attains. If used correctly, the Browns are looking at an aging AFC North and would be in prime position to compete in 2018 and 2019.
More from Dawg Pound Daily
This article originally appeared on