Analyzing Panthers Notable Cuts & Makes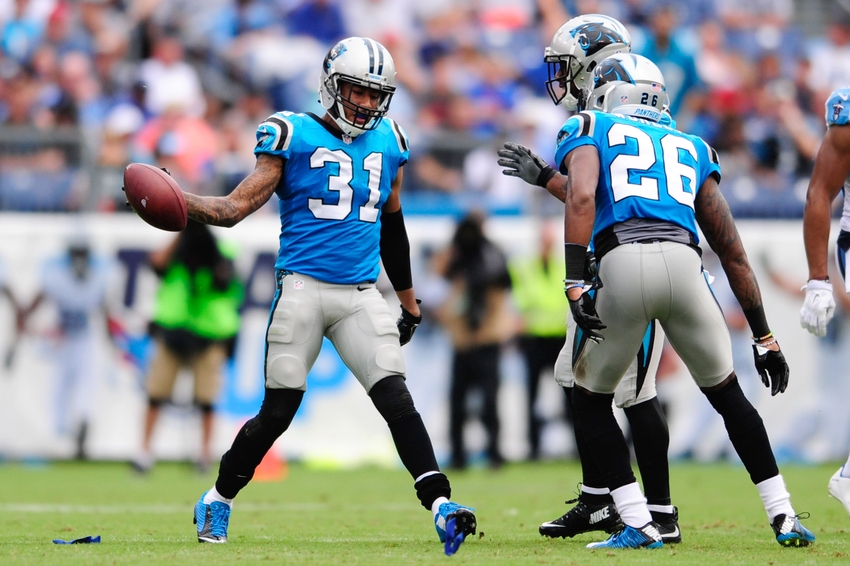 The Panthers trimmed their roster down to 53 on Saturday and made a few notable, surprising cuts as well as a few shocking keeps.
To get from 75 players to the final 53 by Saturday's deadline the Panthers had to get to work and had to make 23 moves.
While many of the cuts were predictable there were a few that no one could have seen coming. Among those notable surprises was the waiving of rookie fifth round pick Zack Sanchez, seventh rounder Beau Sandland and running back Brandon Wegher.
Along with these three, the Panthers released safeties Marcus Ball and Travell Dixon, linebacker Brian Blechen, defensive tackles Eric Crume and Robert Thomas, defensive ends Arthur Miley and Larry Webster, tight ends Marcus Lucas and Eric Wallace, wide receiver Keyarris Garrett, cornerback Lou Young, running back Jalen Simmons and guard David Yankey.
With the 16 cuts also came the contract terminations of safety Stevie Brown and defensive tackle Kyle Love, the injured reserve designation of linebacker Ben Jacobs, wide receiver Kevin Norwood and tackle Jordan Rigsbee, and the suspension list placement of guard Chris Scott.
The releasing of the two 2016 draft picks marks the earliest General Manager Dave Gettleman has parted ways with picks.
While there were surprising cuts, there was also a few shocking additions to the final roster that few could have expected.
Here we'll analyze these surprising additions and subtractions.
Notable Cuts:
Zach Sanchez CB, Beau Sandland TE, Brandon Wegher, RB
As mentioned, Gettleman has never before gotten rid of drafts picks this early in their time with the team but he did so with Sanchez and Sandland. The rookie cornerback was expected to grow into a nickel role with the team and while he had some work to do and struggles to overcome, showed promise on a few occasions like in the team's preseason game against the Titans. Should Sanchez clear waiver – which might be a lot to ask for for a fifth rounder – he's most certainly a practice squad candidate.
After an underwhelming offseason where not much was said about him, Sandland being cut was not terribly surprising but still notable. As a draft pick – albeit in the seventh round – Sandland presumably had the edge over the plethora of tight ends the team brought in to compete. It soon became clear that Scott Simonson had a hold of the third spot on the depth chart but Sandland and the others clearly didn't do enough to warrant keeping a fourth on the roster. The rookie tight end is probably a safe bet to clear waivers and join the team's practice squad.
The Wegher cut is almost on the same surprise level as the Sanchez one. While his rushing stats this preseason weren't anything of note, Wegher looked much more comfortable with the offense and was even more explosive and reliable in the passing game. That combined with his abilities to play special teams made the former undrafted player look like a near lock to once again crack the final 53. Teams who have kept an eye on Carolina certainly will be aware of Wegher's talents and could snatch him for their roster or practice squad but if he does slip by, the Panthers would most definitely add him to theirs.
Notable Makes:
Jeremy Cash LB, Damiere Byrd WR, Jared Norris LB, Donald Hawkins & Tyler Larsen OL
With a roster as loaded with talent as the Panthers had, not many spots were available but plenty of young players took advantage of opportunities and earned their spot. Undrafted rookie linebacker-safety Cash was initially a wildcard to make the roster after converting from safety to linebacker. However, he quickly picked up the position and by the end of the offseason looked like a surefire roster lock. Cash's versatility and similarities to Shaq Thompson make him a valuable asset that should find a contributing role early on.
The Panthers' wide receiver room looked as talented as ever this offseason and it soon became clear that the team may have to keep an additional sixth wideout on the final roster. And they did so when they kept on second-year pro Byrd who essentially forced his way up the depth chart. All offseason Byrd showed incredible improvement and with his special teams versatility and big play potential, the Panthers really had no choice but to lock him in as the sixth receiver.
Arguably the most surprising make on the roster was undrafted rookie linebacker Jared Norris out of Utah. There was very little if any talk of Norris throughout the offseason but he was clearly solid enough to warrant a seventh linebacker being on the roster. When Jacobs went on IR, it made his path to the roster even easier.
Carolina's offensive line depth is one of the more shaky areas on the roster but it was a benefit to youngsters Donald Hawkins (OT) and Tyler Larsen (OG) who both found their way onto the final 53. Hawkins was a pleasant surprise this offseason as really the only quality tackle depth on the roster and Larsen was another solid contributor who benefits from the Chris Scott suspension but also did enough to beat out David Yankey for a spot.
More from Cat Crave
This article originally appeared on