An Oakland Raiders Thanksgiving: What I'm Thankful For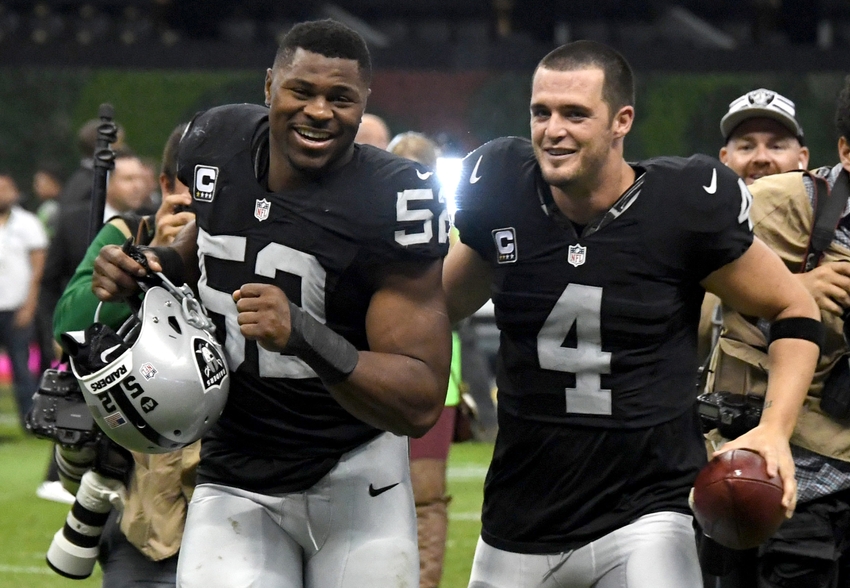 On this Thanksgiving Day, here are three things related to the Oakland Raiders that I am thankful for.
My Oakland Raiders — our Oakland Raiders — are off to an 8-2 start. The hot start is good enough for sole possession of first place in the AFC West, and not only that, but the Raiders are the current #1 seed in the AFC.
Oakland is just one win away from ending a drought of non-winning seasons that has reached 13. And perhaps with a win or two on top of that, a playoff drought of the same length will also come to an end.
With that being said, Raider Nation has a lot to be thankful for this season. That after so much of the opposite, their favorite football team has finally fielded a competitive product.
But even beyond that, even before this season that has gone so well, I have a lot to be thankful for when it comes to the Raiders.
As a Raiders fan since the age of 5, here are three things that I am thankful for.
Reggie McKenzie, Derek Carr, Khalil Mack, etc.
The first thing I'm thankful for is the most obvious — the 2016 version of the Oakland Raiders, built by Reggie McKenzie and led by Jack Del Rio, Derek Carr and Khalil Mack, among others.
This group has truly been a pleasure to watch. Well, that, and they've also been extremely stressful to watch. But the stress that comes along with cheering for an 8-2 football team is sooooo much better than the stress that comes along with cheering for a 2-8 football team.
From top to bottom, the turnaround of the Raiders has been remarkable. From not only the most dysfunctional team in football, but in all of sports, to a team that looks like a legitimate Super Bowl contender. And most of the credit for that goes to GM Reggie McKenzie.
McKenzie was hired in early January of 2012, and it's easy to forget now, but the vast majority of Raider Nation was calling for his job as recently as before the beginning of the 2015 season. Good thing that didn't happen, because McKenzie has built a team that looks like it will remain competitive for years to come.
Jack Del Rio also deserves his fair share of credit. Raider Nation knows the spiel all too well, with 7 different head coaches since Bill Callahan was in charge of the 2002 team that went to the Super Bowl — "we are going to change the culture here" said every coach ever.
But finally, FINALLY, Jack Del Rio has done just that. He has the Raiders dreaming, and achieving, big. He has them gambling in risky situations, and the bets are paying off. The coach who grew up a Raiders fan, like all of us at home, has his favorite team on the verge of doing something special.
There is a large handful of players that I'm thankful I get to watch each and every Sunday — Derek Carr, Khalil Mack, Amari Cooper, and several more. It's a pleasure to see players at the top of their respective craft all on one team — my team…our team.
Khalil Mack is one of the three best defensive players in the NFL. He's a dominant force that is as humble as he is hungry.
Amari Cooper is a quiet assassin on the gridiron, except that there is nothing quiet about his game. His savvy route-running and breakaway speed make for some of the best highlights any Raiders fan has ever seen.
There is the offensive line, which is as nasty as it gets in the NFL. Watching a team that is capable of dominating in the trenches week in and week out is something you don't appreciate it until you get to witness it. For the rest of my life, I never hope the Raiders go back to having an average or below average offensive line.
And then there is Derek Carr — the player that Raider Nation has waited so long for. But let me tell you…it was worth the wait.
Carr is a paradox in terms of how he fits in on the Raiders. In many ways, he represents everything that being a Raider is all about — passion, dedication, excellence, a cannon for an arm — but in many ways, he represents a lot of things you would never picture as a "Raider". He's not a bad boy like Ken Stabler — Carr doesn't use foul language, he's a devout Christian, and he is as humble and as of nice of a guy as there is in the NFL.
But man, am I thankful that he's an Oakland Raider.
The JBB Community and #RaidersTwitter
As a Raiders fan, the second thing that I'm thankful for is the Just Blog Baby community and all of my friends in #RaidersTwitter. Many of whom are part of the staff here at JBB.
Dylan and Ryan, who join me each week on the podcast. Blackhanside, Primetime Ryne, Tyler, Seth, Sirelle, Ortiz, and many more. You all know who you are.
Not to get all sentimental or sappy, but here is why I'm thankful to be apart of this community.
As I explained in an article in June — Why I'm a Fan of the Raiders — I grew up in San Jose, which when I was growing up, was completely (and still largely is) 49ers territory. The Niners were a dominant team in the early 90's, and the majority of my family, friends, schoolmates, teachers, and just about anyone I came across were Niners fans.
Then I lived in Arizona for awhile, and there were almost no Raiders fans to be found there. So as weird as it sounds, I've really never had people in my life where the Raiders were common ground.
So to have this great community of Raiders fans from all over not only the United States, but the world, is incredible. It's a blast to be able to interact with people from all different walks of life, and to know that we have at least this one thing in common — the Raiders.
Sharing my opinions, thoughts and hot takes has somehow led to this incredible platform, where I get to run a popular Raiders website, which is truly a blessing.
So on this Thanksgiving Day, I'm thankful for Raider Nation.
Over a Decade of Dysfunction
The third thing I'm thankful for is the most surprising, but the most important — I'm actually thankful for Oakland's 10+ years of dysfunction, and all of the despair that came along with it.
You see, the term "diehard" isn't without meaning. Quite the opposite in the case of the Raiders, in fact. Me, you, and all of us have "died hard" when it comes to the Raiders.
But going through the lowest of the lows is what will make the highest of highs that much better. Because when you are on the other side of things — the not so fun side — it makes you so much more appreciative of the opposite.
It sounds weird, but I'm thankful for all of the awful draft picks and all of the terrible free agent signings.
I'm thankful for JaMarcus Russell being arguably the biggest draft bust of all time. Because now I get to cheer for Derek Carr, who is the complete opposite of JaMarcus in every way possible.
I'm thankful for drafting Darrius Heyward-Bey 7th overall, because seeing Amari Cooper get drafted 4th overall and actually live up to that hype, and then some, is incredibly rewarding.
And I'm especially thankful for DHB, because now all these years later, I get to appreciate watching the player who should have donned Silver & Black originally — Michael Crabtree — all these years later.
I'm thankful for Michael Huff, because drafting a different safety 14th overall — the Hitman Karl Joseph — has been fun to watch him develop each week.
I'm thankful for Javon Walker being a free agent bust, and so many others, because now we get to see free agent signings actually pay off — Kelechi Osemele, Bruce Irvin, and others.
Again, when you were on the other side of things for as long as the Raiders were, it makes everything we are experiencing currently so much sweeter.
So that's why I'm thankful for all of it.
Now that the Raiders are 8-2, I couldn't be enjoying what is happening more. And if the Raiders, somehow, eventually, do the unthinkable…we will all lose our collective minds. I know I will.
Just Win, Baby.
More from Just Blog Baby
This article originally appeared on