An All Defense Chicago Bears Mock Draft
Greg O'Shalae/FanSided via Bear Goggles On

Fansided
Would the Chicago Bears benefit from drafting just one side of the ball to make it dominant? The following is some reasoning for such a move, and a mock draft that might make it exciting.
Over the last twenty Super Bowls, including the Chicago Bears' appearance, having a top-ten unit – either in terms of points for or points against – is nearly mandatory. In fact, only one out of the forty Super Bowl teams made it to the big dance without a top-ten offense or defense (hint: they shocked everyone, needed a ridiculous helmet-catch, and ended a perfect season).
If only 2.5% of all teams in the last twenty years made it to the Super Bowl without an outstanding offense or dominant defense, then one unorthodox approach would be going all offense or all defense in the draft. Ask yourself, which unit is closer to the upper echelon: offense or defense?
The question was obviously rhetorical.
Despite being ravaged by injuries, the 2016 Chicago Bears defense was 15th in total yards, 6th in rushing yards, 7th in rushing TDs, and 9th in rushing yards per attempt. Imagine if Eddie Goldman played more than 5 games, or if Danny Trevathan wasn't sidelined half the season, or if Jerrell Freeman and Leonard Floyd didn't miss a few games each. That would easily be a top-ten rush defense, if not top-five.
The Chicago Bears are approaching year three of the Ryan Pace, John Fox, Vic Fangio era. After the rough 3-13 season, there needs to be immediate improvement or jobs are at risk. As defensive coaches, would it behoove them to go all-in on defense? Imagine an off-season where free agency focused on offense, and the draft was used for nothing but defense…
Pick 3: Jonathan Allen, DE, Alabama
Mitch Unrein should not be a starter. Unrein had 12 tackles in 13 games last year. He was a body occupying blockers. The Bears need someone who can not only occupy an opponent, but make plays, draw double-teams, and create opportunities for teammates. There is a reason the majority of mock drafts have the Bears taking Jonathan Allen from Alabama.
The Quarterback Desperation Rankings
Selecting Allen with the third pick makes sense in many ways. First, he's got a great combination of size and strength. At 6'3", 291lbs., he's big enough to drop anchor in run support, and explosive enough to get after the QB (10+ sacks each of the last two years). Second, his hands are surgical. He's got the full arsenal of pass rush moves (e.g. swim, rip, bull rush), and his bull jerk (it's a real move!) is violent.
Starting Allen in Unrein's spot serves multiple purposes. Not only will the pass rush be immensely improved, but other defensive players will benefit as well. Opposing defenses won't be able to double Eddie Goldman as much. With a viable threat on both sides, Goldman would have to carry less of the load and might even increase his production some. More importantly, there will be less time in the pocket for opposing QBs with Jonathan Allen starting. As all Bear fans unfortunately have learned, a rushed QB gets nervous, dismisses mechanics, throws into coverage, and those passes get picked off more frequently.
Pick 36: Adoree' Jackson, CB, USC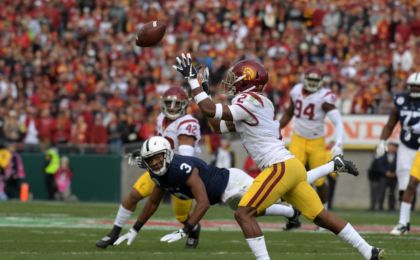 The Chicago Bears need playmakers. They were 12th in sacks, but all that pressure amounted to just eight interceptions, tied for 29th in the NFL, and 13 forced fumbles, tied for 21st in the league. Pressure and sacks are supposed to create turnover opportunities, and the Bears need someone who can capitalize on those rare opportunities. Enter Adoree Jackson, CB, USC.
He's Superman…a pressure player…one of the more special athletes in the country.
Jackson is an explosive playmaker who has a rare combination of speed and athleticism. He was a California state champ in the long jump and 4×400, and that ability translated to not only college track and field success, but also college football dominance. There is a reason his coach referred to him as Superman.
In the following clip, he shows great hands, the ability to high-point the ball, and great body control on interceptions (2:20 & 4:04). He can use his superior leaping ability to collapse zone weak spots and ruin jump balls (2:38), and deflections in one-on-one scenarios (4:32 & 5:00). Finally, his recovery speed to cut underneath routes (2:50) might be unequaled in this class of cornerbacks.
Add in Jackson's ability in the return game, and he very well could be the next Hester-level athlete to play for the Chicago Bears.
Pick 67: Budda Baker, FS, Washington
Let's start off the third round with a question: How many times must Aaron Rodgers throw a random deep pass to a completely uncovered WR before the Chicago Bears put someone in the secondary who can recognize and defend it? Keeping with the explosive playmaker theme, Budda Baker just might be the man to end Chicago's collective heartache.
Get the FanSided App
Baker has some of the best instincts in the country. He diagnoses plays incredibly quickly, diving towards ball carriers and absolutely annihilating quick-outs to WRs. Often Baker is nowhere to be seen, but moments later he's darting towards the ball and making the tackle on a frustrated opponent.
Baker is able to make these kind of plays because he's got elite speed. He ran a 4.35 forty just before last season. Much like Adoree Jackson, he was a track star in high school.
More of a leg hitter and ankle grabber, Baker may not have the ideal tackling chops some coaches prefer. Nonetheless, he's a sure tackler and willing to engage, to the tune of 200 tackles in while at Washington.
Often compared to Tyrann Mathieu, he's got similar size and explosiveness, without the accompanying drama.
Pick 109: Damontae Kazee, CB, San Diego State
The search for ball-hawks is not complete with just one cornerback. Tracy Porter isn't getting any younger or cheaper. Unless Kyle Fuller turned into a completely different player in the offseason, his time with the Chicago Bears is pretty much done. That means the Bears need another CB, and Damontae Kazee out of San Diego State is a perfect fit with the Bears' first pick of the round.
Kazee is another big play guy with great athleticism. He was second in the nation with 7 interceptions, and has had 15 over the past two years. Add that to 6 forced fumbles in his college career, and he's a big-time player with great hand-eye coordination who has accounted for not only turnovers, but a bunch of tackles as well (142 the last two years).
Pick 115: Vincent Taylor, NT, Oklahoma State
Make no mistake, the absence of Eddie Goldman hurt the Chicago Bears. With Goldman, the Bears allowed less average points (24 vs 26), less 1st downs (19 vs 21), less total yards (304 vs 371), less passing yards (186 vs 248), and less rushing yards (118 vs 123). In his absence, Will Sutton and CJ Wilson underwhelmed to say the least. That can't happen again.
Taylor was best DT in Big 12 this season. Considerable loss for the Pokes. However, Okla St has several capable players back on its D-line

— Jake Trotter (@Jake_Trotter) December 30, 2016
How does a 6'2", 310-pounder with 7.5 sacks sound? Vincent Taylor is not getting the attention he deserves. He is massive, difficult to block one-on-one, and is way more athletic than a man his size should be. Throw in four blocked kicks, some crazy lateral skill, and you have a mid-round prospect who will be sorely missed by Oklahoma State fans.
Pick 149: Ejuan Price, OLB, Pittsburgh
The Chicago Bears found a mid-round gem in Nick Kwiatkoski last year, and he was able to adequately fill in when Danny Trevathan went down with an injury. This year's mid-round gem for the Chicago Bears is Ejuan Price of the Pittsburgh Panthers.
Price was an absolute monster for the Panthers last year. His production is difficult to ignore. He had 13 sacks this season, and is tied with Aaron Donald for career sacks. He also recorded 23 tackles for loss, a safety, 14 hurries, and three forced fumbles.
Projected as a 3-4 OLB in the NFL because of his lack of height, he's one of those guys that is undervalued because of measurables. At times, Price appears to be a bit lazy in pursuit, but Pitt DL Coach Tom Simms had this to say:
He has continued to improve as a technical player. He does a good job playing every down of football for us. He's disruptive in the run game, also.
In a 3-4 defense, there can never be enough OLB pass rushers. Simply put, Price is a player who knows how to get after the QB.
Pick 224: Weston Steelhammer, SS, Air Force
Seventh round picks need to have something that makes them stand out. Either a superb athletic trait, incredible production, or a sure-fire way they can help the team.
Given the already established need for turnovers, it would be smart for the Bears to find someone who has a knack for getting his hands on the ball. Weston Steelhammer is just that kind of player.
Leading by example is definitely a way that I can help lead on the field.
Steelhammer not only has a cool name, but with 18 interceptions in the last three years, he has a definite skill for creating turnovers. He's a student of the game who does all the little things and has said, "Leading by example is definitely a way that I can help lead on the field."
He may not be as flashy as some of the other picks, but some players are just productive. They know how to find the ball. He's also a very willing tackler, racking up 80 tackles each of the last two years. In both those ways, this three-time all Mountain West player is somewhat reminiscent of Bear great Mike Brown.
Drafting all defense may be unorthodox and risky, but it's only one year, and the Bears have the chance to build a great, young defense. Of course, it all depends on free agency, but if somehow the Bears were able to nab a few key players on offense (e.g. QB, WR, TE, OT), and all defense draft might be pretty exciting.
More from Bear Goggles On
This article originally appeared on