Allen Robinson Showcases Elite Athleticism with Touchdown (Video)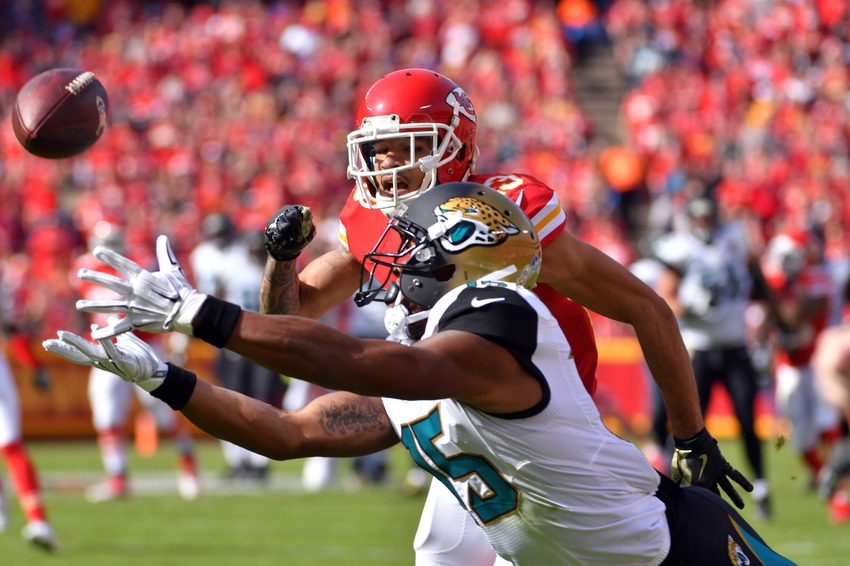 Allen Robinson has struggled in 2016 in the midst of Blake Bortles being terrible. However, AR-15 showed he's still quite incredible on this touchdown.
Back in college, Allen Robinson regularly made jaw-dropping plays. And you can argue that he created the myth that is known as Christian Hackenberg. Ever since joining the NFL, Robinson has dazzled as the Jacksonville Jaguars best wide receiver. After showing promise as a sneakily effective rookie, Robinson exploded as one of the game's best receivers in 2015.
Robinson's 52.3 receiving yards per game average in 2016 would be a career-low if the season finished today—but it doesn't. And at halftime of the Jaguars game against the Kansas City Chiefs, Robinson was on-pace to beat that average, having hauled in three passes for 40 yards and a score.
His touchdown was a one-yard score to cap off an 88-yard drive by the Jaguars and it gave the away team its first points of the game, cutting the Chiefs lead to 10-7.
There's no doubt that the former second-round pick out of Penn State is one of the NFL's best athletes and he showed it on this catch. It was only a one-yard pass in the box score, but Robinson had a lot of work to do to secure six points for the Jags.
First, he had to work his way open against two Chiefs defenders, and he had to make sure Bortles had some sort of a passing lane to work with. He then had to contort his body and tap his toes to make sure the catch amounted to points on the scoreboard.
Bortles struggled with 10-for-19 passing in an inefficient half as he and Nick Foles were putting on a clinic in subpar quarterbacking.
This article originally appeared on