Alex Smith: 5 replacements Chiefs could target in 2017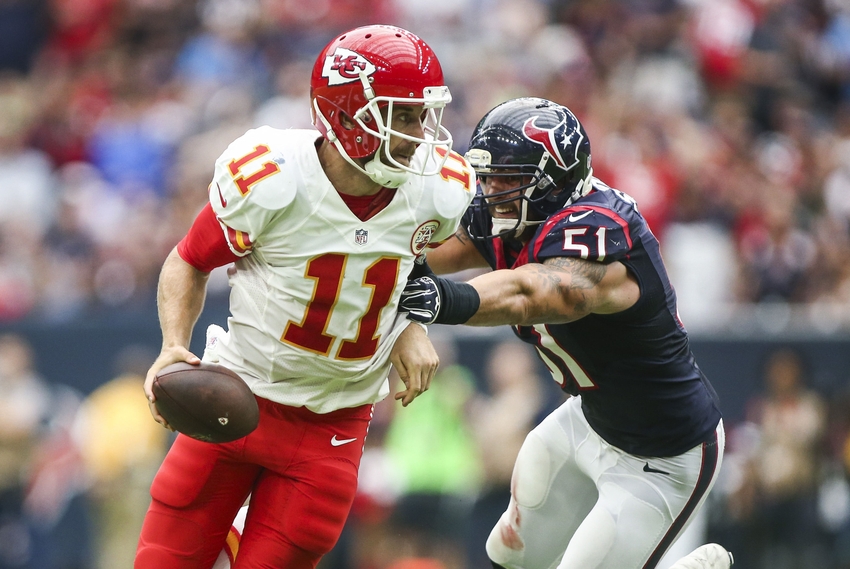 The Kansas City Chiefs are getting horrid play from Alex Smith. Is there going to be a new quarterback in town come 2017?
This article isn't to say that the Chiefs will move on from Smith after this season, but its an option for general manager John Dorsey. After 2016, Smith is due to be paid $16.9 million for the 2017. By cutting him, the Chiefs would get back $9.7 million while leaving $7.2 million in dead money. Is it perfect? No, but it's realistically possible if Dorsey loves another option.
So who could the Chiefs target? Let's take a look:
5. Tony Romo
Yes, there is a real chance that Romo is on the block after this season. He's missed considerable time each of the last two years for clavicle and back injuries, and with Dak Prescott playing so well, Dallas Cowboys owner Jerry Jones could be looking to make a move.
However, it's worth noting that Romo is 36 years old and carries a cap hit of almost $25 million next year. For Dorsey to acquire him, Kansas City would have to make some serious moves to fit him into the salary cap. Would it be worth that kind of shake-up to bring in an aging, injury-prone quarterback for the chance he recaptures glory? Hard to say.
4. Jimmy Garoppolo
Garoppolo looked very good in his first starting action this year. Going against the Arizona Cardinals and Miami Dolphins, Garoppolo completed 70 percent of his throws with four touchdowns and no interceptions. Granted, this is an extremely small sample size, but he's a former second-round pick who is 24 years old.
Is Garoppolo the next Matt Cassel? Well, we won't know until the Patriots trade him or give him to another franchise. On the plus side, Garoppolo is still on a rookie deal for another season, so his 2017 cap hit is barely over $1 million. Of course, he's going to get expensive very quickly, and would probably require an extension at the time of a deal.
The Chiefs would probably have to surrender a first-round pick to get him, which if they believe he is the future, is fine. It would be a risky move, though, for a team that believes it can win right now. Dorsey would have to be intrigued by the idea of having a franchise quarterback for the next 10 years, but the downside is massive as well.
New England would also have to be willing to move him, which is an unknown. That said, a first-round pick would certainly get its attention.
3. Colin Kaepernick
This is an option for two reasons. First, he's likely going to be cut by the San Francisco 49ers after this season, which means he could come at a nice rate depending on how he plays the rest of the year. Second, he played for the 49ers, which means he has some kind of magnetic pull to Arrowhead Stadium.
Kaepernick had a couple of nice years in San Francisco, but he has myriad issues. He has always struggled with going through progressions and his intermediate passes are often inaccurate. He is not better than Smith right now, but at the same point, he has a litany of tools. Should Dorsey acquire him with the hope that Andy Reid can coach him up?
This would be a huge story if Kansas City picked Kaepernick up. Frankly, I would be surprised if the Chiefs went this route only because he appears to be damaged goods, but weirder things have happened. Perhaps Reid loves his skill set and Dorsey can fit him under the cap on a two-year deal. If that's the case, it wouldn't be out of the realm of possibility.
2. Jay Cutler
The Chicago Bears are going to move on from Jay Cutler after this season. Why? Because they are going nowhere fast, Cutler is starting to get hurt each and every year, and they will have a high enough draft pick to get a franchise guy.
So why would the Chiefs want the leftovers in Chicago? Because he has always been one of the more talented quarterbacks in the game. He's basically the Jeff George of the new century,a dn he is someone who can execute any throw on the field.
Does that mean he's athe perfect quarterback? Absolutely not. Cutler throws way too many balls into coverage and has the disposition of someone that drives people insane. He consistently looks like he doesn't care and there have been more than a few rumblings that he is somewhat of a tool.
Still, the Chiefs might be able to get him at a  fairly decent rate when you consider injury history and that he's 33 years old. Kansas City would basically be paying for a couple of years with the idea that he could get the team over the proverbial hump.
1. Actually draft a QB
Alright, don't fall out of your chair. Yes, the Chiefs really are allowed to draft a quarterback before the fifth round. At some point, this franchise has to make a real move and stop waiting around for some miracle to fall in its lap.
This year, there are going to be some quarterbacks worthy of a first-round pick. It is hard t see the Chiefs getting their mitts on DeShone Kizer of Notre Dame of Deshaun Watson of Clemson, but there are some other options for the latter half of the round. Perhaps Kansas City can get brad Kaaya out of the University of Miami (FL) or Chad Kelly – Jim Kelly's nephew – out of Ole Miss.
The Chiefs have not drafted a quarterback in the first round since 1983, an absurdly long streak when you consider the importance of the position. Hell, even if Kansas City wants to hold onto Smith for another season or two, can we ever draft a franchise guy or at the very least, try to?
Of all the options, this is the best. You get a quarterback on a very inexpensive rookie deal for four seasons, allowing Dorsey to put all his resources elsewhere. Then you have a great player for 12-15 years if the right pick was made.
Sooner rather than later, the Chiefs need to bite the bullet.
This article originally appeared on