Aldon Smith meets with Roger Goodell about possible reinstatement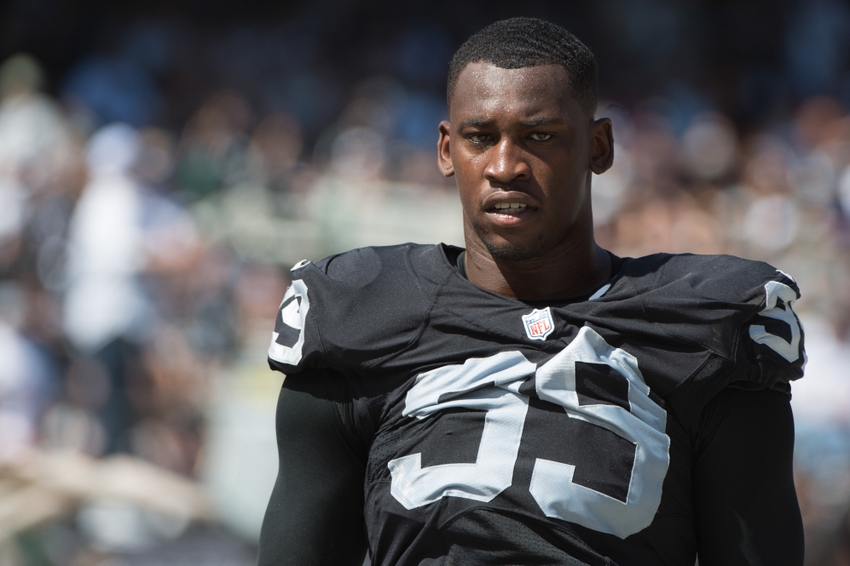 Oakland Raiders outside linebacker Aldon Smith moves one step closer toward possible reinstatement after meeting with NFL commissioner Roger Goodell.
The Oakland Raiders could have used him on Thursday Night Football when they lost to the Kansas City Chiefs and dropped out of first place in the AFC West, but Aldon Smith may be inching toward a return to the NFL.
Smith has been suspended all year after repeatedly violating the NFL's substance abuse policy but met with NFL commissioner Roger Goodell on Friday, according to NFL Media's Ian Rapoport.
The commissioner will have to decide if Smith will be reinstated this season. The former Pro Bowl edge rusher applied for reinstatement in October and the league has a 60-day window to make a decision. Although Pro Football Talk reports it's a loose 60-day window and a formal decision isn't required in that time frame.
#Raiders OLB Aldon Smith met with @NFL officials today, including Commissioner Roger Goodell, source said, vying for reinstatement.

— Ian Rapoport (@RapSheet) December 9, 2016
In any event, the clock is ticking on Goodell to make a decision because the Raiders only have three regular season games left after Thursday's game. Once he's reinstated, he would then need to practice with the team and get into football shape and work his way back into the rotation at outside linebacker.
Certainly, Jack Del Rio's team would love to add Smith to the defense and let Khalil Mack, Bruce Irvin and him get after quarterbacks as they chase a postseason berth. It may be wishful thinking at this point, but at least there is hope for Raiders fans that Smith could be a factor for that postseason push.
Could you just imagine Smith making a big sack in the playoffs and helping the Raiders get closer toward a Super Bowl appearance? It would have to be one of the better comebacks of the year. However, Smith remains without a timetable for a return to the NFL so today's meeting could have been an effort to speed up the process because time is running out.
This article originally appeared on