AFC South Quarterbacks–Best in the League?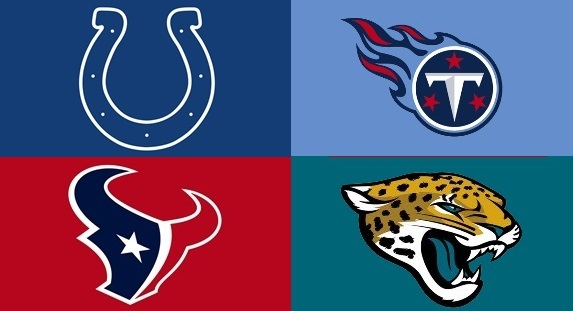 Sometimes Twitter throws you a bone. On Sunday I saw one user contend that the NFC South had the best set of quarterbacks in the league while another vouched for those of the AFC South. Let's take a look at whose are in fact better:
AFC South
Andrew Luck: To me, there's no doubt Luck is still at the top. He took the Colts to the playoffs as a rookie in 2012 and in 2014 threw 40 touchdowns. After taking over in Indianapolis he has made the playoffs three times in four years and has all the tools to be an elite player. However he does have a problem turning the ball over with 79 interceptions and fumbles so far in his career. But so much is placed on him due to the lack of running game and defense.
Brock Osweiler: Honestly, you could make an argument for any of the other three being second. When he was in Denver, Osweiler did what he needed to. Now in Houston, he looks like he will do the same thing. He's not going to be spectacular and his ceiling is as high as the two guys below him. But he looks like he can get the job done, and that is a step up from what the Texans have gotten at quarterback in recent years.
Blake Bortles: He threw 35 touchdowns last season, tied for second best in the league. But he also led the NFL in interceptions with 18. Yes it is true that he turns the ball over a lot, but so much gets placed on him without a run game. He also led four game winning drives last season so he does have that clutch gene. He has a lot of potential and if he fulfills it could be an elite quarterback, but we'll have to wait and see.
Marcus Mariota: Ever since he entered the league, Mariota has been punching above his weight. He has carried an offense with very little talent, which is why they picked up DeMarco Murray this offseason. He threw 19 touchdowns last season with minimal talent at receiver and largely avoided interceptions with just ten. Health is certainly another consideration for Mariota, as he missed four games last season. There is very high potential here as well, but he has to prove it.
Overall, I don't think any of the quarterbacks in this division are great, but they all do their jobs well.
NFC South
Cam Newton: The reigning league MVP is the best quarterback in these two divisions, narrowly beating out Brees and Luck. Even without top receiver Kelvin Benjamin last season he threw 35 touchdown passes and ran for ten more. The Panthers have won three straight division titles over the last three years and show no signs of slowing down. He has been the premier dual threat quarterback, a playmaker and franchise quarterback ever since he arrived in Carolina. This is debatable, but I say he is a top five quarterback right now.
Drew Brees: Even in his late thirties, he still is a great player. He has thrown over 30 touchdown passes eight straight seasons and completely restored the Saints franchise. People do remark about the high number of interceptions, but that comes with the territory when a quarterback throws that many passes. It is disappointing that he has missed the playoffs the last two seasons, but his defense has done him no favors. Even the best can't overcome historically awful defenses.
Jameis Winston: There are three very intriguing young quarterbacks in these two divisions. Winston arguably has more talent as his disposal than either Bortles or Mariota, so ranking the three of them is kind of difficult. He did a lot of things well his rookie season, throwing for 22 touchdowns and joining Newton and Luck as rookies to throw for over 4000 yards. There is immense potential here.
Matt Ryan: His first few seasons in the league Ryan was very good. But since 2012 he has been very ordinary. Even with a premiere playmaker in Julio Jones he has not been able to get it done. Of the eight quarterbacks in these two divisions, he's the last one I'd take. He's thrown 47 interceptions over the last three years, and has just 18 wins in that span. Even though he has five straight years with over 4000 yards, many of them are meaningless yards that did not help them win games. He's good enough to maintain his starting position, but not the player he used to be.
Honorable Mentions: NFC East and AFC West
As bad as the NFC East is, they actually have some alright quarterback play. The best in the division right now is Eli Manning, two time Super Bowl MVP who tied for second in the league with 35 touchdown passes last season. After that there is no denying the impact player that Tony Romo is in Dallas when he is healthy. After that, Kirk Cousins looked great at the end of last year and Carson Wentz was good in his first NFL start. But both still need to show me more.
The AFC West is solid top to bottom. The best of their quartet is Philip Rivers. Playing in San Diego most folks forget just how good he really is. After that Derek Carr had a fantastic second season and should be even better in 2016. Alex Smith, whom the Texans see this week, is a steady leader. The wild card is Trevor Siemian, who looked like an adequate starter in the opener against the Panthers. Yes there were a couple mistakes, but overall he did his job.
Verdict
Right now, even I have to hand it to the NFC South for having the best quartet of quarterbacks in the league. But if Luck returns to his 2014 form, Bortles and Mariota continue to develop and Osweiler can overachieve, the AFC South could have the best quartet going into 2017.
This article originally appeared on