AFC South Playoff Picture Outlook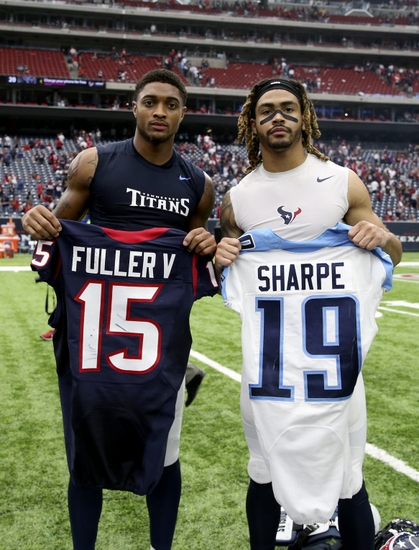 While the AFC south is considered one of weakest divisions in the NFL, it is still arguably one of the most competitive. Currently there is a three-way tie for first place, as the Tennessee Titans, Indianapolis Colts, and Houston Texans all sit a 6-6. As of right now, the Houston Texans hold the tie breaker over the other teams. Only one of these teams are going to make the playoffs as a wildcard spot isn't very likely.
More from Titan Sized
So with that in mind, let's look at the remaining schedule for each of these teams and see who has the best chance of reaching the postseason.
Houston Texans.
Week 14: at Indianapolis Colts (6-6).
Week 15: vs Jacksonville Jaguars (2-10).
Week 16: vs Cincinnati Bengals (4-7-1)
Week 17: at Tennessee Titans (6-6).
Total combined record: 18-29-1.
Indianapolis Colts.
Week 14: vs Houston Texans (6-6).
Week 15: at Minnesota Vikings (6-6).
Week 16: at Oakland Raiders (10-2).
Week 17: vs Jacksonville Jaguars (2-10).
Total combined record: 24-24.
Tennessee Titans.
Week 14: vs Denver Broncos (8-4).
Week 15: at Kansas City Chiefs (9-3).
Week 16: at Jacksonville Jaguars (2-10).
Week 17: vs Houston Texans (6-6).
Total combined record 25-23.
While the Texans and Colts both have the tie breakers over the Titans, Ike Taylor of NFL Network predicted the Titans to win the division. He credits the Titans white-hot offense for this feat, and he predicts them to go 3-1 in their final four games, with their only loss coming at the hands of the Kansas City Chiefs who are playing lights out offense, defense, and special teams. He also mentioned that while the Titans defense has been struggling, he would rather have it over the Colts.
While Ike had the Colts losing to the Vikings and Raiders, another analyst predicted the Colts to win one of those games and advance because of their tie breaker wins over Tennessee. In truth, this is the Texans division to lose. They currently hold wins over the Colts and Titans, but because their offense has a hard time putting points up and their defense is starting to lose players to injury, they might not get it done.
What say you? Who do you see pulling away in this jumbled up division?
This article originally appeared on