AFC Power Rankings Week 4: Patriots back to No. 1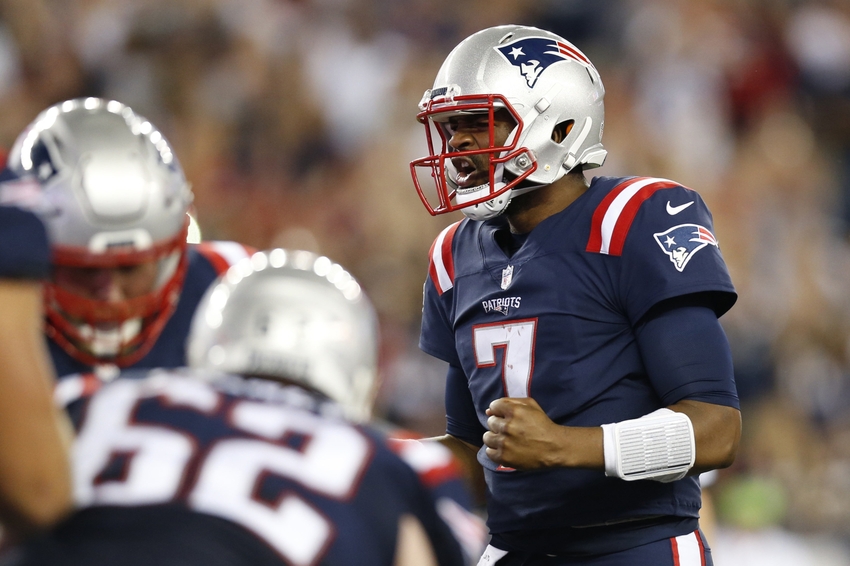 Here at Musket Fire, we don't create full NFL power rankings. Instead, we focus just on AFC power rankings since they are more relevant to the New England Patriots fan base.
We start in the cellar with a team that can't seem to buy a win in 2016.
16
Cleveland
Browns
(0-3)
Last week:
(0-2)
Last rank:
16th
Despite a superhuman effort by Terrelle Pryor (eight receptions, 144 yards; four rushes, 21 yards, touchdown), the Browns failed to get in the win column in Week 3. You can put the lion's share of the blame on Cody Parkey, who missed what would have been the game-winning field in addition to two other misses.
Next week, the Browns travel to the upstart Washington Redskins in search of their first win of the season. Don't count on them getting it.
15
Jacksonville
Jaguars
(0-3)
Last week:
(0-2)
Last rank:
15th
For the third straight week, the Jaguars struggled mightily to run the ball, and for the third straight week, it cost them on the scoreboard. Yet again, Blake Bortles was the team's leading rusher, as T.J. Yeldon and Chris Ivory combined for just 31 yards on 18 carries.
The poor results on the ground affected the passing game greatly, as Bortles tossed three interceptions in what was a very winnable game against the Baltimore Ravens.
A home test against divisional rival Indianapolis awaits the Jaguars in Week 4.
14
Tennessee
Titans
(1-2)
Last week:
(1-1)
Last rank:
10th
Unable to fully take advantage of a porous Oakland defense, the Titans fell to 1-2 on the year. DeMarco Murray and Derrick Henry combined for 159 yards and a touchdown on 26 carries, but Marcus Mariota committed three turnovers that the Titans weren't able to overcome. Further evidence of the offense's shortcoming was just two third down successes on 12 attempts. Next week, the Titans will look to even out at 2-2 by beating divisional rival Houston.
13
San Diego
Chargers
(1-2)
Last week:
(1-1)
Last rank:
9th
Three lost fumbles and a measly 35 yards on the ground by Melvin Gordon kept the Chargers from finishing the job in Indianapolis this week. It's really hard to win in this league if it takes you until the third quarter to score a touchdown on offense, which is exactly what the Chargers did in Week 3. The Saints come to town next week; maybe the Chargers will get up against their former quarterback, Drew Brees.
12
Miami
Dolphins
(1-2)
Last week:
(0-2)
Last rank:
12th
It took a bit of bad Cleveland luck, but the Dolphins managed to squeeze out a home win in Week 3. Jarvis Landry kept up the good work, snagging seven passes for 120 yards and a touchdown. Looking ahead, the Dolphins have a short week to prepare for a road game against a Cincinnati team that is jonesing for a win after falling to 1-2 in Week 3. After watching the Jets fall apart on Sunday, the Dolphins just may be the biggest threat to the Patriots in the AFC East.
11
Indianapolis
Colts
(1-2)
Last week:
(0-2)
Last rank:
13th
T.Y. Hilton's 63-yard catch and scamper was a welcome sight for Andrew Luck fantasy football owners. And Hilton owners, too, of course; the speedster totalled 174 yards on eight receptions. On the other side of the ball, Eric Walden recorded a pair of strip sacks of Philip Rivers, both of which helped the Colts upend the Chargers in Week 3. The Colts will look to even out at 2-2 next week with a road game in Jacksonville.
10
New York
Jets
(1-2)
Last week:
(1-1)
Last rank:
5th
It became comical just how many times the Jets turned the ball over in Week 3. Ryan Fitzpatrick threw six interceptions against the Chiefs, an utterly inexcusable amount for an NFL quarterback in one game (Tom Brady threw seven in all of last season, to put it in perspective). The picks that Fitzpatrick threw in the red zone, on the doorstep of the goal line, were especially painful for Jets fans. Things won't get any easier next week against the Seahawks, so don't expect the Jets to rise into the top half of these AFC power rankings any time soon.
9
Buffalo
Bills
(1-2)
Last week:
(0-2)
Last rank:
14th
By sacking Carson Palmer five times and picking him off on four occasions, the Bills made the Cardinals look very beatable. If you're a Bills fan, you also have to like seeing LeSean McCoy rip off 110 yards and two scores on just 17 carries. The going gets tougher next week, though, as the Bills pay a visit to New England. Even though Tom Brady won't be playing, the Patriots will be expected to win.
8
Cincinnati
Bengals
(1-2)
Last week:
(1-1)
Last rank:
6th
Nine penalties for 69 yards and Adam Jones' muffed punt hindered the Bengals in their AFC power showdown with the Broncos, and now the Bengals are in a bit of trouble. The Ravens have a two-game jump on the division, and Steelers are right behind them at 2-1. To make matters worse, this disheartened squad has a short week to prepare for an upward-tracking Dolphins team on Thursday Night Football.
7
Pittsburgh
Steelers
(2-1)
Last week:
(2-0)
Last rank:
1st
After getting thoroughly shellacked by the Philadelphia Eagles in Week 3, the Steelers drop seven spots in the AFC power rankings this week. If we learned anything about this team on Sunday, it's that they rely a bit too much on the magic of Antonio Brown, whose 140 yards receiving against the Eagles accounted for 56 percent of the offense's total yardage. Against a Chiefs defense that just held Brandon Marshall and Eric Decker to 58 yards this week, the Steelers need to diversify the aerial attack if they are going to rise in these AFC power rankings.
6
Houston
Texans
(2-1)
Last week:
(2-0)
Last rank:
4th
The Texans drop two spots in these AFC power rankings after getting blanked for just the second time in franchise history in Week 3. For this team to rise from pretender to contender in 2016, they will have to limit the kick return fumbles (of which they committed two on Thursday Night Football), among other mistakes that winning teams like the Patriots keep to a minimum. A home game against the Titans gives the Texans a chance to right their Week 3 wrongs.
5
Oakland
Raiders
(2-1)
Last week:
(1-1)
Last rank:
7th
The Raiders' defense may be as thin as printer paper, embodying "bend but don't break" to the fullest, but they crack the top five of these AFC power rankings after navigating past the Titans in Week 3. Derek Carr displayed some unreal elusiveness on one play, dodging two would-be sackers to connect with Michael Crabtree for a big gain (Crabtree paced the Raiders with 102 receiving yards). We'll see what this team is made of next week on the road against the…
4
Baltimore
Ravens
(3-0)
Last week:
(2-0)
Last rank:
8th
Behind interceptions by C.J. Mosley, Zachary Orr and Tavon Young and 87 receiving yards from fountain of youth-drinking receiver Steve Smith, the Ravens squeaked by the Jaguars in Week 3 to stay undefeated on the season. This team is proving to be the experts of messy games; they haven't had a particularly clean win yet. But they land in the top four of these AFC power rankings because you don't have to win pretty, as long as you win.
3
Kansas City
Chiefs
(2-1)
Last week:
(1-1)
Last rank:
11th
You would be hard-pressed to see a defense having more fun than the Chiefs' defensive players had yesterday, snagging six interceptions of Ryan Fitzpatrick and stealing away a few fumbles. Couple that suffocation with Alex Smith completing 76 percent of his passes, and it's not hard to see why the Chiefs smacked the Jets in Week 3. Let's see if they can keep up the good work against Antonio Brown and the Steelers next week.
2
Denver
Broncos
(3-0)
Last week:
(2-0)
Last rank:
2nd
The Broncos unveiled their aerial attack in Week 3, and the results were solid with Emmanuel Sanders and Demaryius Thomas teaming up for 217 yards and three touchdowns on 13 receptions between the two of them. On the other side of the ball, Shane Ray made up for the Bengals suffocating Von Miller most of the game by posting a hat trick of sacks. Because they beat a perennial AFC contender in Week 3, the Broncos reside at No. 2 in this week's AFC power rankings.
1
New England
Patriots
(3-0)
Last week:
(2-0)
Last rank:
3rd
Because they have shown such a propensity to win despite what the injury bug does to the personnel ranks, the Patriots sit atop these AFC power rankings. The coaching staff is the best in the league, and the impending returns of Tom Brady, Dion Lewis and Rob Ninkovich to the lineup further bolsters the stock of the Patriots going forward. They finish up a three-game homestand in Week 4 with a hosting of divisional rival Buffalo.
Stay tuned all week here on Musket Fire for fresh points of analysis as well as pre-game content staples such as bold predictions, things to know about the opponent, and players to watch in Week 4.
This article originally appeared on