AFC Playoff Picture: Steelers advance to AFC Championship Game vs Patriots
The Pittsburgh Steelers defeated the Kansas City Chiefs 18-16 to advance to the 2016 AFC Championship. Here is the updated AFC playoff picture.
The divisional round of the NFL playoffs is in the books. Only four teams remain in contention for Super Bowl 51, with the No. 3 Pittsburgh Steelers (11-5) winning on the road over the No. 2 Kansas City Chiefs (12-4) 18-16 on Sunday night.
Kansas City didn't let the Steelers get into the end zone once and still lost. That is because Steelers kicker Chris Boswell had the game of his life with six made field goals in windy Arrowhead Stadium. This was Chiefs head coach Andy Reid's third loss coming off a bye in 22 chances as a head coach.
The game was decided on a failed two-point conversion by the Chiefs. Kansas City had a successful two-point try taken off the board late in the game because of a holding call on former No. 1 overall pick left tackle Eric Fisher. The resulting play saw Alex Smith fire an incomplete pass.
Pittsburgh will travel to Foxborough to play the No. 1 New England Patriots (14-2) in the 2016 AFC Championship. Kickoff from Gillette Stadium on Sunday, Jan. 22 will be at 6:40 p.m. ET. CBS will have the telecast.
Here is the updated AFC playoff picture after the Steelers' road win over the Chiefs on Sunday night.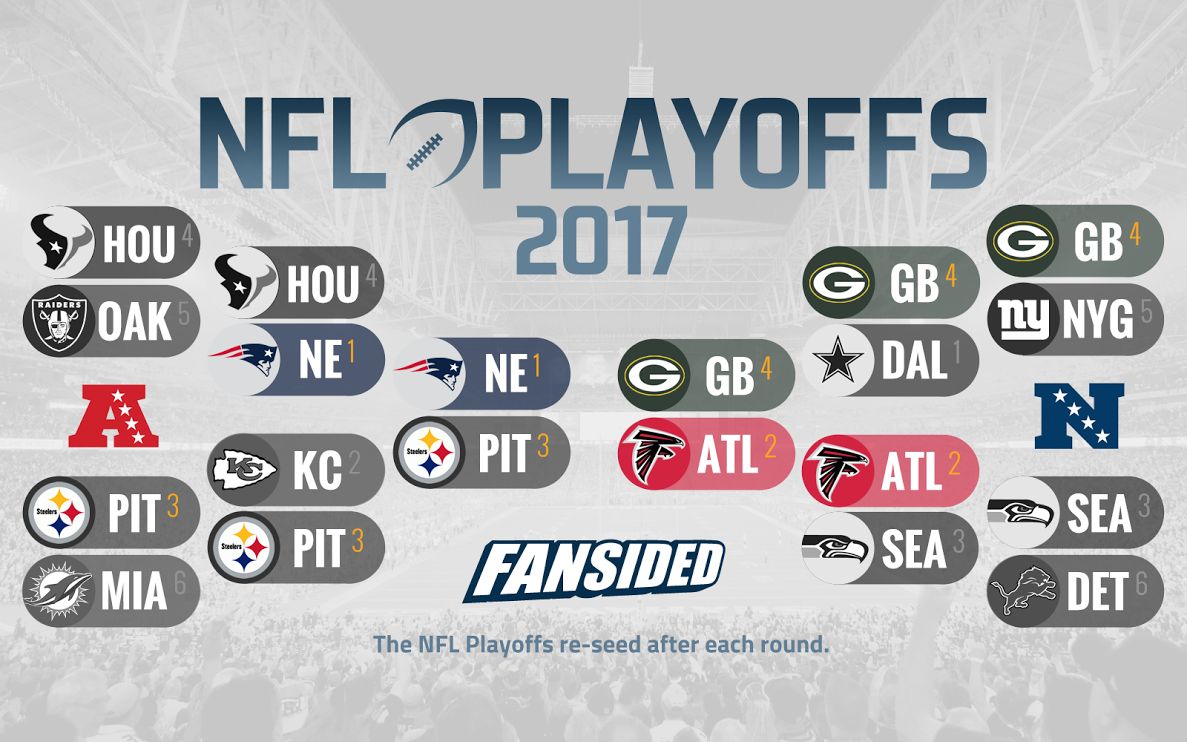 Wild Card
Saturday, Jan. 7
4:35 p.m. ET ESPN
No. 4 Houston Texans 27, No. 5 Oakland Raiders 14
Sunday, Jan. 8
1:05 p.m. ET CBS
No. 3 Pittsburgh Steelers 30, No. 6 Miami Dolphins 12
Divisional
Saturday, Jan. 14
8:15 p.m. ET CBS
No. 1 New England Patriots 34, No. 4 Houston Texans 16
Sunday, Jan. 15
8:20 p.m. ET NBC
No. 3 Pittsburgh Steelers 18, No. 2 Kansas City Chiefs 16
AFC Championship
Sunday, Jan. 22
6:40 p.m. ET CBS
No. 1 New England Patriots (14-2) vs. No. 3 Pittsburgh Steelers (11-5)
Super Bowl LI
Sunday, Feb. 5
6:30 p.m. ET FOX
Super Bowl LI (NRG Stadium, Houston, Texas): AFC Champion vs. NFC Champion
This article originally appeared on