AFC playoff picture: Chiefs looking good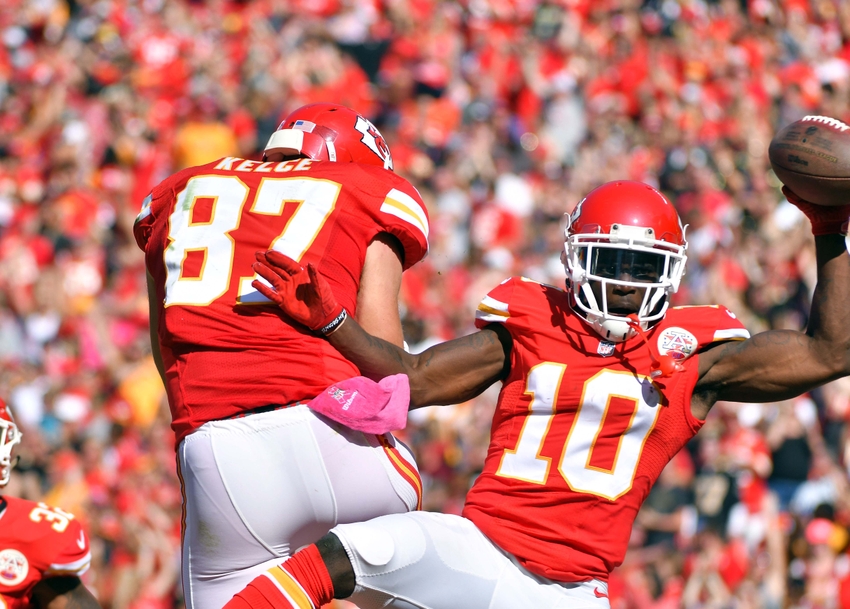 Going into Thursday Night Football, the Kansas City Chiefs are looking good in the AFC playoff picture before Week 10 action.
Yup, it's that time of year. We need to start looking at the NFL standings and try to figure out what the heck is going to happen. Of course, this is the National Football League, so this could very well be an exercise in futility. At the least, it gives usa good idea of what we are looking at going into the crux of November.
AFC playoff picture, Week 10:
1. New England Patriots (7-1)
2. Oakland Raiders (7-2)
3. Houston Texans (5-3)
4. Baltimore Ravens (4-4)
5. Kansas City Chiefs (6-2)
6. Denver Broncos (6-3)—————-
7. Miami Dolphins (4-4)
8. Pittsburgh Steelers (4-4)
9. San Diego Chargers (4-5)
10. Indianapolis Colts (4-5)
11. Tennessee Titans (4-5)
12. Buffalo Bills (4-5)
Alright, so what does this tell us? Well, New England has the easiest remaining schedule in football and only has one loss. The Patriots are going to have home-field advantage. The second seed is where the Chiefs should be aiming.
Kansas City will move into the second slot with a win over the Carolina Panthers, as the Raiders are on a bye. The Chiefs should be able to secure a first-round bye by going 11-5, provided they split with the Broncos and beat both the Chargers and Raiders in their rematches. It won't be easy, but it's very possible.
In that scenario, the Broncos would have to win out beyond the loss against Kansas City. Denver plays New Orleans, Oakland and New England, so that won't be easy. The Raiders would have to go 5-1 in their other games, but they play Indianapolis, Carolina, Houston, Buffalo, San Diego and Denver. That's a very tall order.
What do you think, Addicts? Where will the Chiefs end up?
More from Arrowhead Addict
This article originally appeared on