Adrian Peterson sprinting on the sidelines at Minnesota Vikings practice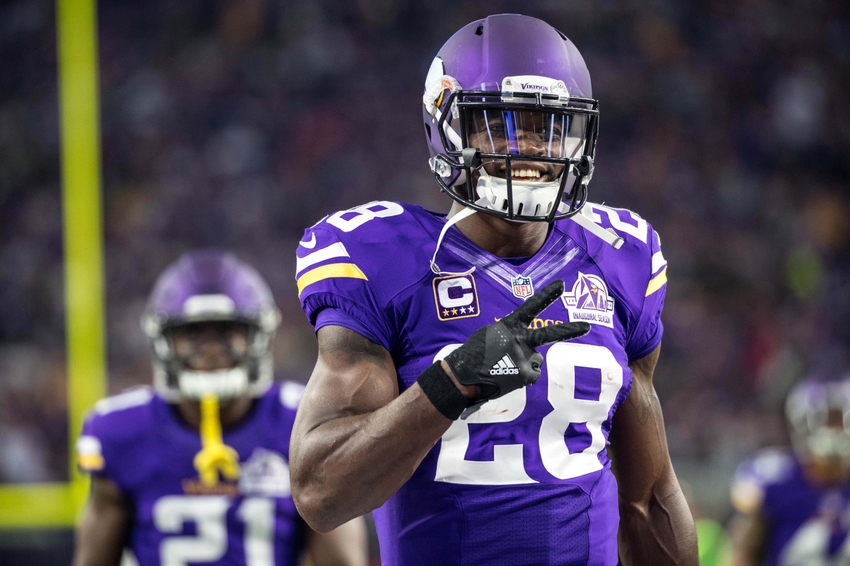 Adrian Peterson passed another milestone in his rehabilitation, as it is reported that the Minnesota Vikings running back is now sprinting at practice.
Not too long ago, it was reported that Adrian Peterson had started with some light running in rehabilitation of his injured knee. Now, the Minnesota Vikings running back has even more progress toward returning to the team.
According to an article on Vikings.com, Peterson's situation has progressed to a point where he can put some more stress on the knee. This was evidenced by the star player sprinting on the sidelines at the team's practice according to the Star Tribune.
There are still some more steps to take in the rehab, but Minnesota head coach Mike Zimmer feels good about the progress he has made during his recovery.
"He's on his normal routine," Zimmer said. "He's doing good. He's probably ahead of schedule, I guess, I don't know. "
While Zimmer downplayed the situation with Peterson, guard Alex Boone was set back a bit by seeing the running back working on the sidelines.
"He looked good," said left guard Alex Boone. "It kind of caught me off guard a little bit. We were doing a little walk through, and he was running around," he added. "We look forward to his return."
Before fans get too excited about a possible return to action for Peterson, the timetable hasn't changed much. He is still expected to need more time for recovery before hopefully being able to come back later.
Mike Zimmer's focus isn't on Peterson right now though. Instead, he's looking ahead to the Cowboys.
"We'll worry about all that when that happens," Zimmer said. "Right now we have to focus on Dallas and their team."
The Minnesota Vikings will need to manufacture some wins if they want to have something worthwhile for Adrian Peterson to return to later this year. That starts with Thursday Night Football's game against the Dallas Cowboys in week 13.
This article originally appeared on