Adrian Peterson on Returning in 2016: That's Something I Envision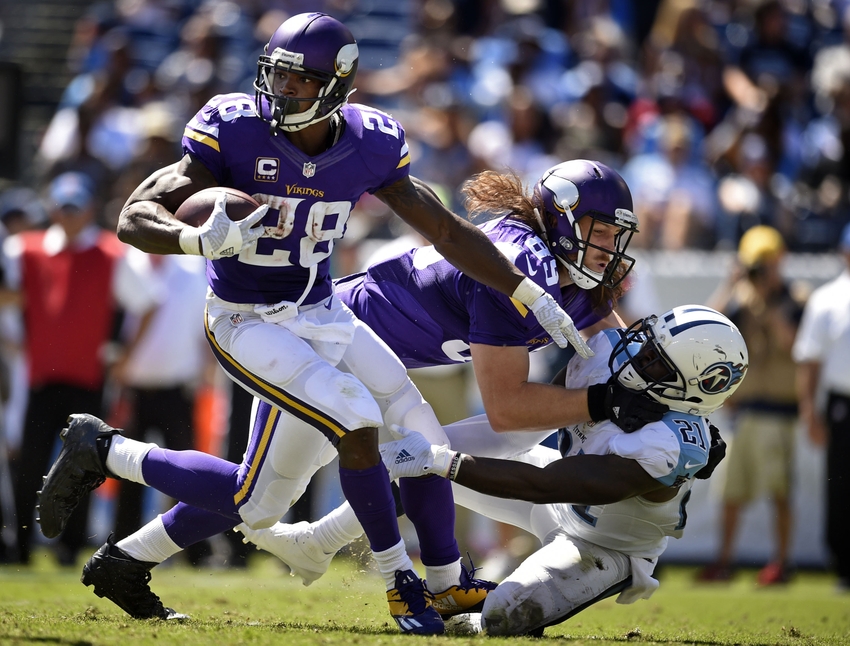 The anemic Minnesota Vikings offense could get a boost down the stretch as Adrian Peterson is hinting at a return in 2016.
Everything was doom and gloom for the Minnesota Vikings just about two weeks before the start of the regular season. That was when Teddy Bridgewater went down with his catastrophic knee injury. But after trading for Sam Bradford, there was hope again. However, the dread of the 2016 NFL season crept back in after Week 2 took down running back Adrian Peterson with a torn meniscus.
Peterson wasn't good behind the Vikings biggest issue, their offensive line, in the two games he played. However, he's by far the offense's most dynamic playmaker. If there's anyone that could compensate for horrendous line play, though, it's All-Day. And the Vikings have four remaining games on their schedule and look to make a playoff push now, they might soon be getting their biggest weapon back in the fold.
After rumors circulated at the end of the October that Peterson could potentially return, now the running back himself is making it seem that way. The Oklahoma product spoke with his team in the locker room on Wednesday. In doing so, he was asked about possibly returning to the field in 2016. Coyly, he replied by saying, "That's something I envision," per Eric Smith of Vikings.com:
Adrian Peterson just spoke in #Vikings locker room. Asked if he'll return in 2016, the running back said, "That's something I envision."

— Eric Smith (@Eric_L_Smith) December 7, 2016
To give clarity as to what he meant, Peterson elaborated a bit further. Smith reported Peterson as saying that he "feels good" and "can make all the cuts." But he also appeared tentative as of now about how it'd work in a game situation. Peterson also said he'd rule out a return if the Vikings were eliminated from playoff contention. However, that seems like a given under the circumstances.
Minnesota has struggled greatly since their 5-0 start (1-6 since). With that said their closing stretch of games leads you to believe that they won't be eliminated from the postseason just yet. Week 14 brings a road matchup against the lowly Jacksonville Jaguars. That's followed by a home tilt versus the Indianapolis Colts. The Vikings then finish the year at the Green Bay Packers in Week 16 and at home for the also lowly Chicago Bears in Week 17.
In that stretch, there is no team over .500. Realistically, the Vikings could go 3-1 over that stretch even with how poorly they've been playing. If that's the case, that would then seemingly make an Adrian Peterson return more likely.
But again, this is all speculation. Doctors and the team would still have to clear the running back, obviously, before he played. Moreover, players are relatively notorious for being optimistic with their own timetables. Given Peterson's history with fast healing and the need that the Vikings have on offense, this is certainly something to keep a tab on.
This article originally appeared on