Adoree Jackson Does it All With Speed For USC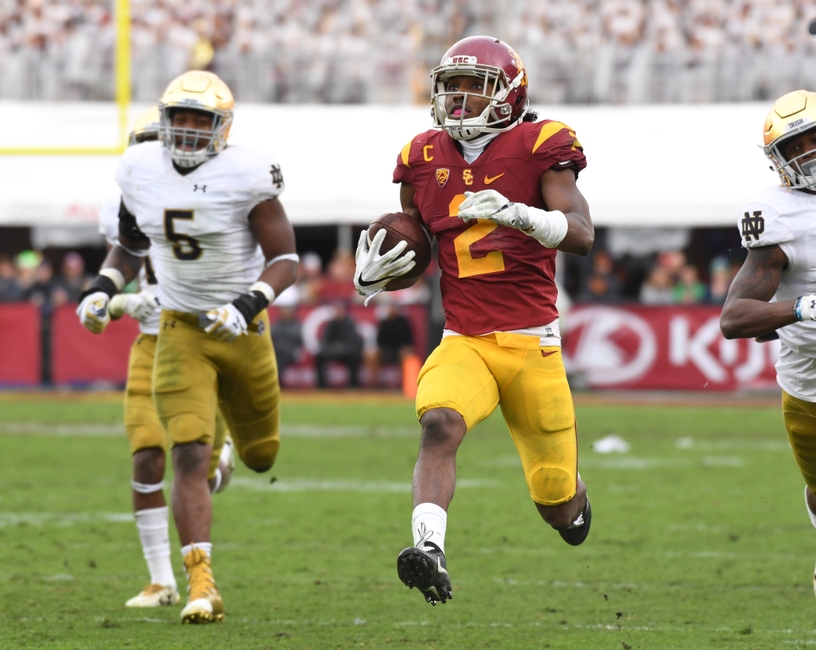 Adoree Jackson hasn't been in the discussion for the Heisman Trophy this year but struck the pose Saturday. That's because his performance put him in the discussion.
USC Trojans cornerback Adoree Jackson is a world-class athlete with unbelievable speed. His Trojans like to use that speed on offense, defense and special teams. That's because that speed can hurt an opposing team in every way you could imagine.
And he put that on display Saturday, leaving the crowd chanting USC fans chanting "One more year!" He started  it off by returning a punt 55 yards for a touchdown. Then the Trojans put him on offense, where he turned a short pass into a 52-yard TD.
But that wasn't enough, he couldn't until he brought the house downs and that's what he did. Jackson took a kickoff 97 yards for his third score, hurdling John Chereson along the way. Jackson also had a solid game on defense with two passes defensed.
He also ran Notre Dame running back  Josh Adams down at the one after a 74-yard run. Notre Dame would punch it in from there but he gave his team an extra chance. His performance was a little too late to win the Heisman Trophy but he's in the discussion.
He showed just how many different ways he can change a game with all that speed. As a draft prospect, a team could bring him in as a receiver or corner with value on special teams. There just might be a teams that uses him on both sides of the ball.
You can win with a guy like Jackson.
More from With the First Pick
This article originally appeared on