Adam Thielen makes amazing catch for Vikings in week 13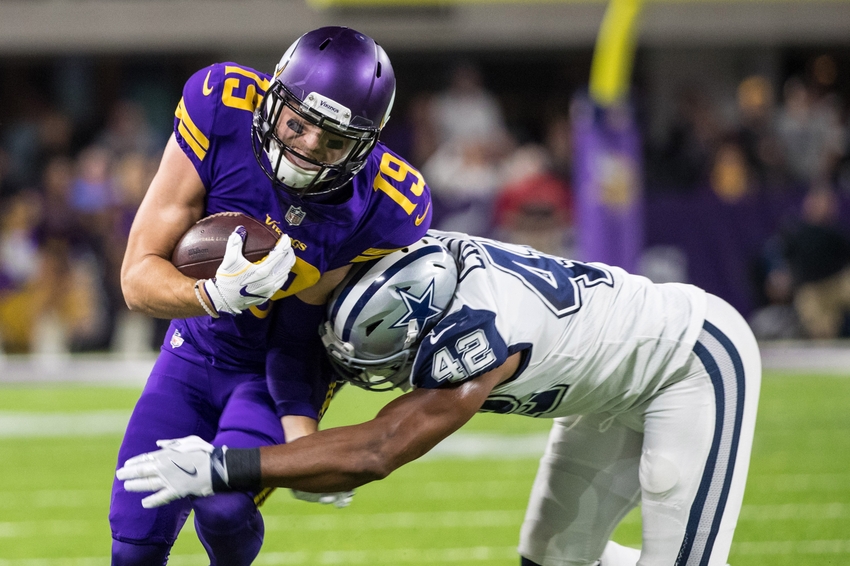 Minnesota Vikings wide receiver Adam Thielen made an amazing catch near the sidelines during the week 13 contest against the Cowboys on Thursday night.
Adam Thielen has made it a habit of showing off his reliable hands. On a regular basis, the Minnesota Vikings wide receiver has reeled in some of the toughest passes thrown his direction with relative ease.
Another example of Thielen's ability was on display during week 13 of the 2016 NFL season. During a big week 13 matchup against the Dallas Cowboys, the team needed to pick up yardage in a big way in hopes of tying the game before the end of regulation.
When you throw the ball in Thielen's direction, good things usually happen. Check out the play here, as shared by the official Twitter account of the NFL:
With a little over 2 minutes left in regulation and down by 8 points, the Vikings had to make it to the end zone and successfully attempt a 2 point conversion to bring the game to overtime. However, there was a lot of yardage to go before they could reach the goal line.
Quarterback Sam Bradford took the snap out of the shotgun. With pressure coming in untouched from his blind side, Bradford made the quick decision to change directions to make the defender miss.
With an athletic move, the quarterback bought a little more time and kept his eyes downfield. Bradford unleashed a laser toward the sideline which appeared to be thrown away, however that was not the case.
Adam Thielen not only contorted his body to get to the ball, but he made the catch and managed to tap both feet in bounds for a massive gain while also stopping the clock.
Thielen continues to impress fans of the Minnesota Vikings every week and will get another opportunity to do so in week 14, when the team will travel to Florida to take on the Jacksonville Jaguars.
This article originally appeared on