Aaron Rodgers Throws Controversial Touchdown To Jordy Nelson (Video)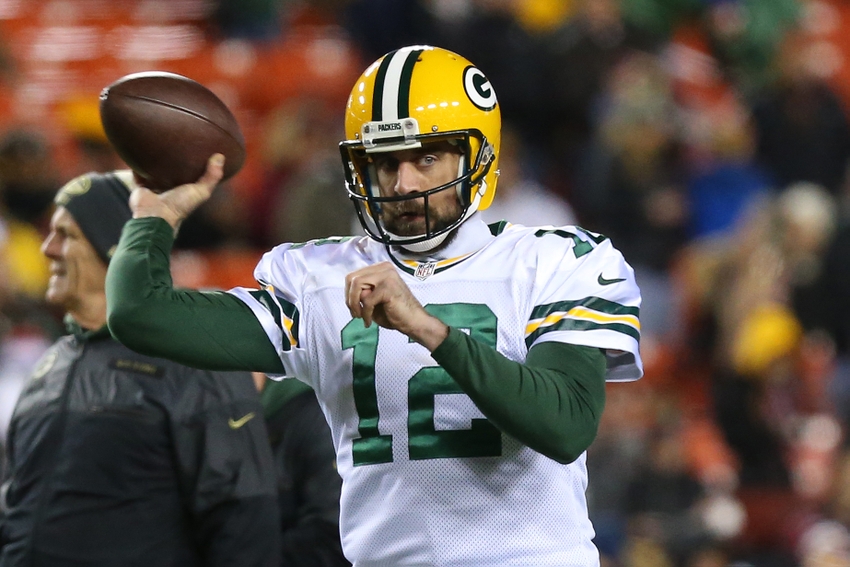 The Green Bay Packers offense struggled moving the ball early, but Aaron Rodgers gave the Washington Redskins a glimpse of their talent, albeit with controversy.
Everyone wants to know what's wrong with Aaron Rodgers and the Green Bay Packers offense. Down 7-0 and with nothing but a bevy of three-and-outs to show for their efforts early on Sunday Night Football, the Packers were finally able to find the end zone after working some magic.
Facing third-and-goal outside of the 10-yard line, Rodgers was in vintage form. He pulled off a beautiful pump fake to avoid the free rusher, and then he flushed out to his right. Rodgers then zipped a flawless laser (another classic of his) to Jordy Nelson in the back of the end zone.
The officials had to review this score, as they had to ask the old, "Is this a catch?" question. You know, the question that benefited the Packers in the playoffs a couple of years ago and meme'd Dez Bryant. Right now, Dez and Calvin Johnson might be upset, wondering why this Nelson touchdown was ruled a catch. Or maybe they're happy, because it could be "WR Code" to hope that any catch is ruled good.
Why is this a controversial touchdown? Go to the last part of that clip. You'll see that while Nelson caught it cleanly and was in bounds, superstar cornerback Josh Norman got in there and stripped the ball away from Nelson. The question is, did Nelson maintain possession of the ball before Norman knocked it away from him? Some, including Redskins fans, are arguing that Nelson did not.
Whatever the case, the officials ruled that he did and the Packers tied it up at 7-7 after Rodgers' touchdown to Nelson matched Kirk Cousins's routine touchdown toss to DeSean Jackson.
Nelson's touchdown was just his second reception on four targets, mostly because Rodgers was averaging a ghastly 3.8 yards per attempt against the Redskins defense. Cousins had similar struggles, completing just 50 percent of his 14 attempts to that point.
This article originally appeared on