Aaron Rodgers: Is the Olivia Munn Effect For Real?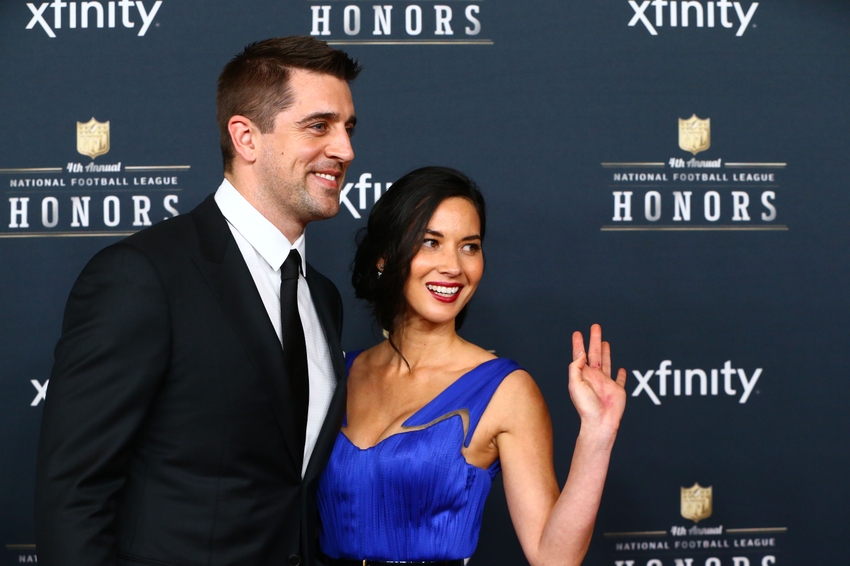 Some Green Bay Packers fans and others believe Aaron Rodgers just hasn't been the same player they're used to the past few seasons.
It's hard to put a finger on it. Something is just different. This Packers team looks less intimidating by the day. They are 4-5, posting their first losing record beyond the halfway point of a season since 2008. That was Rodgers' first year as starter in Green Bay. It isn't right. Something is off. Is it the coaching with Mike McCarthy? Is it a suddenly very porous defense? Some believe it's Rodgers himself, who has has become a different person over the past couple years.
Much of the blame for that is directed at his girlfriend, actress Olivia Munn. The two began dating in May of 2014. Since then rumors have persisted that his personal life, specifically in regards to his family relationships, have fallen apart. A recent revelation via Bleacher Report claims that Rodgers has cut them off entirely from his life and Munn is to blame.
"One source, who was close to Rodgers for years but is among the many who have since been cut off by Rodgers entirely, said the quarterback has not spoken to his family since December 2014. Don't feel too bad, J-Mike. Immediate family members don't even have his cellphone number. When Mom and Dad sent Christmas presents to the quarterback and his girlfriend that year, the source said, those gifts were mailed back in February. He was set to be the groomsman in the wedding of one of his closest friends, the source said, and texted the day before he couldn't attend.

He didn't attend his grandfather's funeral—the same grandfather he once called before every game.

He fired a business manager he's known since high school.

The family was told they were no longer welcome in Green Bay. If Dad wants to attend a game now, he buys tickets on StubHub or goes through another player's family."
Anybody with a common knowledge of sports understands that it's almost impossible to separate personal life from professional life. So has hooking up with Munn been the primary reason for Rodgers struggling? Well here is a look at the numbers. This list will be separated into two halves. The first half covers the games Rodgers played through 2014. Remember the quote says the family wasn't cut off until December of that year. The other will determine his numbers since.
Pre-Munn
103 starts
274.26 yards per game
2.18 TD passes per game
0.54 interceptions per game
Post-Munn
25 starts
249.24 yards per game
2.12 TD passes per game
0.60 interceptions per game
So far the effect is indeed noticeable. Since this major life change involve Munn became serious, Rodgers' numbers have gone in the wrong directions. His passing yardage and touchdown averages are both down and his interception rates are up. Keep in mind he's still putting up good numbers but not the elite ones fans have become accustomed to seeing.
This in turn has exposed just how incomplete a team the Green Bay Packers are. They rank 19th in rushing, 16th in pass defense and 24th in points allowed. This is not a Super Bowl contending team unless Rodgers plays like the two-time MVP he's been. Right now he isn't, and based on the stats it's fair to blame his girlfriend at least a little bit for what is happening.
This article originally appeared on