Aaron Rodgers explains what the Packers have to do to upset the Cowboys
The Green Bay Packers were absolutely dominant in all three facets of the game on Sunday. Aaron Rodgers led the unstoppable offense to 38 points, while the defense held Odell Beckham Jr. and the Giants to just 13 points.
Next up, the Packers will take on the top-seeded Cowboys in Dallas. The last time these two teams met the Cowboys ran all over Green Bay en route to a 30-16 victory. Things have obviously changed a bit since then, but Rodgers still believes there's plenty of room for improvement.
"We've got to start faster," Rodgers said after Sunday's win.
Why? Well, because the Cowboys have two outstanding rookies leading the offense. Dallas loves to run the ball, and that's easier to do when you're playing with a lead. It's a big reason the Cowboys finished third in time of possession, following the same blueprint from 2014: run the ball and keep the opposing offense on the sidelines.
"Dak and Zeke have been playing great all season," Rodgers said, via ESPN. "They are tremendous players; they're not playing like rookies. They're both in the MVP conversation. We can't let them run behind that big offensive line. We've got to start fast and make them as one-dimensional as possible."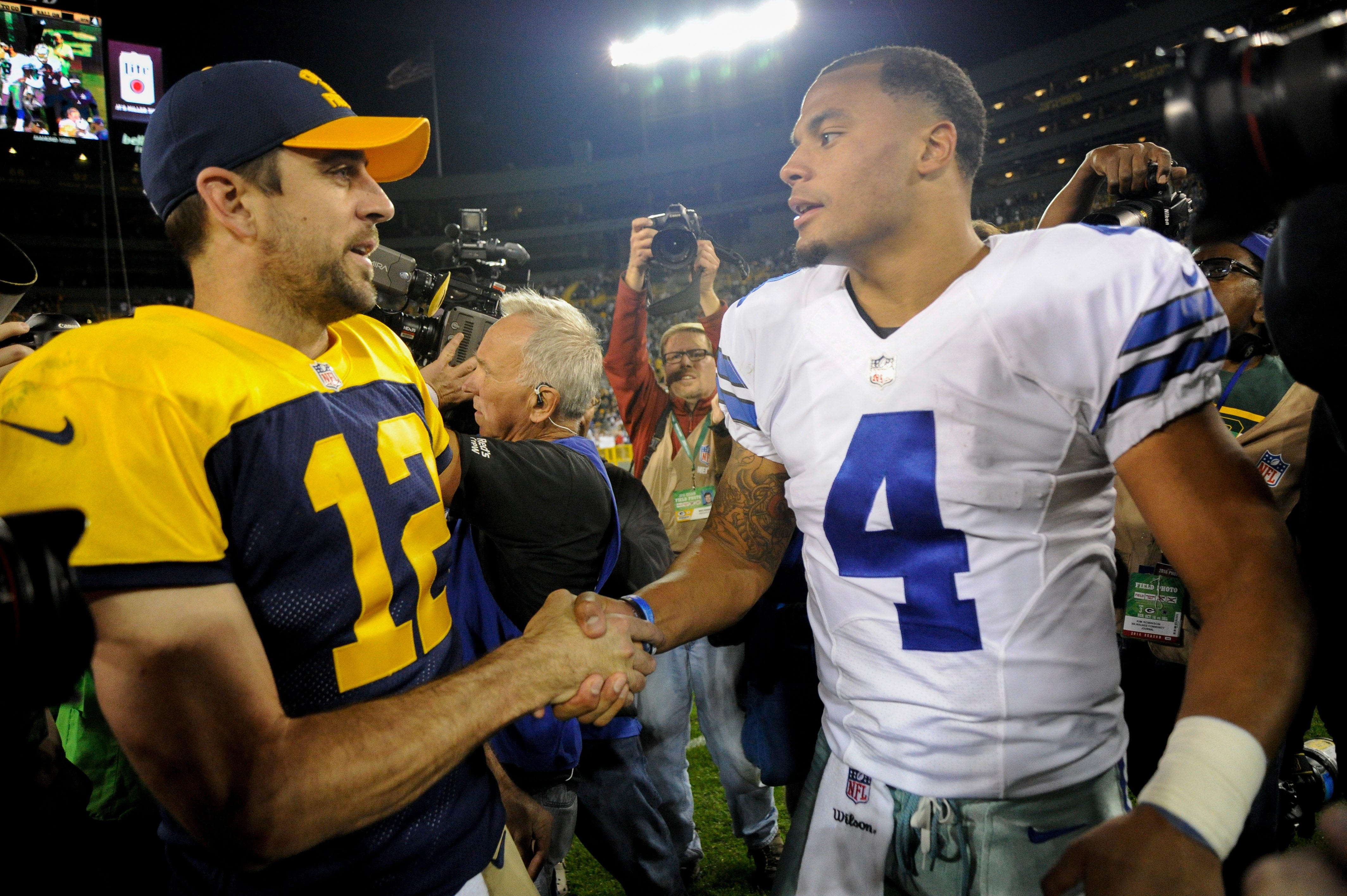 The Packers certainly didn't get off to a hot start against the Giants. They had just seven yards of offense in the first quarter, which was their lowest output of the season. Their slow start dug them a hole with the Giants jumping out to a 6-0 lead, which easily could have been much, much worse.
Of course, Rodgers turned on the jets for the final three quarters, finishing the game with 400-plus yards of offense.
"The key, I think, for the entire game was our defense got some stops in the red zone," Rodgers said. "If that's 14-0 and not 6-0, it's a different football game, so you've got to give those guys credit. That really helps the confidence of the football team and kind of the momentum of the flow when we're looking up at the big board and we've got seven yards of offense. We finished with 400-plus, so that was obviously a good way to finish the game."
New York's defense is obviously better than Dallas', but the Cowboys' offense is what should worry Green Bay. They put up 30 points in their last meeting, and that was without Dez Bryant.