A Look Back at the Colts as Super Bowl XLI Champs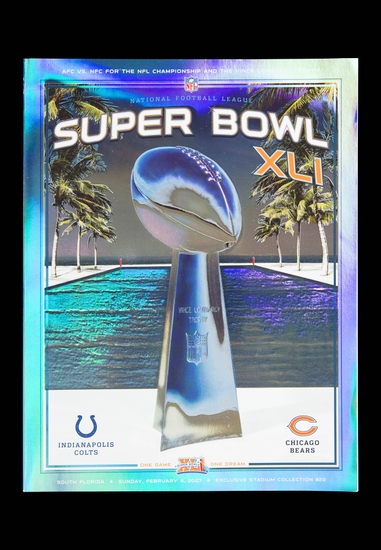 During this week's showdown versus the Tennessee Titans, the Indianapolis Colts will celebrate the 10 year anniversary of the 2006 Super Bowl XLI championship team.
Only two players from that team are still on the 2016 roster.
Those two players include Robert Mathis and Adam Vinatieri.
That 2006 team contained a Hall of Famer by the name of Marvin Harrison and future Hall of Famers such as Peyton Manning.
A number of former players will be attending Sunday's halftime reunion to celebrate that championship team.
Now let's take a look at the schedule that got the Colts to Super Bowl XLI:
Overall 12-4 (1st AFC South)
Week 1: @ New York Giants              W    26-21
Week 2: vs. Houston Texans              W    43-24
Week 3: vs. Jacksonville Jaguars       W    21-14
Week 4: @ New York Jets                   W    31-28
Week 5: vs. Tennessee Titans           W    14-13
Week 6:  BYE WEEK
Week 7: vs. Washington Redskins  W     36-22
Week 8: @ Denver Broncos              W     34-31
Week 9: @ New England Patriots   W     27-20
Week 10: vs. Buffalo Bills                  W     17-16
Week 11: @ Dallas Cowboys            L       14-21
Week 12: vs. Philadelphia Eagles    W      45-21
Week 13: @ Tennessee Titans         L       17-20
Week 14: @ Jacksonville Jaguars    L        17-44
Week 15: vs. Cincinnati Bengals     W       34-16
Week 16:  @ Houston Texans         L         24-27
Week 17: vs. Miami Dolphins          W       27-22
Playoffs
Wild Card: vs. Kansas City Chiefs   W       23-8
Divisional: @ Baltimore Ravens    W        15-6
Conf. Champ: vs. New England Patriots    W     38-34
Super Bowl: @ Chicago Bears        W        29-17
Super Bowl XLI
Playing on a rainy February night in front of 74,512 screaming fans in Miami, Florida, the Colts were the favorites from the start of the game. Lovie Smith's Bears team silenced Colts fans right off the bat with the opening kickoff returned 92 yards for a touchdown by Devin Hester.
But the most memorable part of the game came in the 4th quarter.
With 11:59 left in the game, Kelvin Hayden picked off a Rex Grossman pass intended for Muhsin Muhammad and returned it 56 yards for a touchdown.
After the Vinatieri extra point, the score was 29-17. No one scored the rest of the game and the Colts were Super Bowl XLI champions!
More from Horseshoe Heroes
This article originally appeared on