A.J. Green Hangs On for Tough Bengals Touchdown (Video)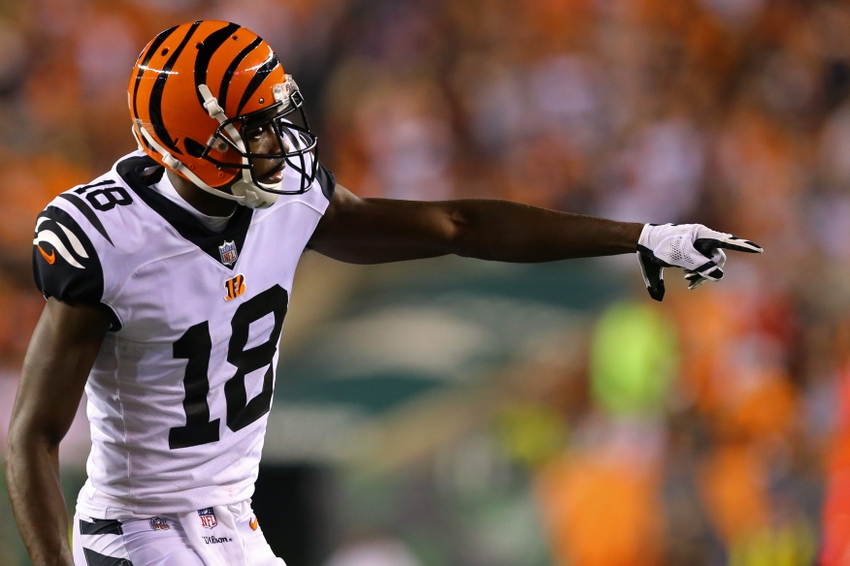 If you need a big, sure-handed target in the red zone, they don't come much better than A.J. Green and he proved it yet again for the Cincinnati Bengals.
If the Cincinnati Bengals defense put up a fight on defense against the New York Giants on the latter's opening drive of Monday Night Football in Week 10, it wasn't evident. Vontaze Burfict and company were diced up for an easy New York six. That obviously put a great deal of pressure on Andy Dalton, A.J. Green, and the offense, though. Of course, those two were more than capable of answering and did.
Even quicker and perhaps easier than the Giants lit up the Cincinnati defense, Dalton did the same. They went most of the length of the field thanks to a long pass to tight end Tyler Eifert. That put the Bengals down in the red zone where it was an easy play call.
With Green spread out wide, as is typical, Dalton faked a bubble screen out to the left side. During the fake, Green cut inside on a quick slant across the middle of the field. His quarterback hit him and the star wideout jumped to take the throw into his body. In doing so, he left himself vulnerable to a hit in the legs that sent him tumbling to the turf hard. For a player like A.J. Green, though, that was all part of the action as he held on with ease for the touchdown to answer:
Give it to @ajgreen_18…

Get a @Bengals TD!!! #CINvsNYG https://t.co/Z8TTZeTPGL

— NFL (@NFL) November 15, 2016
Because of the shortcomings of the Bengals as a whole in 2016, you might've overlooked Green's season to this point. With the exception of maybe Julio Jones, though, A.J. Green may be the best wide receiver in football right now. Big-time plays like this are just one of the reasons why.
More from NFL Spin Zone
This article originally appeared on