A Brief History: Oakland Raiders vs. Tennessee Titans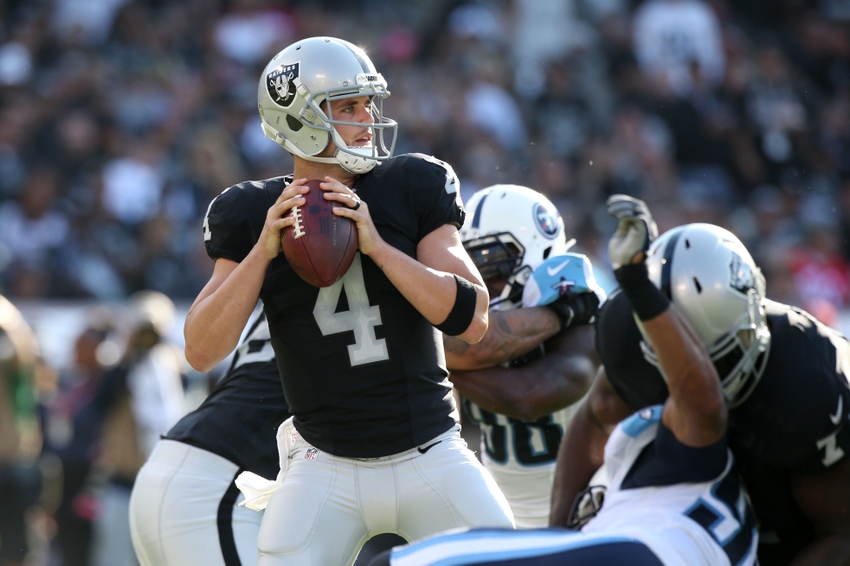 This Sunday, the (1-1) Oakland Raiders look to bounce back in Nashville against the (1-1) Tennessee Titans. Let's take a quick peek at their history:
Total Games Between the Raiders and the Titans: 48 (including playoffs)
All-Time Record: Raiders lead, 28-20
Current Streak: Raiders took last year's meeting with the Titans, breaking a three-game slide
Total Raiders Points Scored, Head-to-Head: 1,157
Total Titans Points Scored, Head-to-Head: 1,085
Longest Raiders Winning Streak Against Titans: 9 (November 6, 1966 – November 8, 1981)
Longest Titans Winning Streak Against Raiders: 4 (September 9, 1961 – September 7, 1963)
As you can see, the ties between these two original AFL franchises run deep, with almost 50 games played between them in as many years.
Depending on your age, you (or your father, or his father) may know this rivalry better as "Raiders/Oilers", as the vast majority of these match-ups occurred before the Titans left Houston and traded in their oil derrick for a flaming thumbtack.
But if you're my age or younger, you'll probably have some recollection of the intense battles the Raiders and Titans shared in the early aughts, as both were legitimate contenders in the AFC at around the same time. 1999, the Titans would edge the Raiders 21-14 during the regular season in, and go on to fall a yard short to the "Greatest Show On Turf" Rams in that year's Super Bowl.
And of course, the last time the Raiders tasted playoff victory was the closely-contested 2002 AFC Championship Game against the Titans in the Coliseum, that would see league MVP Rich Gannon toss three touchdown passes and scamper for another, spring-boarding the Raiders into Super Bowl 37.
Since then, meetings between these two have favored the Titans, with Tennessee taking 4 of the last 7, including three straight between 2007 and 2013.
The Raiders were able to reverse their fortunes last season, however, in one of the more memorable games of their 2015 campaign.
An ugly, sloppy game throughout, Oakland led after the first half, and looked to take control late with a Derek Carr TD pass to Seth Roberts, to go up 17-6. Then-rookie Marcus Mariota would respond with a touchdown throw of his own, and converted for two to bring the Titans within three heading into the fourth.
With less than five minutes left, Mariota would again find the endzone on a one-yard pass to Jalston Folwer to put the Titans up 21-17. But the Raiders would have the last laugh, as Carr led the offense downfield, again finding Seth Roberts for a 12-yard score with a little over a minute to play. Safety Nate Allen would seal the victory with an interception on the Titans ensuing possession.
All indicators point toward that game being catalyst for a bonafide renewal of this rivalry. Both teams are on similar rungs of the AFC ladder (the Raiders having maybe half a step up), looking to build around a young nucleus of talent and maintain positive momentum toward consistent contention, after years in the doldrums and the installation of new organizational regimes.
If there's anything to actively dislike about the Titans, it's Marcus Mariota. He's a quiet, respectful, unassuming kid with the personality of a nickel. While only in his second year, he looks like he's going to be pretty good, and will eventually pick defenses apart without uttering a word, which will be infuriating to watch.
The only thing worse than losing to some arrogant schmuck is losing to someone who's so nice about it, you don't even want to get mad. Here's hoping he fails miserably (at least this Sunday).
Also, let's hope the Raiders stop doing stuff like this:
Enjoy the game, Nation.
More from Just Blog Baby
This article originally appeared on