6 NFL Teams Who Need a Win in Week 6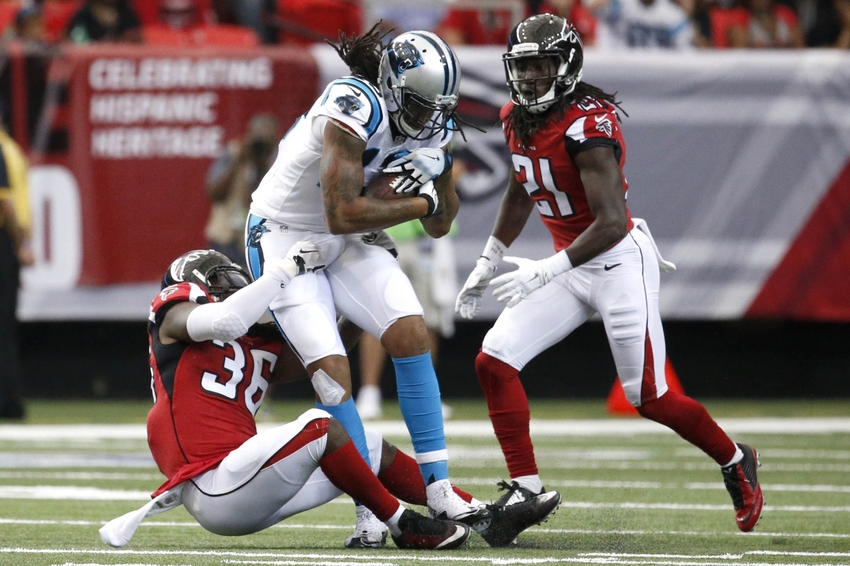 These six teams, for one reason or another, need a win NFL Week 6
Entering NFL Week 6, many teams are on the verge of not having a realistic chance at the playoffs. Some of the teams who need a win at this point of the season are surprising, while others just need a win to keep their fan base interested for at least a few more weeks.
We all know the Cleveland Browns could use a win in Week 6, but they will not be on this list. Let's face it, being winless through the first five games of the year pretty much means they will miss the postseason yet again.
Teams that we do need to look at this week are three teams who reached the playoffs last year who have a combined five wins in 2016, the same number of wins the Minnesota Vikings currently have on their own.
There are three other teams listed as ones that "needs a win" who will most likely be out of the playoff picture, or at least not have a realistic possibility of going to the playoffs if they lose this week. Two of those teams actually face each other this week. Luckily for their fan bases, the NBA and NHL are starting soon.
Any way you look at it, there are more than six teams who could really use a win in Week 6. But with a combined record of 8-21, the following six teams listed really need a win more than most. Some of these teams had high expectations entering the year and others knew going in the novelty of a new season would wear off very quickly and hard times would be ahead.
Here are six teams who need a win in NFL Week 6.
Miami Dolphins (1-4)
With new head coach Adam Gase trying to figure out what he has in starting quarterback Ryan Tannehill, it has been the same as usual for the Miami Dolphins this season. And the usual isn't a good thing. Miami hasn't won a game since Week 3 and that was a six-point win against the Cleveland Browns. In Week 5, the Dolphins lost to the Tennessee Titans, 30-17. In that loss they didn't progress a step, but seem to have taken a few steps backward instead.
How miserable has Miami been?
Tannehill was 12-of-18 for 191 yards passing with no touchdowns and two interceptions against the Titans. He was sacked six times for a loss of 42 yards, but not all of that goes on the offensive line. So far in 2016, he's been sacked 17 times for a loss of 115 yards. This season, Tennehill has thrown more interceptions (seven) than touchdowns (six) in just five games. He has completed 64.1 percent of his passes, which is a better pace than last season when he completed 61.9 percent of his passes.
The running game for the offense hasn't been that much to brag about either with Jay Ajayi rushing for only 42 yards against Tennessee. For the game, Miami had a net rushing total of just 51 yards on 17 carries, good for only three yards per carry. It won't be any easier this week with the Dolphins hosting the Pittsburgh Steelers, who seem to have fixed what killed them a couple weeks ago.
Miami hasn't been relevant for a number of years now. With the New England Patriots playing really good football right now and the Buffalo Bills showing improvement from week-to-week, if they don't start winning soon, they will find themselves back in last place in the AFC East.

Jacksonville Jaguars (1-3)
Let's stay in Florida and take a look at what should be seen as an underperforming Jacksonville Jaguars team. The Jaguars are coming off of their bye and have a very realistic chance to gain a win this week in facing the one-win Chicago Bears in Week 6. If they don't come out with at least a solid performance after resting a week and fall to 1-5, this season will most likely turn out to be another failure for this franchise.
Jacksonville has talented wide receivers with Allen Robinson and Allen Hurns being not just productive fantasy football players. They are legitimate wide receivers, even if they weren't in a pass-happy offense like the Jaguars have. For the Jaguars, it is going to take more than just throwing the football against the Bears, though. However, their rushing game really needs to improve big time—and that isn't even doing it justice.
T.J. Yeldon has been disappointing in 2016 with just 155 yards on 48 carries, only 3.2 yards per carry. His longest rush is just 15 yards, and he's scored just one touchdown via the ground game. Quarterback Blake Bortles is the second-leading rusher for the Jaguars with 89 yards on 15 carries. Maybe veteran running back Chris Ivory will be rested after missing the first two games this season with an illness. He could be a nice spark to the offense that needs some more balance.
Something to watch this week with Jacksonville is their third-down conversions. They are converting just 28.3 percent of their chances on third down (15-of-53) in the four games they've played. Compare that to their opponents, who have converted 45.6 of their third downs against their defense.
Who knows what the Jaguars' patience level with head coach Gus Bradley will be if they continue to have the type of season they have had. He is 12-38 currently in his fourth year with the team and has never won more than five games in a season. The NFL is about winning right now, and if that isn't the case for the Jaguars with the talent they've drafted through recent seasons, something is bound to change.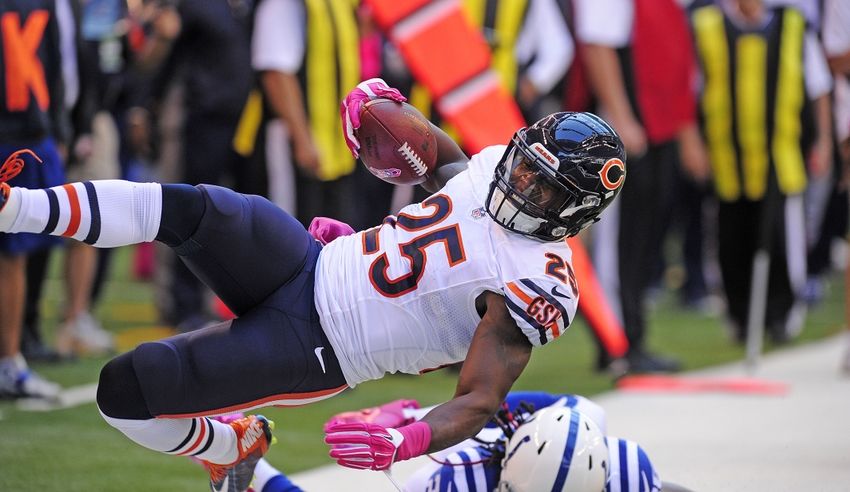 Chicago Bears (1-4)
The Chicago Bears are in last place in the NFC North, and though they won't be making the playoffs this season, they still need to start showing some type of improvement as the season goes by, right? The Bears currently have Brian Hoyer as their starting quarterback. With Jay Cutler getting healthier, a quarterback controversy could occur. The problem is, who wants a quarterback controversy with a journeyman quarterback and one who has trouble with consistency at the position?
Hoyer deserves for taking advantage of a Indianapolis Colts defense that isn't very good. He was 33-of-43 for two touchdowns and no interceptions and wasn't sacked, either. He completed 76.7 percent of his passes and averaged nearly 10 yards per completion. The Bears should be able to score points this week, too, with the Jaguars defense opposite of them as they are allowing 27.8 points per game, 25th in the NFL.
That is a blessing for the Bears with their offense scoring just an average of 17 points per game (30th in the NFL). Something has to budge very soon. If not, fans might want the price of admission for their tickets back during this one. If there is a team desperate for a win, it has to be the Bears, since they are in a division with the Minnesota Vikings (5-0) and the Green Bay Packers (3-1). A loss this week pretty much means close up shop and start looking toward how to improve for next season.
Cincinnati Bengals (2-3)
The Cincinnati Bengals are almost a one-win team this season. It's become crystal clear they are not the same team that has made the playoffs the past five seasons. Losing key players and coaches this offseason has really taken a toll on this franchise.
They didn't do enough this offseason to overcome losing Marvin Jones and Mohamed Sanu at wide receiver due to free agency. Losing defensive back Reggie Nelson in the same manner hasn't helped matters, either. Cincinnati also lost offensive coordinator Hue Jackson when he took over as the Cleveland Browns head coach.
There have also been injuries to tight end Tyler Eifert, who has yet to see the field. That said, the team doesn't have three of their top four pass catchers on the field for them thus far this season. Not to mention the fact that their offensive and defensive lines have been beaten up a lot this year.
Cincinnati's much-needed win this week will be even tougher than their matchup with the Dallas Cowboys last Sunday as they face Tom Brady and the New England Patriots in his homecoming of sorts at Gillette Stadium. The question for the Bengals this week is, "Who Dem Bengals Ever Gonna Beat?"
Carolina Panthers (1-4)
Maybe the biggest surprise of the year is how poorly the Carolina Panthers have played through five weeks. They have a honest chance to gain a win this week against the New Orleans Saints, though. If there ever was a team who you can say they should be better than what their record shows, it has to be the defending NFC Champions, right?
Last Sunday, they didn't look right without Can Newton under center. Even with him missing parts of one game and the entire game last Sunday, they are still 11th in the league in scoring with 24.6 points per game. They are also third in yards per game (392), 10th in passing per game (267.4), and sixth in rushing per game (124.6). On the other side of the ball, their defense ranks 22nd in the league in allowing 27 points per game and is 15th in passing yardage allowed at 246.4 per game.
This team did lose at least one key player from their defense of a year ago, but the offense isn't what it was, either. This year, there is even more talent with Kelvin Benjamin back after missing all last season, making that all the more surprising.
Since they are the Panthers, there is a chance they can still turn this season around. Remember, last year, a couple teams who started 1-4 reached the playoffs. If there is a team that has the talent to do so, it has to be Carolina. One thing they can ill afford, though, is to start off the year at 1-5.
Arizona Cardinals (2-3)
The second-best team in the NFC last season is also having issues this season and they are just as much of a surprise in a bad way as the Carolina Panthers have been. The Cardinals haven't been paying up their their abilities thus far, to say the least. Carson Palmer was injured last week and didn't play. Even when he had been healthy and played, he hasn't been the player he was last year.
In Week 6, the Cardinals have a winnable game on Monday Night Football when they host the New York Jets, another team who we all know could use a win, too. But for the Cardinals, they were one of the favorites to compete for the NFC Championship this season, being they were just one win away from reaching the Super Bowl last year. Just like the Bengals, though, the 2016 version of the Cardinals isn't a repeat of the 2015 version.
A win for the Cardinals along with losses for the Seattle Seahawks and Los Angeles Rams would put Arizona in a tie in the win-column just like that. A win by those two teams and a loss for the Cardinals, would make it a little tougher for the Cardinals as they try to get things straightened out.
The Cardinals should beat the Jets, but the Cardinals have been anything but a slam dunk this season. Palmer should be back on Monday. And if he's able to be what he was last season and not the five-interception quarterback in four games he's become, the Cardinals should be fine. The best thing for Arizona to do is get running back David Johnson the football and block for him and see what happens.
This article originally appeared on