6 bold predictions for Patriots vs. Cardinals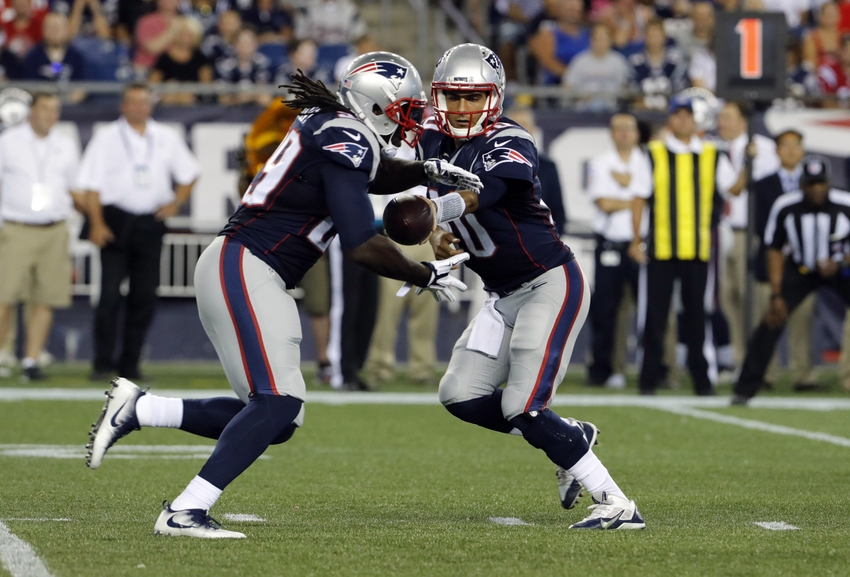 We are almost there. In just over 72 hours, the New England Patriots will open the 2016 season against the Arizona Cardinals.
Here are six bold predictions for the Sunday Night Football opener between the Patriots and Cardinals.
6. LeGarrette Blount will carry the Patriots' offense.
A lethal pass rush? A ball hawking secondary? The best way for the Patriots to get around these roadblocks is simple: establish the run early, and stick with it all night. Front and center of that strategy will be Blount, the Patriots' best ball carrier and one of the NFL's better straight-line, north-south power runners.
5 bold predictions for Patriots regular season  
The best way to make inexperienced starter Jimmy Garoppolo feel comfortable in the pocket is to force the Cardinals to respect the run game. That way, Garoppolo can utilize the play-action fake and have an extra second or two to find his target (and he will need every split second he can get in this game).
Expect Blount to pass the 125 yard-mark and reach the end zone twice in Week 1.
5. Chandler Jones will not record a sack.
Everyone and their mother will be watching to see how Jones fares against his former offensive line teammates. The Arizona fan base is extremely excited to have Jones in the fold; one writer even went to far as to say that Jones, Markus Colden and Calais Campbell will all have at least 10 sacks this season. Let's hold the phone for a second, though.
New goal line formation on the horizon for Patriots?
Although it was tough to see Jones leave, the fact of the matter is that the Syracuse product was very streaky in New England. He might put up a hat trick of sacks in one game, but then Jones would go cold for the next three or four weeks. To illustrate this point, Jones went on a month-long sackless spell in the back half of the 2015 regular season.
Jones' quiet night in Week 1 will remind the Arizona fan base that he is susceptible to being shut down for long periods of time.
4. Jonathan Cooper will lock down.
The Patriots will look pretty smart on Sunday night when Cooper is out there starting at right guard and playing like the trench truck that he was drafted to be in 2013. While Cooper won't make the highlight reel (offensive linemen rarely do), his solid play will be evidenced through LeGarrette Blount's big night on the ground. Cooper, along with fellow guards Shaq Mason, Joe Thuney and Ted Karras, will snowplow for the backs all night long, making Jimmy Garoppolo's job easier.
5 bold players stats predictions for 2016   
Look, the Patriots are clearly sold on Cooper right now, or else they wouldn't have traded (and then released) Josh Kline. As long as his health cooperates, Cooper is in good standing to put together his best season in the NFL, and it will start with an excellent performance against his former defensive line teammates in Week 1.
3. Tryann Mathieu will have two interceptions (one for a pick-six).
It won't be all roses for the Patriots in this game, of course. Garoppolo will be intercepted on several occasions, and both times the culprit will be Mathieu, one of the most talented defensive backs in football. Both of Mathieu's interceptions will be a result of his excellence instincts and playmaking ability, but they will also be consequences of Garoppolo chucking a few shaky, hesitant passes in the face of a fierce Arizona pass rush.
We're especially glad these 8 players made the final roster
Mathieu's first interception will happen early in the first quarter on one of the Pats' first drives, which will give the Cardinals an early edge after converting the turnover into points. The second pick will occur in the second half, and this time, Mathieu will return it for a pick-six. On a night in which the Cardinals' offense sputters, these will be valuable points.
2. Patriots' defense won't allow more than 75 rushing yards.
A major storyline coming into this game is the two-headed backfield monster of David Johnson and Chris Johnson. The Patriots must, and will, do everything in their power to keep the rising star and the former star in check, and such an effort will heavily involve sophomore pro Malcom Brown and former Cardinal Alan Branch on the interior. Additionally, star linebackers Jamie Collins and Dont'a Hightower will be called upon to fill the gaps from the second level.
3 key matchups to watch in Week 1
By holding the Cardinals under 75 yards on the ground, the Patriots will force Carson Palmer to shoulder the load. And that is perfectly fine, as the Patriots' secondary has been upgraded significantly over the offseason and in the past week with the addition of Eric Rowe. Certainly the return of the starting four defensive backs Malcolm Butler, Logan Ryan, Devin McCourty and Patrick Chung, as well as the solid nickel group of Justin Coleman, Cyrus Jones and Jonathan Jones, will keep the Cardinals' aerial attack in check.
1. Special teams will boost Patriots to victory.
In a night in which the ground game produces more touchdowns than the aerial attack, the Patriots will need to find points in creative ways. Look no further than 2016 second round pick Cyrus Jones, who will make his mark on the NFL immediately by taking a punt all the way back for a score in the first half. Jones will break loose a few more times for substantial punt return yardage, displaying his jaw-dropping quickness and nimble feet.
Why Alan Branch will be important in Week 1  
Additionally, the Patriots' special teams will come up big by simply minimizing mistakes. It was an extremely competitive preseason in New England, and all of the bubble players who squeaked onto the final roster have proven special teams ability, and it will show in Week 1.
So what is the final score going to be?
For the Patriots, a pair of Blount touchdowns, a Rob Gronkowski spike and a Jones punt return will be enough to overcome Mathieu's pick six and David Johnson's touchdown run.
FINAL SCORE: Patriots 31, Cardinals 20
Go Pats.
This article originally appeared on