5 Things the San Francisco 49ers Must Do in 2016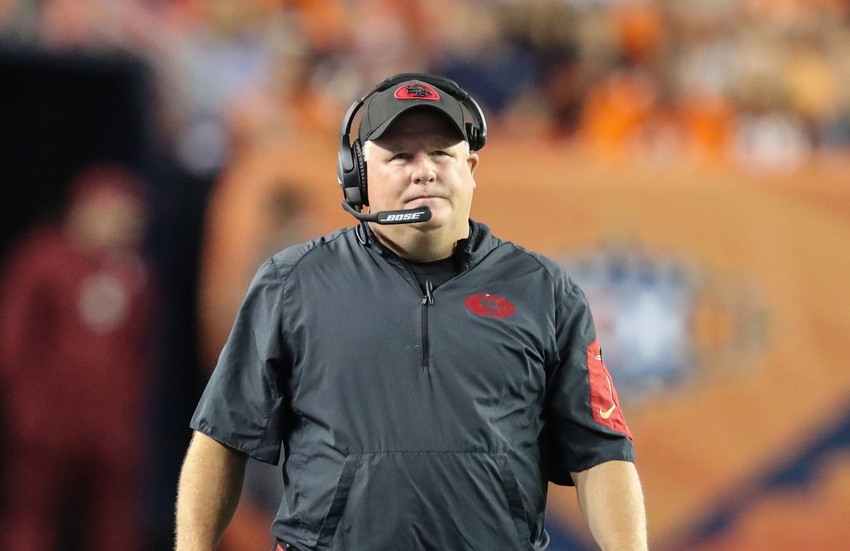 Chip Kelly arrives with the San Francisco 49ers, but what must he and his team do to try and pull themselves out of the NFL's cellar/
It is year one of the Chip Kelly era with the San Francisco 49ers. Kelly inherits a roster that has a lot of holes, especially at quarterback. If Kelly is going to get the San Francisco 49ers back on track, he is going to need to get more out of the quarterback position.
The 49ers are starting over after the failed Jim Tomsula experiment. Enter offensive guru Chip Kelly, who takes over the Niners after being ousted by the Philadelphia Eagles. Kelly is trying to rehab his image as a coach, but he is also trying to rehab the image of an organization that has fallen on hard times. When looking at the 49ers roster, it's hard to believe that they played in a Super Bowl three years ago.
The 49ers are rebuilding. If owner Jed York is patient, he could be rewarded two to three years down the road. Right now, the 49ers are bringing up the rear in the NFC West.
Even still, here are five things the 49ers must do in 2016. 
1. Figure Out the Quarterback Situation
Blaine Gabbert has been named the starting quarterback, but it's highly unlikely that he'll finish the season as the starter. Kelly must excercise patience. If Gabbert struggles, though, Kelly can't hesitate to give Colin Kaepernick another shot.
2. Ride Hyde
Kelly loves to run the football. The mid-zone is the staple running play of Kelly's offense. Hyde is a vertical, one-cut runner who can separate and score in the open field. Provided Hyde stays healthy, Kelly will give him 20-25 touches per game. The 49ers will ride with Hyde.
3. Figure Out Who Will Catch the Ball
The 49ers have one viable receiver in Torey Smith. They will be relying on the unproven Quinton Patton, Aaron Burbridge, Jeremy Kerley, and Rod Streater to fill the second, third, and fourth receiver spots in some order. One or some of those players must step up to the task.
4. Generating a Pass Rush
With Aaron Lynch out the first four weeks due to suspension, the 49ers will need to find a way to generate a consistent pass rush. Look for defensive coordinator Jim O'Neil to bring more blitzes in effort to make up for Lynch's absence. The Niners will need veterans Ahmad Brooks and Tank Carradine to step it up as well.
5. Show Improvement
The 49ers were abysmal last season. They finished 31st in total offense and 29th in total defense. I don't expect the 49ers to do a complete 180 and become a playoff team but they need to improve in all three phases of the game.
This article originally appeared on