5 Takeaways from the Eagles' week 14 loss to the Redskins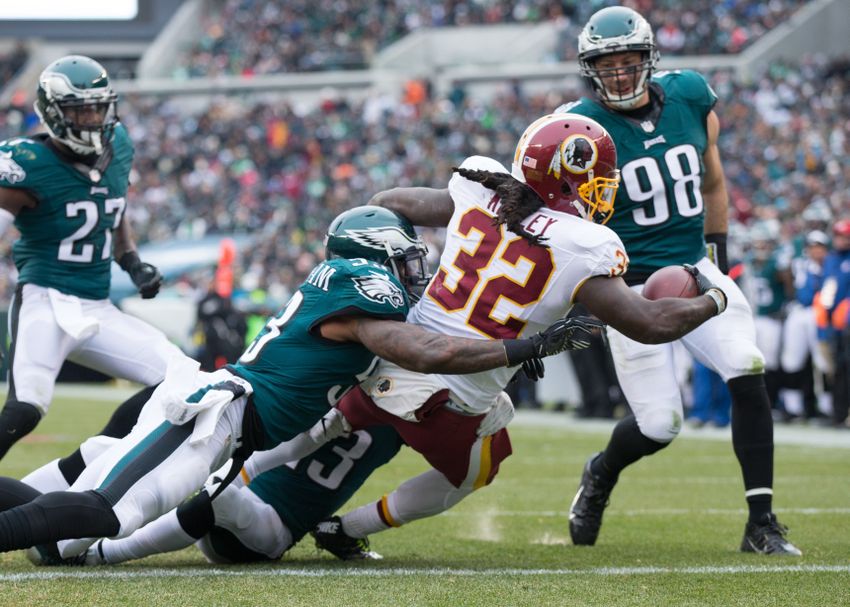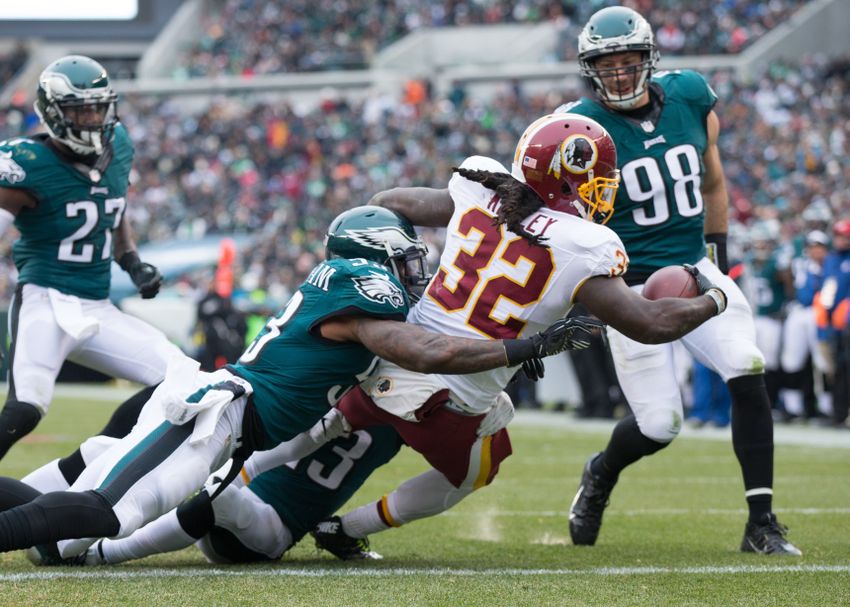 Stories about the Eagles quitting have proven to be inaccurate.
Philadelphia Eagles fans have to be happy with what they saw yesterday. The result of the game is what many expected. Still, after seeing the effort we all saw from this team in their last two outings, it was good to see how hard they fought. Debate raged last week on everything from Philadelphia sports radio to online publications. The subjects of those debates were everything from whether or not the Eagles gave the proper effort to whether or not head coach Doug Pederson should be fired.
Adversity didn't just hit the Eagles against the Washington Redskins. It came in waves. They lost man after man. There were on-field setbacks, but every punch thrown by the Redskins was met by an Eagles counter. Fans won't like how it turned out, but there was a lot to be encouraged by in this one. The entire 2016 season has been a learning experience for the Eagles. December 11th, 2016 served as another example of that.
Here are five of the things that week 14 taught us.
1. The position of long-snapper is even more important than we originally thought.
Everybody knows that the position of long-snapper is important. We learned just how important it was this past Sunday. After losing Jon Dorenbos to injury, we all learned something no one could have known prior to this one kicking off. Brent Celek is his backup at that position? Well, apparently Brent needed a little more work because a bad snap ended in a botched field goal opportunity.
Then, good old adversity struck again, and the backup long-snapper was then seen on the sideline receiving medical attention. The Eagles held tryouts as a sideline battle ensued for his replacement. Snaps were given to both Trey Burton and Mychal Kendricks for some reason before the job was eventually won by Burton. It turned out to be the right decision as Burton's snap, though a little too high, found its' way to Donnie Jones. Jones corralled it, got it down and Caleb Sturgis put it through the uprights. It was good to see as, earlier in the drive, the Eagles went for it on fourth down, probably due to some trepidation about the field goal unit.
Let's hope Dorenbos is ready to go next week.
 2. DeSean's got a little left in the tank.
All the problems with the Eagles' receiving unit has led to some pretty strange conversations. There was even some talk about bringing Terrell Owens out of retirement and giving him a workout. Fortunately, we never heard that from anyone in the Eagles' organization with the ability to make important personnel decisions. Now, with Dorial Green-Beckham struggling to become what two NFL teams have expected and the issues with Nelson Agholor, the Eagles are looking ahead to next year.
Currently, Bryce Treggs and Paul Turner sit on the active roster, and though both have earned their shot, the team doesn't seem to want either one. Now, with former Eagles receiver DeSean Jackson entering free agency at the end of the season, the rumors that started a few weeks ago may get louder. Jackson, on more than one occasion, has walked into Lincoln Financial Field in a Redskins jersey and burned the Eagles for a long touchdown. His presence represents what the Eagles haven't had in a long time, a legitimate deep threat. Keep in mind, when Jackson was in Philly, safeties played as far as twenty-five yards off of the line of scrimmage. That opened up the underneath routes.
Stay tuned because this one will be talked about a little more before it's all said and done.
3. Some of those high priced signings have vanished.
What's happened to cornerback Nolan Carroll and safety Rodney McLeod? No seriously. Where are they? These days, even when they play well, it seems like they're struggling. Maybe it happened, but it's hard to remember if defensive end Vinny Curry was even mentioned yesterday. The Eagles spent a ton of money re-signing guys and bringing guys in to fill the troubled areas. It's hard to determine if some of those decisions are working out, but one thing's certain. There's a lot of money tied up in some guys that, currently, aren't playing too well.
Carroll was even compared to former Eagles' cornerback Dimitri Patterson on social media yesterday. Don't believe it? Take a look:
Not sure what happened, but Nolan Carroll has turned into Dimitri Patterson. Not so good…

— Tommy Lawlor (@lawlornfl) December 11, 2016
Say what you want about Patterson, but the last time the Eagles registered a pick-six against the Redskins at home, Patterson did it. The drought was ended by Leodis McKelvin yesterday, but let's be honest. McKelvin has had his issues as well. Even tight end Zach Ertz was beginning to draw some criticism, so it was good to see him haul in ten receptions for 112 yards. Still, the verdict on the Eagles' off-season additions and 2016 draft class is a long way from being decided.
We'll have to wait and see what happens.
 4. Depth has to be addressed at every position.
Yesterday's loss came with a huge price tag. A game that started with the team relatively healthy ended with running back Darren Sproles and Wendell Smallwood injured. Guard Brandon Brooks wouldn't play due to illness, and Allen Barbre was lost during the game. This team has had issues with keeping guys on the field all season, and what that's taught us is there aren't many great options when the starters go down. Just look at the lack of consistency at the right tackle position after Lane Johnson's suspension.
Want your voice heard? Join the Inside the Iggles team!
Some of the issues along the line come from the fact that, outside of Johnson, former head coach Chip Kelly really didn't draft any linemen. The decisions he made at the skill positions, more often than not, were the wrong ones. The Eagles lack depth, and they lack it at every position on the field except for maybe tight end. This team needs an immediate upgrade, and it's going to start with what this team does in the upcoming draft.
That brings us to one more thing.
5. The Vikings have to start losing.
Due to a series of trades and unexpected moves, the Eagles ended up with the second pick in the 2016 NFL Draft and found their franchise quarterback, Carson Wentz. Now, they just need to find the guys to protect him and play alongside him. This team has to make serious improvements in personnel to create a winning environment. They have to improve the defense, and as stated earlier, they have to add depth at important positions.
More from Inside the Iggles
Gaining Wentz meant they lost their first round pick in 2017 to the Cleveland Browns. In another move, they worked their way back into the first round by trading Sam Bradford to the Minnesota Vikings. That being said, the Eagles need the Vikings to start losing, and they need them to lose often. The more they do, the better the chances for the Eagles to add a better player to their roster. Every Vikings' win hurts those chances.
Philadelphia will be fine. Yesterday showed us that. As they continue to improve, those close losses will become close wins. Turnovers will become sustained drives. The penalties will eventually subside. Most of us knew this season would be a rebuilding year. We were right. Now, we all look forward to seeing what happens in the last three weeks of this season and the upcoming off-season.
First thing's first. Let's all hope for more of what we saw Sunday (minus the loss).
This article originally appeared on