5 Steps Needed to Start Rebuilding the San Francisco 49ers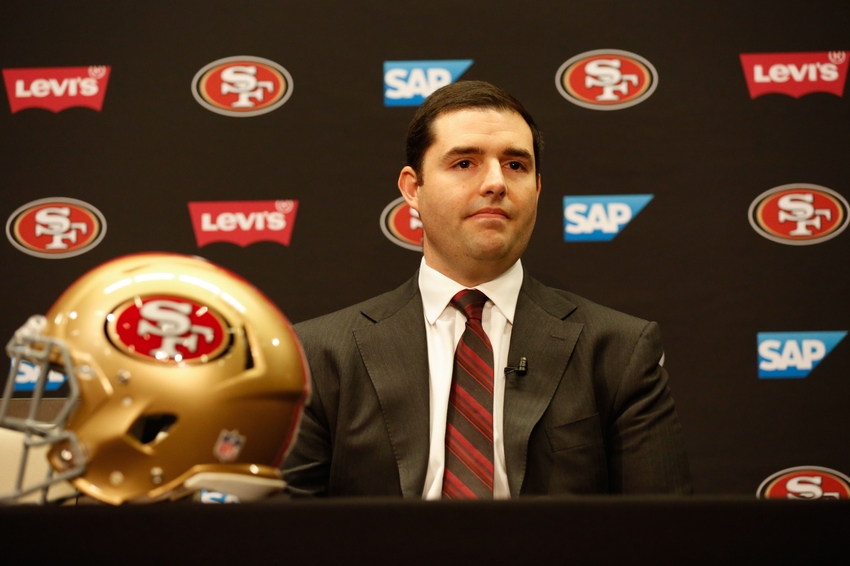 The San Francisco 49ers might wind up being a historically bad team in 2016, and all signs are pointing that way. But let's take a look at five steps the franchise can take in rebuilding this franchise moving forward.
If there's any solace in being a last-place, destitute San Francisco 49ers team, it's that there is only one direction from here. Up.
Buccaneers vs. 49ers: Previewing Week 7 for San Francisco
Of course, the Niners could wallow around the dregs of the NFL for the next decade or two. Teams have done that as well. Just look at the Cleveland Browns. Although Cleveland looks as if it's at least trying now to get away from the laughingstock status.
The 49ers? Well, when ESPN (h/t KNBR) ranks the team dead last in ultimate standings out of all the major American sports (NFL, MLB, NBA and NHL), that says about everything one needs to know.
But what if we were to spin things in more of a forward-thinking, proactive manner? What if there were steps to be taken that could, ultimately, begin the process of truly turning this franchise around?
No, we're not going to suggest CEO Jed York step down or his family sell the team. While this might fill many fans' hearts with delight, let's try to keep things realistic.
And remember, these are merely suggestions for improvement. Chances are, if you're reading this, you want to see improvements too. The ideas contained herein may not be the same as yours, but they fill the same intentions.
So let's look at five steps the 49ers should take moving forward. And some of those can begin right now.
Trim the Fat by Cutting Marginal Players
Earlier this month KNBR 680's Larry Krueger came up with an idea to help turn around things in Santa Clara.
His suggestion was to start cutting a wide swath of players who have either underachieved or aren't seen as long-term fixtures within the organization.
He mentioned cutting wideouts Aaron Burbridge, Rod Streater, Keyshawn Martin, and Quinton Patton, as well as linebackers Eli Harold, Shayne Skov and Nick Bellore.
With these open roster spots, the Niners could then comb over other teams' practice squads for raw, yet budding talent. Teams can't sign practice squad players to their own practice squads. But they can sign scout-team guys to their own 53-man roster.
It's a great idea. If these guys aren't viewed as legitimate pieces to San Francisco's future, then why are they around?
And the Niners can take even more steps. Older, slower veterans line linebacker Ahmad Brooks won't be around the next time the 49ers are good. He should be offloaded as well.
Chances are, you can go down the roster and find even more players who shouldn't be viewed as long-term fixtures for the franchise.
Switch the 49ers Defense to a 4-3 Scheme
OK, so this wouldn't happen until the offseason. But if we assume San Francisco is going to retain the up-and-coming defensive line players (guys like DeForest Buckner, Arik Armstead and Quinton Dial), moving from a 3-4 to a 4-3 defense makes a lot of sense.
It was an argument made by Nikhil Ramgiri of Golden Gate Sports over a year ago. And it still rings true now.
The 49ers used to thrive in a 3-4 when now-retired defensive end Justin Smith was able to draw two, and sometimes three, blockers. This left the remaining linemen and linebackers in prime positions to bring down ball-carriers and rush the quarterback.
And this scheme, featuring four linebackers, works better when a linebacker crop is good.
But Smith is gone, and no one within San Francisco's defensive front seven is replicating his efforts. The Niners' linebacker corps is also scuffling without NaVorro Bowman (Achilles), who is out for the rest of the season.
4-3 defenses maximize the athleticism of defensive linemen and also allow linebackers to converge rather than plug gaps.
If I am trying to fix the defense, I'd switch our base defense from a 3-4 to a 4-3. Play Armstead and Buckner out on the edge,Dial/Dorsey in

— 49ers Hub (@49ersHub) October 16, 2016
Defensive coordinator Jim O'Neil recently stated, via CSN Bay Area, the Niners aren't currently built for a 4-3 defense.
But based on the results, they aren't built for a 3-4 much either. So with these stronger D-linemen, switching over should maximize their abilities.
Identify Three Offensive and Three Defensive Players to Build Around
The 2016 49ers may be bereft of talent. But that doesn't mean there aren't guys there.
The defensive side of the ball might be a bit easier to locate and feature stronger or more-promising players. Assuming linebacker NaVorro Bowman comes back fully healthy next year, who are some of the other guys the Niners should try to feature as impact players on this side of the ball?
Here are a few:
DE Arik Armstead
DE DeForest Buckner
CB Rashard Robinson
The rest? Well, they're OK players. Linebacker Aaron Lynch still hasn't "broke out" yet. And defensive back Jimmie Ward is a nice commodity. But he's not quite the playmaker.
The above guys might be. And with defensive ends Arik Armstead and DeForest Buckner, their first-round draft status suggests San Francisco should try to feature them much, much more in coming seasons.
What about the offense though?
It's a little tougher. San Francisco's true offensive playmaker is running back Carlos Hyde.
While injury history has unfortunately paralleled the tailback, he still should be a prominent figure. Others could be:
TE Vance McDonald
WR Torrey Smith
WR Aaron Burbridge
Players on the offensive line aren't listed here. And the aforementioned guys aren't necessarily big threats.
But it's about as much as the 49ers have right now.
Part Ways with GM Trent Baalke and DC Jim O'Neil
OK, it's time for some fixes a lot of fans will have a hard time arguing against.
General manager Trent Baalke is largely responsible for the state of the current roster. And while he can try to deflect blame and save his job, the fact San Francisco has almost zero respectable talent this season can't be attributed to anyone else.
One might believe Bleacher Report's Jason Cole and his report stating Baalke would be safe in 2017, as seen in the video below, but it's a Cole report. He also reported former linebacker Patrick Willis was considering an NFL return and former head coach Jim Tomsula wouldn't be fired.
Let's face it, Baalke has had a ton of draft picks since 2011 — more than any other team since then — and only a handful of notable, if not standout, players to show for it.
Sorry, Baalke. It's time for a fresh face and new ideas.
And for defensive coordinator Jim O'Neil? Sure, he might have inherited a young, talent-strapped defense. But all one has to consider is his run defenses with the Cleveland Browns also ranked Nos. 32 and 30 in 2014 and 2015, respectively.
San Francisco's 2016 run defense, which is on pace to be historically bad this year, is also dead last in the league.
Almost makes former defensive coordinator Eric Mangini look brilliant.
A Smart Game Plan in 2017 Free Agency and the NFL Draft
A new general manager would bring different ideas and a change in methodology to what the 49ers will do this offseason.
And it will be an important one. San Francisco is on pace, per Over the Cap, to have $45,575,666 in cap space next season. Tack on, potentially, the $39,644,360 in cap space from this year — which can be applied to next year's cap, and the Niners won't have any financial shortcomings.
This doesn't mean a new GM should splurge. While wide receiver Alshon Jeffery, a free agent to be, would be a great target, the 49ers should focus the majority of their efforts on blue-chip players and various positional upgrades across the board. Not the big-ticket free agents often landed on day one and for exorbitant costs.
Then there's the NFL Draft.
Draft strategies are all over the place and can go in any different direction. Pick a position and, chances are, San Francisco needs an upgrade there.
So it's time to prioritize those positions. All of them, like this:
Quarterback
Edge rusher
Wide receiver
Inside linebacker
Offensive line
Tight end
Safety
Defensive line
Cornerback
Special teams
Flip a few of these positions if you wish, but just match the value for the Round and pick number.
This means scouting, need and value — elements in which the Niners have faltered in recent years. And if a player is coming off a collegiate ACL tear? He's worth nothing more than a seventh-round pick. If that.
And to keep those players moving in the same direction? Well, that's tough. If head coach Chip Kelly skips town to go back to the college ranks, this will be harder to do. Inconsistency at the coaching level is a tough thing to overcome for young players.
Just ask former Niners quarterback Alex Smith.
So find some consistency there too. And the 49ers front office can think over the course of two- or three-plus years. Not with the one-and-done-type experiments as was seen with the hiring and firing with former head coach Jim Tomsula.
These are just thoughts towards steps to fix this franchise. Clearly, the 49ers need some new thoughts.
This article originally appeared on