5 reasons the Patriots are dangerous regardless of QB concerns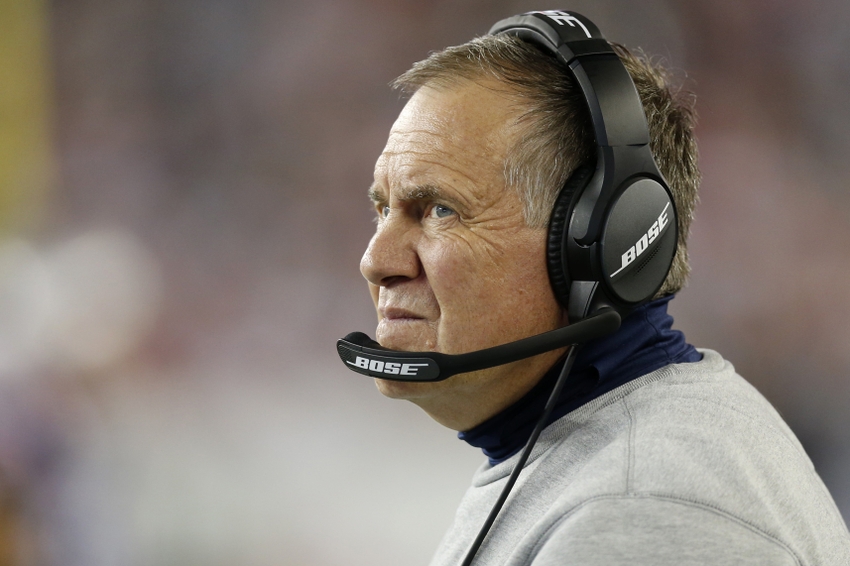 It doesn't matter who is quarterbacking the New England Patriots. Here are five reasons they are still dangerous regardless of who lines up under center for them.
Most NFL teams can't handle starting a fourth-string quarterback. However, most NFL teams aren't the New England Patriots. Before star quarterback Tom Brady's four-game Deflategate suspension is over after next weekend's game, New England will have to start with a four-stringer against the Buffalo Bills in Week 4.
Brady's backup Jimmy Garoppolo has an injured AC joint in his shoulder. He didn't play in the Patriots' Thursday Night Football win over the Houston Texans. New England's No. 3 quarterback Jacoby Brissett suffered ligament damage in his thumb and will undergo surgery.
Is panic in the air with the Patriots entering Week 4? Absolutely not. They are 3-0 and will have 10 days to prepare for one of the most dysfunctional franchises in the NFL in the Bills next Sunday. Buffalo is totally capable of beating itself under head coach Rex Ryan.
Brady will come back in Week 5 and put out this Patriots quarterback fire to clobber the Cleveland Browns. Does New England start wide receiver Julian Edelman at quarterback in Week 4? Does it really matter? Here are five reasons the Patriots are still a dangerous football team regardless of who is playing quarterback for them.
5. Offense is always evolving
During the entire Bill Belichick era in Foxboro, the Patriots offense is always evolving. There is not a particular offensive system that New England stays overly attached to. The Patriots usually make do with the players they have on that side of the ball and still find ways to crush opposing defenses.
Outside of Randy Moss, the Belichick Patriots have never had a reliable vertical threat. Besides Corey Dillon, they haven't had a Pro Bowl caliber running back as long as Belichick has been the head coach. The offensive line play is rarely elite and Brady isn't the most athletically gifted player at the quarterback position.
More NFL coverage from FanSided
Each team's best draft pick of all-time
Heisman winners with best NFL careers
30 best NFL coaches of all-time
New England's offense changes week by week. It has more to do with the team it's playing than anything else. The Patriots will pound the rock when the weather is bad or the opposing run defense can't get it together.
They'll throw quick bubble screens when going against an elite pass rush to neutralize its effect. If New England is up against a shaky linebacker corps, Brady will throw slants on play-action to whatever Patriots tight end is open, usually Rob Gronkowski.
Since New England isn't predictable on offense from week to week, it is immensely difficult for opposing defenses to plan ways  to stop the Patriots ever-changing offense. New England loves to keep teams in the dark, especially when it comes to their offensive game plan.
4. They game plan how to not lose
This is how different the Patriots are from other teams in the NFL: they don't game plan to beat their opponent, but rather figure out what ways they can lose a game, and then not do those things.
It's an inverse way of thinking that tends to put the Patriots ahead of the curve with their innovative game planning. One can certainly call it conservative game planning. Maybe it's just the Patriot Way?
If New England has its doubts about what it can get from the quarterback position in a particular week, the Patriots will devise a game plan that will lean on another position group while the quarterback is asked to strictly game manage.
The Patriots just do a better job of any team in football of covering up their vulnerabilities. If they know that quarterback play can lose them a game, the Patriots will limit the opportunities that quarterback play could potentially cost them.
This would probably mean lean on the running game, play outstanding on defense, and use strong special teams play to their advantage. New England knows how vulnerable it is at quarterback in Week 4, but it won't ruin this team against a Bills defense that loves to give up points in 2016.
3. Best pro scouting department in NFL
Not only does New England know its team extremely well, but there is a good chance it might know a few teams better than their own front offices do. The Patriots always seem to get the most out of the players that come to Foxboro, regardless of how pitiful they may have been at their previous stops.
This is because the Patriots have the best pro scouting department in the NFL. New England has such a strong football culture in place that it can spend hours looking for underutilized players on the other 31 teams. If they see a fit, they'll make a trade or be proactive on the waiver wire to land their guy.
New England only puts its players in situations where they will succeed. The Patriots don't ask more out of its players than they can handle (i.e. "Do your job!). These players gain confidence in well-defined roles for New England. Confidence is contagious and New England is the ultimate beneficiary of these transactions.
Will New England bring in a quarterback off the street that is familiar with what offensive coordinator Josh McDaniels wants to do (hopefully not Tim Tebow)? Maybe just for emergency depth purposes. New England drafted Edelman in the seventh round knowing that he was a run-first quarterback with the Kent State Golden Flashes. He's one of the most competitive players in New England and they know exactly what his limitations are.
2. Defense-first football franchise
Every head coach favors one side of the ball over the other. People tend to forget that Belichick is a defense-first head coach because of Brady's 15 years of success under center. The proof that Belichick is a defense-first head coach is that New England is never bad on that side of the ball.
Belichick is unbelievable at drafting, cultivating, and replacing players in his defensive front seven. He knows that the game is won and lost in the trenches. His defensive front-seven is usually one of the very best in football annually.
His secondaries are pretty good, too, as New England rarely gives up the big play on vertical routes. Belichick never puts his defensive players in positions that they can't succeed in. The overall effect is that the Patriots are never blown out. Their offense may struggle at times, but the defense always gives New England a chance at victory.
Belichick knows that he can lean on his defense when having to start a fourth-string quarterback because when has he not leaned on his defense? Maybe the Brady to Moss years and that's about it. If the Patriots can limit the other team's offense to less than 20 points, then New England has a chance to win no matter who is starting under center.
1. Bill Belichick
The biggest reason that the Patriots are still dangerous no matter who the starting quarterback is that Belichick is the smartest man in football. He's the Sith Lord of the NFL's evil empire and he doesn't care. Belichick is better at winning 75% of his games and playing for a trip to a Super Bowl than any coach in football.
It's as if he is four or even five steps ahead of everybody else. He's omnipotent like Dr. Manhattan. Belichick has played out every football scenario in his head at least a dozen times. When Brady had to miss four games because of Deflategate, Belichick had to at least realize that simultaneous injuries to Garoppolo and Brissett were possible.
Belichick just needs to get through one more week without Brady and he'll be more than fine. New England did its job in the first quarter of the season. Even if the Patriots get crushed by Buffalo, they'll still be 3-1 on the year with an angry Brady coming back to annihilate the lowly Browns in Week 5.
Edelman has been a Patriot his whole NFL career. He's wanted more opportunities to throw the football. He'll get those opportunities next Sunday against a loose ship in Buffalo. Belichick lives for concocting meticulous game plans in situations where nobody thinks he can succeed. The Patriots will be fine next Sunday because Belichick is the best head coach in football. He's sure to mess with Ryan's hot head and it'll have hilarious ramifications.
This article originally appeared on