5 reasons the Denver Broncos won't make the playoffs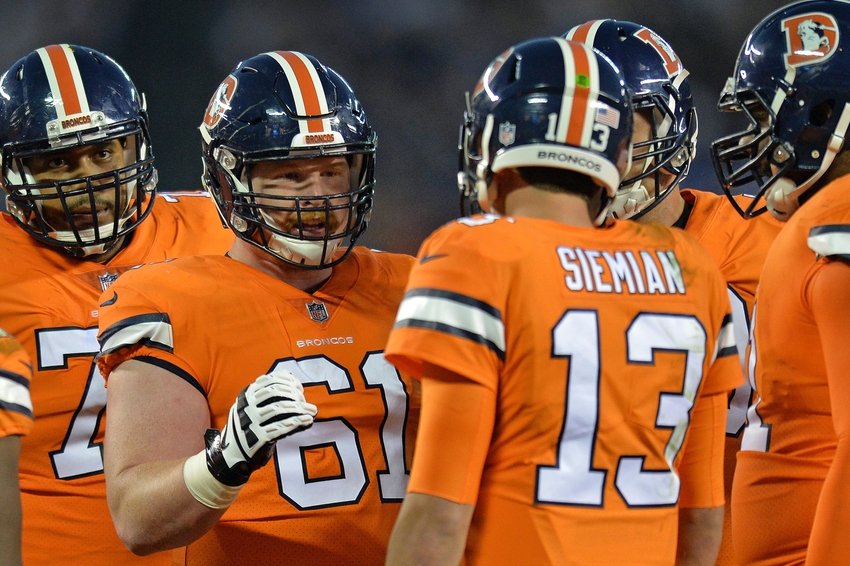 The Denver Broncos may be Super Bowl champions, but here are five reasons they won't make the playoffs this season.
Expectations were high for the defending Super Bowl champion Denver Broncos coming into this season. Though Peyton Manning retired, his play in his final season was poor and many assumed the drop off from him to a new starter wouldn't be significant. The Broncos returned much of their league-leading defense from the year prior and most assumed they would be able to ride it into the playoffs again. Currently, many of those people appear to be right. Denver is 6-3 and holding on to the AFC's second Wild Card spot. However, there's reason for skepticism in the Mile High City. The Broncos shouldn't be assumed to be a playoff team at this point in time.
5. 6-3*
At one point this season, the Denver Broncos Super Bowl-winning defense looked strong. They defeated the Panthers, Colts, Bengals and Buccaneers en route to a 4-0 start. Three of those squads were supposed to make up the upper class of the NFL, and these were considered impressive wins. Many assumed the Broncos to be of the highest class in the AFC, though less people probably think that now. Since their 4-0 start, Denver has gone 2-3 and has looked like an average football team.
Currently, the only team with a winning record the Broncos have beaten is the Texans. In other words, Denver's 6-3 record isn't as impressive as it looks when you take into account the teams it's played. The Denver Broncos are simply an average team this year and they haven't done much to show otherwise. They should get credit for beating teams with bad records; their record has them sitting in good position in Week 9. But Denver hasn't been playing 6-3 football, and should consider itself lucky to be in the position it's currently in.
4. The defense has slipped
The Denver Broncos defense of 2015 was arguably one of the best in NFL history. They finished first in the league in total defense, first in pass defense, first in sacks and third in run defense. They rode that defense all the way to a Super Bowl victory, despite dubious quarterback play. Many faces returned this year, but the 2016 variation of the Broncos defense just isn't as good.
Denver lost defensive lineman Malik Jackson and linebacker Danny Trevathan in the offseason. Todd Davis has stepped in adequately for Trevathan, but the Broncos really miss Jackson's presence. Jared Crick has failed to replace Malik Jackson and currently ranks out 114th out of 119 interior defensive linemen according to Pro Football Focus. PFF also ranks starting cornerback Bradley Roby as the 110th cornerback in the league out of 117 qualifiers. Roby and nose tackle Sylvester Williams haven't played well in contract years, and their level of play has fallen from a season ago.
The Oakland Raiders 30-20 victory over Denver on Sunday Night Football demonstrated the vaunted defenses weaknesses. The Raiders offensive line bullied the Broncos defensive line and small linebackers as Oakland ran for 218 yards on the ground. Roby was consistently and successfully targeted in the passing game and his pass interference set up the Raiders second touchdown. The Broncos did lose linebacker Brandon Marshall and defensive lineman Derek Wolfe for portions of the Raiders game, and that didn't help. Marshall and Aqib Talib are day-to-day going forward, and it's unclear how much time Wolfe will miss. But healthy or not healthy, there are real ways to successfully attack the Broncos defense. And given the standard they set last year, that counts as regression for the unit.
3. Poor quarterback play
The Denver Broncos offense is currently ranked 28th in the NFL in yards per game. Trevor Siemian has demonstrated that he shouldn't be a starting NFL quarterback despite votes of confidence from his teammates. Though he's played relatively mistake-free football in his eight starts, he hasn't made many plays either. Siemian's unwillingness to take shots down field has led to defenses sitting on shorter routes and daring him to throw deep. Over the Broncos 4-0 start, Siemian completed 67.3 percent of his passes, a good rate. Defenses got game tape on Siemian since then, however, and have responded accordingly. In the Broncos last four games, he has completed only 54.6 percent of his throws and the Broncos passing game has suffered.
The play of Siemian has left many Broncos fans clamoring for rookie first round pick Paxton Lynch to take over at quarterback. The 6-foot-7, 244-pound Lynch has a great frame with a rocket arm and possesses all the tools to play quarterback at the NFL level. But the rookie played a simplistic spread offense in college and isn't ready to command Gary Kubiak's pro offense. He didn't impress enough in his game and a half filling in for Siemian to suggest readiness either. If Lynch was impressing in practice and creating dissent in the Broncos locker room over whether or not he should be starter, then his teammates likely wouldn't have given Siemian a vote of confidence in electing him captain. Lynch may be the long-term answer in Denver at quarterback, but there's nothing to suggest that he'll be ready this season. Unfortunately for the Broncos, the answer for this season probably isn't in their locker room.
2. Offensive struggles extend beyond QB
Quarterback play isn't the only issue with the Broncos offense. Their offensive tackle play has been poor. Left Tackle Russell Okung hasn't put together a good season since 2013 and will not be submitting one this year either. Right Tackle Donald Stephenson has played even worse; he's currently ranked 73rd out of 74 qualifying Tackles in the NFL, per PFF. Second year pro and former second round pick Ty Sambrailo hasn't shown he can be an answer at tackle either. On Sunday night, Trevor Siemian was pressured on 21 of his 39 drop backs. Denver needs to be able to throw the ball downfield if it's going to attempt to be a league average unit. And with their current offensive tackle and quarterback play, that isn't likely.
The Broncos offense could be relieved to some degree if a third playmaker stepped up alongside Emmanuel Sanders and Demaryius Thomas, but the Broncos complimentary options haven't stepped up thus far; none of them have over 16 catches. Jordan Norwood and Virgil Green have not been positive contributors to their offense. Running back C.J. Anderson is on IR and rookie Devontae Booker hasn't shown he can be a good running back yet in his career. The Denver Broncos offense just has too many holes this year to expect much of an improvement.
5. Their remaining schedule
| | | | |
| --- | --- | --- | --- |
| Week | Location | Opponent | Opponent Record |
| 10 | Away | New Orleans Saints |  4-4 |
| 11 | BYE | | |
| 12 | Home | Kansas City Chiefs | 6-2 |
| 13 | Away | Jacksonville Jaguars | 2-6 |
| 14 | Away | Tennessee Titans | 4-5 |
| 15 | Home | New England Patriots | 7-1 |
| 16 | Away | Kansas City Chiefs | 6-2 |
| 17 | Home | Oakland Raiders | 7-2 |
The Broncos have only defeated one team with a winning record, and over their last seven games they'll play four teams with winning records. Overall, the winning percentage of the opponents Denver will see in their last seven games is 67.9. The winning percentage of the teams they've already played is 56.5. The Broncos will have a tough road to the playoffs.
The Saints are a hard team to beat at home, and they've opened as 1.5 point favorites in their matchup with the Broncos this week. The Chiefs have been playing good football and will likely be favored in both games they play Denver, as will the Raiders and Patriots. So with seven games to play, the Denver Broncos may only be favored in two of them. They have their six wins, but it's very easy to see how they could only finish with eight or nine. And if it's very easy to see how the Broncos finish with less than 10 wins, it's very easy to see how they'll miss the playoffs.
This article originally appeared on