5 reasons the Denver Broncos will still play in Super Bowl 51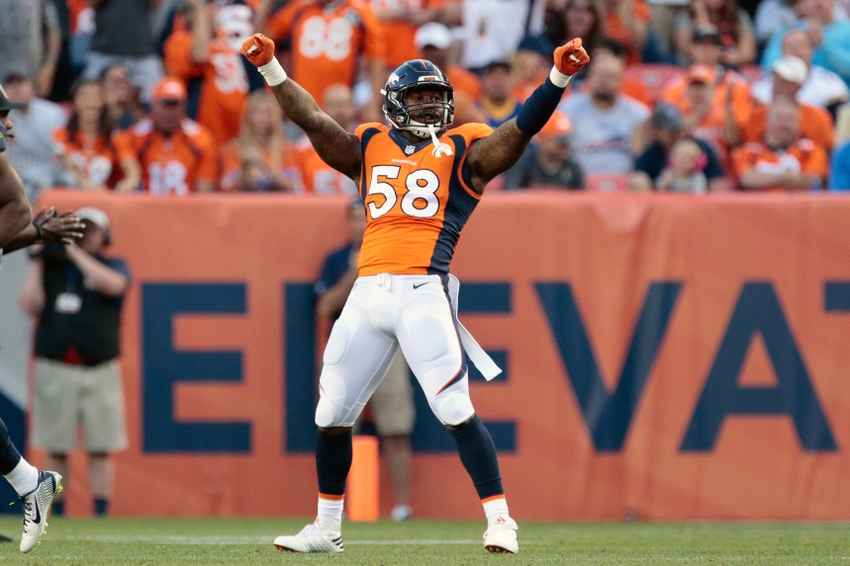 Despite losing the Admiral to retirement, the Denver Broncos are still the team to beat in the AFC. Here's why they'll dominate the playoffs and represent their conference in Super Bowl 51.
The defending Super Bowl champion Denver Broncos have seen a lot of changes since last season. To say their championship roster was dominant would be an understatement.
Only nine short months ago, this team carried many players who were arguably the best at their position in the league. However, as most teams do after a successful year, the Broncos lost some key members to free agency and retirement.
After four productive seasons as Denver's fearless leader, Peyton Manning said goodbye to the NFL after 18 years. Following a neck injury that would see him sidelined for all of 2011, Manning took over as the Broncos's signal caller in 2012 and looked like he never missed a game.
The Admiral led his team to an impressive 45-12 regular season record, securing a postseason berth in all four seasons. His retirement obviously left the franchise with some big questions to answer on offense.
The defense also faced questions after losing several key members, including defensive end Malik Jackson and linebacker Danny Trevathan, both of whom left in free agency.
Lucky for the franchise, general manager John Elway knows what he's doing, and has built a 53-man roster more than capable of coping with those losses. Here's why Denver is good enough to make it to the Super Bowl for the second time in as many years.
5. Von Miller
If there was any question about the face of the Broncos franchise before the Admiral retired, there is none now. Von Miller is the leader of this team.
Currently four games into his sixth NFL season, Miller has 65.5 quarterback sacks in 76 career games, recording 5.5 of those this year alone. Still only 27 years old, he should have no problem shattering many records at his position.
Miller has already celebrated four Pro Bowl nominations, been named First-Team All-Pro twice and was last year's Super Bowl MVP. His long list of accolades is almost unheard of for a player his age.
He's considered by many to be the absolute best at his position in the NFL, and is unquestionably one of the best players in the game today. Though his size (6-foot-3, 249 pounds) is nothing extraordinary, his athleticism and speed around the corner give him an edge when getting to the quarterback.
In the offseason, he initially refused the Broncos' franchise tag offer because it didn't include enough guaranteed money in the event of an injury. That refusal earned Miller a six-year, $114.5 million dollar contract, with $42 million guaranteed upon signing.
The Broncos would have been crazy not to lock Miller up long-term, especially over a contract dispute. They now have the champion their franchise desperately needs, not to mention the cornerstone of their feared defense.
4. C. J. Anderson
There are a couple things any championship hopeful needs on offense: a quarterback who can manage games effectively and a strong, capable running back. C. J. Anderson is that running back for the Broncos.
After an almost non-existent 2013 campaign, Anderson averaged 4.7 yards per carry, and ran for over 700 yards in a part-time role in 2014 and 2015. In those same two years he caught 59 passes for 503 yards. Anderson has never been the most dominant player on the field, but he's a reliable mover of the chains.
He's capable of growing into an every-down role, and his numbers figure to improve in 2016 as the Broncos move away from the passing attack that brought them such success with Peyton Manning under center.
In Week 1 of the 2016 season, Anderson answered the call. He started the year off with a combined game total of 139 yards, two touchdowns and 25 fantasy points. His numbers have dipped a little since then, but Anderson has shown he can be the threat Denver needs out of its backfield.
3. Trevor Siemian
It was never going to be easy following an act like Peyton Manning, but Trevor Siemian is handling it pretty well so far. Six quarterbacks were picked ahead of him in the 2015 NFL draft, but he's been one of the best game managers in the league so far this season.
In three games so far, Siemian has thrown for 824 yards, carries a completion percentage of 67.3 and has gone a perfect 3-0. In Week 3 alone, he threw for four touchdowns while posting a quarterback rating of 132.1. Two of those touchdowns were scored on third down plays.
Manning was a great quarterback for the Broncos, but Siemian is actually an upgrade in some ways. Not only is he more athletic, he's also a better fit for the boot-action pass design which is a staple of Gary Kubiak's offense.
One of his best traits by far, and the reason for his early success, is his ability to stay in the pocket even when it's collapsing. Most young quarterbacks will escape the pocket only to be caught just beyond the line of scrimmage. Siemian stands poised and scans the open field for a reliable target. Whether he completes the pass or not, this shows his ability to remain calm, and suggests that his pocket passing will continue to progress as the weeks go on.
So far in 2016, Siemian has impressed on every level. Though his tenure has been short, he's already accumulated two NFL records.
In Week 1, he became the first player in history to start for a defending champion before attempting an NFL pass. He's also the first quarterback to throw for 300 yards, four touchdowns and no interceptions in his first career start on the road.
Look for him to continue his record setting ways as he returns on Thursday after a game-and-a-half of rest due to an injury.
2. Gary Kubiak is a mad scientist
Gary Kubiak has devoted the last 24 years of his life to coaching. The first two years of his career were spent at Texas A&M coaching running backs and the next 22 years were spent at the pro level, where he worked mostly with quarterbacks and as an offensive coordinator.
Over the years, he has worked alongside some of the most successful coaches in football history. George Seifert, Mike Shanahan and John Harbaugh have all played an important role in getting him to where he is today. Thanks to some expert tutelage, he's coached many teams to winning seasons and has celebrated four Super Bowl victories.
Kubiak has also worked with some of the greatest quarterbacks to ever play the sport. His long list of impressive pupils include Super Bowl MVP's and Hall of Fame quarterbacks such as Peyton Manning, Steve Young and current Broncos GM John Elway.
Though it's true these quarterbacks were skilled enough to win on their own, it appears Kubiak can win with just about anyone. The confidence he instills in all his QBs has been particularly obvious this season, as he's led his team to a 4-1 start with a second-year signal caller in Trevor Siemian who had never played a professional snap before the start of the season.
Lest we forget, Kubiak was also the offensive coordinator who led the Broncos to a wild-card playoff win against the heavily-favored Pittsburgh Steelers with Tim Tebow, a man many said could never win at the pro level, leading the charge.
With a now confident starter at the quarterback position and a dominant defense, Kubiak figures to translate his success into another Super Bowl run this season. Only time will tell what's in store for Coach Kubiak, but it appears his team is well on its way to becoming a dynasty.
1. John Elway has found a recipe for success
Given his achievements as both a player and a general manager, it appears John Elway has found the recipe for success.
During the earlier part of his career, that didn't seem like it would be the case. Although his playing career is headlined by 50,000 yards, 300 touchdowns and 35 fourth quarter comebacks, the 1980s were packed with growing pains and teachable moments.
Luckily for Elway, persistence has been known to pay off in the game of football. After 16 years as a player, Elway went out in true storybook fashion: with back-to-back Super Bowl victories.
Both championships were acquired with Mike Shanahan and Gary Kubiak leading the charge. Now General Manager of the franchise he made famous, Elway is winning with Kubiak once again.
Backed by a young roster and some key players in the prime of their careers, the Broncos could very well become the next team of the decade.
Elway has put himself and his team in a very comfortable position that most teams will never see, no matter how many seasons they play. One thing's for sure, John has has found something that works very well at the pro level, and it doesn't appear that anyone will catch up to him any time soon.
This article originally appeared on