5 reasons Josh McCown can lead Browns to AFC Playoffs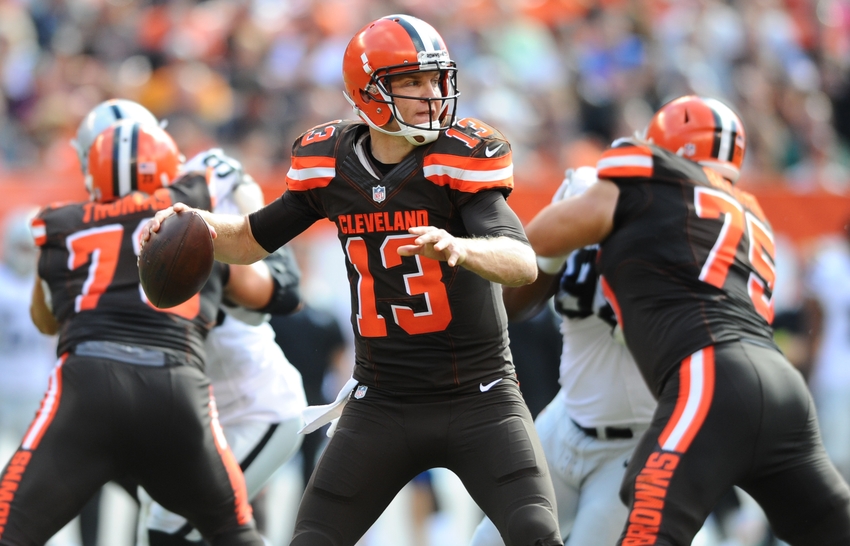 Josh McCown should replace Robert Griffin, III as the Cleveland Browns starting quarterback. Here are five reasons McCown gets Cleveland into the playoffs.
The Cleveland Browns had a very rough start to their 2016 NFL season. They were manhandled by rookie quarterback Carson Wentz in laugher against the Philadelphia Eagles on Sunday, 29-10. Cleveland saw its Week 1 starting quarterback Robert Griffin, III go on injured reserve with a broken bone in his shoulder.
While the Browns seem to be in a bad spot before next week's game at home against the AFC North rival Baltimore Ravens, one thing that Cleveland has going for it is a proven backup quarterback in Josh McCown.
McCown is viewed as one of the better backup quarterbacks in the game today. He is more than capable of leading an NFL team when thrust into the line of duty. McCown throws a great deep ball and is excellent in the classroom. Though it sounds insane entering Week 2, here are five reasons McCown can lead the Browns to the 2016 AFC Playoffs.
5. Gary Barnidge at tight end is going to be amazing, again
Part of what makes a quarterback good in the NFL is his ability to use the offensive weapons around him effectively. Cleveland has a top-10 tight end in the game in Gary Barnidge, yet Griffin couldn't complete a pass to his safety valve in Week 1.
McCown knows that for the Browns offense to succeed Barnidge will have to play like a Pro Bowler. Great tight end play opens up the field for other receivers to make plays in the passing game. While the Browns have other weapons on the outside, Barnidge is the best playmaker on Cleveland's roster.
Targeting Barnidge on crucial third down situations should allow the Browns to move the chains better going forward. Though McCown has comparable arm strength to Griffin, he understands that the mid-range passing game will ignite the Browns offense more than deep go-routes on the outside.
Cleveland lost a ton of strong players in 2016 NFL free agency, but the front office made a point to pay Barnidge handsomely this offseason. He is too good to not have any catches in an NFL game. McCown will feed his tight end often as the Browns starting quarterback.
4. Veteran leadership for a young team
The Cleveland front office is valuing youth and inexperience more than any other team in football. Cleveland signed all 15 of its 2016 NFL Draft picks and let overpriced veterans walk to usher in a culture change via a youth movement.
One of the few aging veterans Cleveland kept was McCown and for good reason. It makes sense to keep a proven pro like McCown on the offensive side of the ball to aid in the development of the Cleveland's many young players.
Since many of the players on the Browns are playing in their first NFL season, they won't know any better and will look to a wise veteran like McCown for guidance. He's seen it all before and can answer any question the many rookies are sure to ask him.
Leadership is synonymous with the quarterback position. Though he isn't as skilled as most of his contemporaries, McCown can play with poise in crisis to inspire his inexperienced teammates. If Cleveland did find a few sleepers in the 2016 NFL Draft, McCown's leadership could be what wakes them up for a playoff push.
3. AFC North is a winnable division
The AFC North is a more winnable division than people realize. Cincinnati continuously fails to show up in primetime games. Pittsburgh has several key players suspended this season. The Steelers aren't as buttoned-up as they once were. Baltimore is relying on aging veterans to win games this fall. Good luck with that.
Cleveland is still viewed as the fourth best team in the AFC North, but first place is absolutely up for grabs in 2016. The Bengals have a great roster, but have never been calm in moments of crisis under head coach Marvin Lewis. Are we sure that Mike Tomlin still has control of the Pittsburgh ship? Is the Ravens' rebuild going over all that smoothly?
The Browns are all about chaos, but no team in the AFC North has a vise-like grip on the division just yet. It should be Cincinnati's to lose and that means its fair game for the other three teams, even the lowly Browns.
McCown at least gives Cleveland a dog in the fight when it comes to AFC North quarterbacks. He's not Ben Roethlisberger, Joe Flacco, or Andy Dalton, but at least makes the Browns respectable at the quarterback position. McCown helps make the Browns competitive in AFC North play.
2. Hue Jackson makes quarterbacks better
Hue Jackson left a good situation as the Bengals offensive coordinator to become the next head coach of the Browns. Jackson has one year head coaching experience with the Oakland Raiders, but seems poised to get it right this time around in Cleveland.
Jackson had to replace a strong offensive coordinator in 2014 when Jay Gruden took the Washington Redskins head coaching job. The Bengals offense didn't skip a beat once Jackson took over. Bengals quarterback Andy Dalton his best season as a professional under Jackson last fall.
It is Jackson's ability to get the most out of his quarterbacks that makes him the right coach for the Browns going forward. This organization has cycled through 25 different starting quarterbacks since 1999. Before Jackson arrived this past spring, Cleveland wasn't going to stop reshuffling the deck in the hopes of getting another franchise quarterback to then drive into the ground.
McCown is more than a solid game manager, just as Jackson is more than a brilliant play caller. They can work together the rest of the way to bring continuity to the Browns' potentially on-the rise offense. Cleveland is lucky to have a coach the caliber of Jackson. McCown's strong student mentality means that the Browns will be better at quarterback going forward. He can execute Jackson's game plan well enough to a shocking playoff run.
1. McCown is the better quarterback than Griffin
It's starting to seem like Griffin's rookie season in Washington was more of a flash in the pan than anything. Once he lost his ability to scramble, Griffin couldn't dissect NFL cover schemes and failed as a starting quarterback.
McCown doesn't rely on his physical gifts to play winning football. It is his game above the shoulders that has kept him in the NFL for so long. In his late 30s, McCown is definitely not the athlete he once was. However, it is his pre-snap preparation that has made him invaluable as an NFL backup passer.
The offense Cleveland ideally wants to run will be similar to what Jackson ran in Cincinnati or offensive coordinator Pep Hamilton ran with Andrew Luck at Stanford and Indianapolis. Going with an Air Raid attack similar to what Griffin played in at Baylor was not a long-term solution for the Browns.
That being said, McCown's best season came in a vertical Marc Trestman offense with the 2013 Chicago Bears. McCown can still air it out, but will be at his best making his throws between the hash marks. Cleveland can contend for the AFC Playoffs with McCown under center because he is the better NFL quarterback over Griffin.
This article originally appeared on